By Kitchyart on 3 December, 2012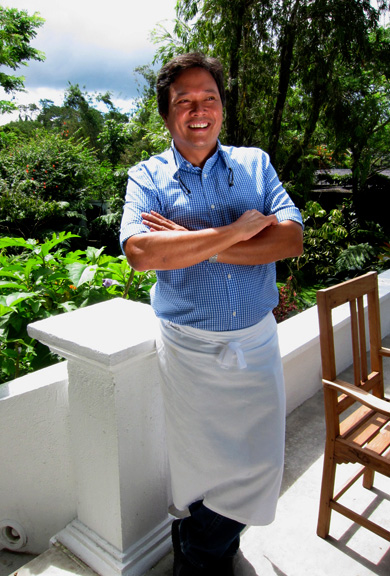 We touch base with Chef Tonyboy Escalante some three years after this first interview and find out what he has cooking. Antonio's is still arguably the best in the Philippines and it's all because of the passion poured in by this man. 10 years and counting!
What has changed in your life since we last spoke with you?
Three years ago, we moved Antonio's Breakfast into Antonio's. This month, we are returning Antonio's Breakfast to its original location with a retail shop that sells breads, jams, and fresh pastrami.
What is your earliest food memory? Who or what provides you with most inspiration?
My grandmother and her fabada, leg of lamb, and her hand chopped chorizo. Only our family makes this and it's tedious to prepare. We hand chop the meat into cubes, it has no preservatives — only vinegar and is stored in a jar. When we used to have this, half a kilo of it, would be gone in a flash.
What is your philosophy on the plate?
I don't think of numbers when I create something. Whatever number comes out, that's it. I don't think of "I need to create a dish that's worth P800." If I like it, I'll make it. The dish comes first before the numbers.
Any guilty pleasures in terms of food?
KFC is the best. Whenever I'm in the office, I order the spicy chicken with the macaroni coleslaw. I also like the chicken nuggets from McDonald's with barbecue sauce or the big n' tasty. I take out the other half of the bread and eat it open faced.
What is your motto or the advice you live by?
Find something wrong and you won't make a mistake. Look for mistakes and you won't make mistakes. Also, be fair. To everyone, I praise them when I like what they're doing and I tell them what I don't like as well.
What are 5 kitchen ingredients you can't live without?
Eggs, butter, flour, olive oil, and of course salt.
What will you have for dinner tonight?
I don't eat dinner. I don't plan dinner, if I get hungry I just pick on anything, I'll have a salami sandwich, that's fine. After work, all our helpers are asleep. I'll go to the fridge, I'll have cold fried chicken or pizza.
What is your favorite breakfast?
I don't really eat breakfast but my wife is a breakfast person. So when I sit with her, I like some good bread, butter, and jam – I don't spread butter, I cut butter. It's the first press from the cow's milk… In Nepal, the butter is like lard, white. It tastes different… not commercial, malinamnam. Go to Kathmandu, it's so cheap. Send me to Timbuktu, I'll still enjoy.
Tell us about where you live and what you love about it.
I live here (Antonio's) and we're doing (renovating) our rooms now. The house is built on stilts and bridges so it's like resort living. When I'm in my house, you can't hear anything. I have 3 ponds, that's the only thing you hear.
LABELS: Antonio's, Breakfast at Antonio's, Chef Tonyboy Escalante, Interview, Kitchyart, On The Table