By sanju on 12 December, 2012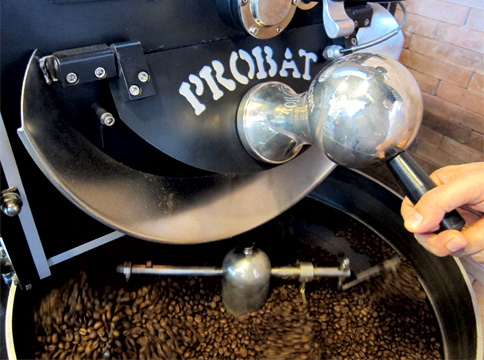 Recently, C and I had lunch with a few friends at Kuppa. Kuppa has three branches in Bacolod, where it originated, and one in Manila. We met up with owners Rommel Hinlo and Kerwin Lo. Rommel is in charge of the kitchen, while Kerwin takes care of all things coffee related, including roasting. Yes, Kuppa is one of the few restaurants that have a German-made Probat coffee roaster in house.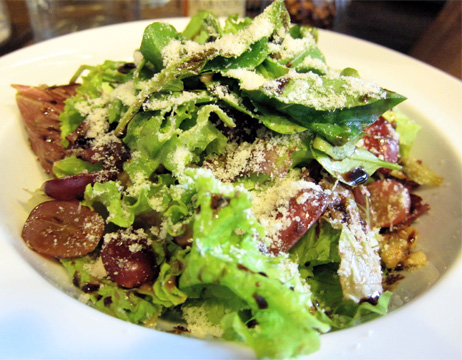 Both Kerwin and Rommel are quite proud of the quality of their coffee and promised to give us a coffee bean roasting demonstration after lunch. I was quite curious to learn about the roasting process. I have always been a coffee drinker. I prefer bolder blends and have been known to work our Nespresso machine at home to its limit. In the meanwhile, we settled in and tried some dishes that caught our fancy. First off, we started out with an Insalata Kuppa(P240). This salad was fairly straightforward. It had fresh greens, some arugula and balsamic. Quite good I must say.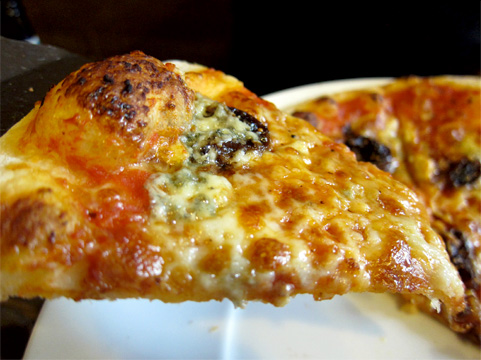 Next, we shared an amazing Pizza Cristina (P300). It had a fairly thin and crispy crust with Mozzarella, Balsamic, Gorgonzola, Figs and Grapes. The figs and grapes were perfect foils to the sharpness of the Gorgonzola. The result is an ethereal flavor profile. Highly recommended.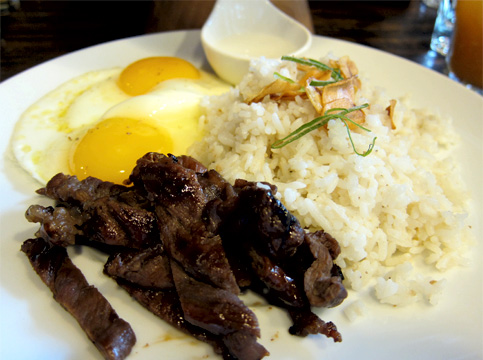 I was still in a breakfast mood so I decided to have the San Andres Tapa with Garlic Rice and 2 Eggs (P240), while C had an order of Salpicao (P390). I am not too fond of salpicao simply because I suffer from salpicao overkill. It is virtually on every menu around. That being said, Kuppa's version was a revelation. It was tender and well seasoned. This is another must have in my view.
Just when we were about to order a dessert to share, out comes Rommel with a few dishes that he was planning to add to the menu very soon. Rommel wanted us to be his taste testers for the afternoon. Standouts were an excellent Eggs Florentine and a Chunky Chili Kielbasa Dog. Completely stuffed, we decided to forego dessert and went straight to the coffee roasting demonstration.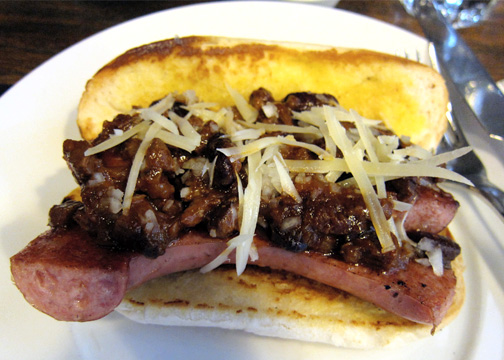 The guys behind Kuppa decided to have their own roaster because they wanted to have control over flavor, quality and the type of beans being used. Kerwin decided to roast a batch of their house espresso blend. This blend of seven different beans was carefully chosen by Kerwin's sister Karen Lo Tsai who is the only certified Coffee Q Grader in the Philippines. A Q Grader is, simply put; similar to what an Oenologist is to wine.
According to Kerwin, the roasting process consists of three major steps: First, the beans have to be dried using intense heat. Second, the beans have to be air-cooled. Lastly, the beans have to be stored in an airtight container for about two days to let the oils and aromas develop. The whole roasting process takes about fifteen to twenty minutes depending on the quantity and the type of bean.
After the demo, I tried a cup of Kuppa's Espresso Blend. It was not as bold as I normally have it; in fact it was smoother and less acidic with a slight caramel note. The freshness of the bean was in evidence beyond doubt. Kerwin and Rommel both ensure that everyone will get a fresh, well-balanced cup at Kuppa.
Kuppa Roastery and Café
Commercenter Building
31st Street Corner 4th Avenue
Bonifacio Global City
Taguig, Philippines
Tel (632) 623.5120