By Anonymous Paul on 7 December, 2012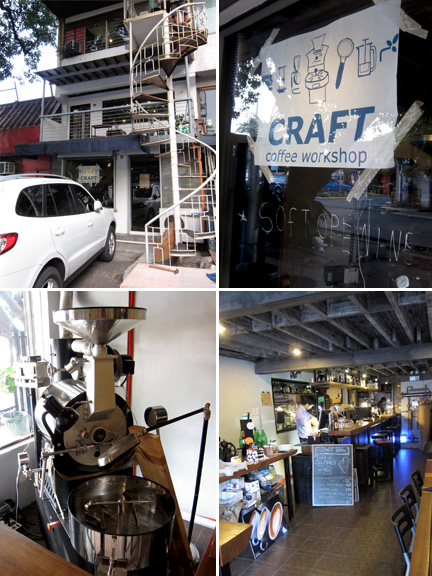 I love stumbling into places like these. Craft Coffee Workshop sits beside a previous old haunt of mine along Broadway Ave in Quezon City. While waiting for some friends to arrive one evening, to go to said previous old haunt, I walked inside this cozy little coffee shop that seemed to come from nowhere. It had no signage and was still in its soft opening stage then. I have been back several times since and have always had an interesting experience. As the name suggests, it's a place that takes their cup-of-joe quite seriously. In fact the first thing you notice when coming in is their huge roaster (which I think they're in talks with Katipunan Craft Ales in terms of experimenting with roasting grains). They purchase beans from all over the world and make micro batches of proprietary roasts. Their main business, in fact, is supplying beans and this oasis for coffee lovers was just sort of a spinoff.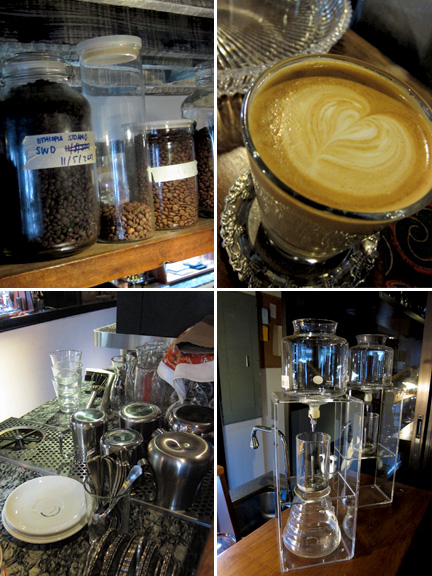 The place is like a library; a museum of sorts of coffee gadgets. All types of pots and siphons and filters litter the shelves. They've got some beautiful precision glass Hario cold water coffee drippers which I personally want to catch them making a cold brew with. I was told they produce a smooth, concentrated, low acid coffee. Very unlike the ones with heat applied in the process. Filtration takes about 12 to 24 hours though, which is the problem.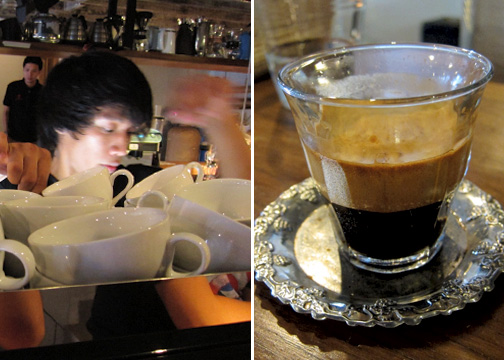 They've got this contraption called the Clover as well. Originally hand-built by Stanford engineers. It's probably the only place in the country that has this as the technology was bought by Starbucks a few years ago, completely locking the market out. They managed to get one before the buyout; going for about $11000 apiece then. It's a high-tech combination of a vacuum and press; complete with hydraulics, temperature and timing knobs. But we'll get back to that later.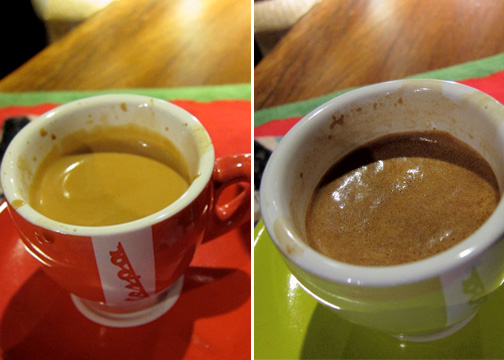 Ethiopian on left, Brazilian on right.
The place isn't usually packed when I go but I really like sitting at the bar. There's more interaction with the baristas, letting you try their current bean of the day. Or making you a guinea pig for a brew they're perfecting. There's a lot of pride involved. Hence, I've yet to get a bad cup. But I usually go for espressos. All with good viscosity and very strong and muscular. Some recent ones I've tried used Ethiopian beans; which had a more floral finish. A balsamic-like, sweet-acid quality with a fine crema. Ones using Brazilian beans produced a more roasted cocoa flavor; thick with hints of tobacco. The wife had a latte using the same Brazilian beans and I sneaked a sip; fantastic cup. Naturally sweet from the steamed milk and a beautifully elegant caramel note.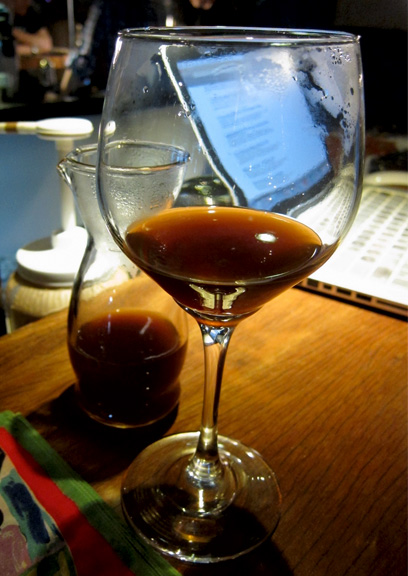 And you can also request for a Clover brew. They use medium roast beans for this process as it really focuses on the flavor of the bean itself; which the smoky, sulfuric quality in darker roasts tend to mask. And since the process purportedly draws out more flavors and aromas than regular brewing, the resulting liquid (using Ethiopian peaberry in this case) is served in a carafe and a stemmed wine glass. You swirl and sniff and let it linger on the palate like wine. And the flavors are more noticeably fresh and green. I picked up notes of grass and bamboo. Was it better? It might be for some; it was different. But what I can say is that I still prefer my espressos and Vietnamese drips in terms of character.
Craft Coffee Workshop usually has some kind of activity going on; just a few weeks ago they had a latte art competition. They hold brewing workshops once in a while. And you can also ask them when they'd be roasting next so you can watch. I always learn something new while talking to the crew behind the bar. I gather it's a very simple but effective mantra they live by: good beans, good technique, good cup. And they've got great looking cups, too, by the way. Just don't expect cafe type dining as the only type of food they serve for now are limited selections of biscuits and pastries. Come for the coffee.
Craft Coffee Workshop
66 Broadway Ave (off E. Rodriguez Ave)
New Manila, Quezon City
Tel: (632) 861.3269
Web: www.craftcoffeeworkshop.com
LABELS: Anonymous Paul, coffee, Craft Coffee Workshop