By admin on 20 December, 2012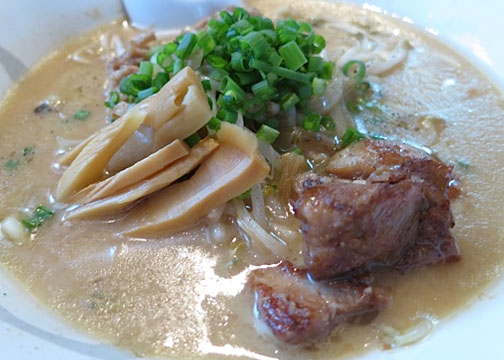 Miso Ramen
The Three find some time to sit down for a meal and share three different perspectives on Ramen Yushoken.
Kitchyart
A couple of years ago, my good friend Ryan was very active on a social network and I always saw him checking into a ramen joint along Pasay Road.  He went countless times and at some point, he and his friends started competing as to see who'd been there the most.  I'm pretty sure I learned about this place from him and the famous Tantanmen which they once sold only 10 bowls at night.  The trend quickly spread like wildfire and I even had to write a list of ramen spots to visit in town.  Naturally, Ryan was one of the people I asked help making the article.
I remember Ryan had just got back from Japan and he had visited a number of the well loved ramen places.  He was telling me that he had been obsessing about the ramen here in Manila and how surprised he was than the ones he had in Japan were far different from the ramen that he once knew. He made it his mission to try out the best ramen in Japan, he attended the Tokyo Ramen Festival that same year with his wife, K, and his friend, Elbert. Their ramen pilgrimage changed them, that's when they knew that they wanted to bring the authentic ramen experience back to Manila.
It took nearly two years for this dream to happen. As his friend, I knew he wasn't going to open this place until everything was right.  Ryan and his partners have a Japanese chef to oversee the restaurant operations. Over the weekend, Ryan asked me if I wanted to meet the son of the ramen god, Tashiro-san.  There was no way I was going to miss this!
I magically cleared up my schedule  to make the trek from San Juan to Alabang for lunch.  I brought my friend D to give her first full on Yushoken experience.  We got the Miso and Shoyu Tonkotsu ramen (with the creamy aji tamago), gyoza and karaage. D and I hardly spoke while eating, we throughly enjoyed our food clearly from all the moaning we made.
After our meal, Ryan whispers, "Tashiro-San did a few adjustments to our broth and it'll be ready for dinner tonight."
Me: "Tonight?! So it's different from what we had just now?"
Ry: "Yes. It won't be ready till tonight since he arrived last night and the broth will take nearly 14 hours to be ready."
Me: "Damn. I have a ton of stuff to do… If I leave now, I'll make it back in time for dinner tonight. I'll be back. See you later!!!"
I made a mad dash back home and baked up a storm.  I sent Sanju and AP an email, Sanju had planned to really go at night and luckily, AP made his way to my house to go back to Yushoken together. It took 1.5 hours to get to Alabang and AP would call Sanju to ask if there was any broth left for us. Sanju and C got there ahead of us so we sat with them. Paul and I ordered the Miso and Shio ramen first.  We took a few bites of the karaage and the chahan while we waited for our ramen to arrive.
Yushoken has been open less than 2 weeks and I've been to this place almost 4 times. Had this place been open at a closer proximity, I'd honestly be here everyday.  I am amazed by the bowls of ramen I've had because it's always love a first bite, over and over again. It's insane that I even had it twice in a day and I'm literally bowled over.
The Shoyu Tonkotsu is probably my current favorite. I love the combination of the chiasu, the lipsmacking broth, the bite of the noodles and bamboo shoot, and the flavorful black garlic oil! All their tonkotsu ramen are made with pork bone broth and it is truly pork heaven.  AP and I inhaled our bowls and ordered one to share with Sanju.  We enjoyed ourselves so much, we were overcome by this euphoric feeling after the meal.  Yushoken will always be worth the trek.
Shio Tonkotsu
Sanju
Recently, the three had dinner at Ramen Yushoken.  We were fortunate enough to witness Koji Tashiro in action. Tashiro-San is the anointed successor of the highly respected "Ramen god" Yamagishi Kazuo who is credited for the invention of Tsukemen, Tashiro-San is here on one of his bi-annual trips to make sure that everything is up to speed at Ramen Yushoken.  As far as I know, Tashiro-San, being number two in the "Ramen Hierarchy", does not do any actual cooking at this point.  His main job is supervisory in nature.  During this particular evening, Tashiro-San had a tasting session and checked on everything.  He critiqued taste, presentation, consistency, volume, noodles, broth and so forth.  Witnessing this made me realize that the quest to make a perfect bowl of ramen is a complex undertaking where numerous factors have to come into play.  Also, attention to the minutest detail is a must. For this, I give credit to Ryan Cruz, Elbert Cuenca and the rest of the partnership group for giving us an opportunity to experience ramen, as it should be.
This evening, I had the Miso Ramen (P390).  It has a blend of seven different kinds of Miso, steeped in a Tonkotsu broth with smoky pork slices, dried mushrooms, sprouts and spring onions.  I find this selection the most hearty of all that is on offer.  The broth, though slightly thickened by the miso, remained well balanced and seasoned.  The noodles, though not as "Katame" (al dente) as I normally like them, had enough elasticity to remain chewy enough to the last bite.  I have to admit that the noodles were my fault.  In my excitement, I forgot to request for my noodles to be Katame; something that the kitchen would gladly do for anyone who requests it.
Tashiro-San at center.
As I was having, nay, slurping through my ramen, I thought to myself, that it is indeed possible to temporarily suspend reality for a moment and zone in on the sheer joy that is eating a great bowl of ramen.
Anonymous Paul
We were late. Having to brave a total of 2 hours on the road due to the mad Christmas rush I would have to say, ramen saved the day. To be more accurate: several bowls of ramens worth. As Kitchyart and I sat with Sanju and C, I managed to sample some of the food on the table. The Tantanmen; smooth, nutty and mildly spicy. The karaage was surprisingly very moist and juicy on the insides. And the chahan, looking nondescript, was packed with this wok hei ; the short grain rice chewy and full of flavor from the charred bits of meat I suspect they used from the stockpots.  Gyoza was made fresh and there was a natural sweetness from the leeks and pork used. The skins thin and crisp. Fried but not greasy.
Shoyu Tonkotsu
I promptly placed an order of the Miso ramen upon suggestion of Sanju. And when it came, I practically hoovered the thing. It was of perfect temperature; hot but not scalding. The broth very creamy; sticky from all that collagen and balanced. (i.e. I did not feel like having a pitcher of water after eating because of excessive sodium). The noodles I found to be of good thickness but could have been firmer. After downing that bowl in record time I wanted more. Funny enough, friend-in-food Kai mentioned he was observing Tashiro-San tasting each of the variants earlier and he noticed the master give two nods upon having a spoon of the shoyu ramen. And so shoyu for the next bowl it was. Shoyu is always my preferred variant and they do a fantastic one here. Simple yet sophisticated; packed with umami. Deep flavors from the bone; you actually pick up the sweetness from the pork. I also picked up notes of truffle/mushroom-like aromas, I suspect, from the black garlic oil. And that chasiu, my goodness, was on another level in itself. An intense roasted pork and smoke flavor that just cuts through the richness of the soup. The fibers of meat you could pull apart with your chopsticks.
After the meal, the unsettling reality kicks in that I live so far from this place. On top of the fact that Yushoken has ruined me in that I probably cannot eat a bowl anywhere else. One of the partners mentions it's as good a ramen as you can get in Tokyo and that I find easy to believe.
Ramen Yushoken
Molito Lifestyle Center,
Muntinlupa City
Tel. (632) 808.7424
*Ramen Yushoken will be fully operational by January 2013. For now a limited number of bowls will be served per day during lunch and dinner service on a first-come-first-served basis.
May your Holidays be warm, comforting and filled with love! (And of course good eats!)
-Kitchyart, Sanju and Anonymous Paul
LABELS: Alabang, Ramen, Ramen Yushoken