By Anonymous Paul on 5 November, 2012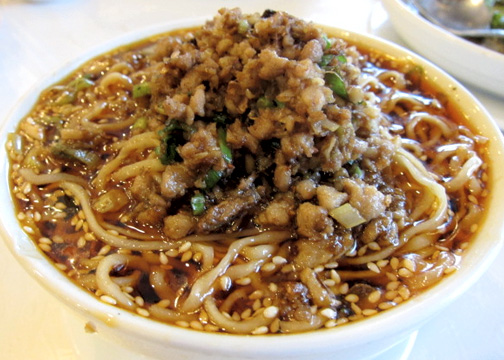 Interestingly found out that ramen only started appearing on record (i.e. Japanese menus) around the 1900's. With it's earliest form consisting of simple soup and noodles called "shina soba" (made with buckwheat noodles). The word "shina" pertaining to its Chinese inspiration (or maybe origin). It has since then exploded into a well loved dish; with different Japanese regions ending up with their own unique versions and soon enough, the rest of the world embracing it. In the Philippines, Ukkokei makes some of the best ramen in the country; famed for its elusive Tantanmen which they only serve limited bowls of every night. It's one of few Japanese dishes that are normally served spicy. That's because one can trace it's roots to it's predecessor: the Dandan Mian.
It's a typical Sichuan dish born on the streets. It's name can actually be attributed to the bamboo pole (dan) slung across a peddler's shoulders with vessels on opposite ends (much like a taho vendor's). Made with the simplest ingredients yet so full of flavor. Typical components are ground pork, scallions, salted mustard greens, egg noodles and the brain numbing combination of sichuan peppercorns and red chili oil among others. The addition of sesame or peanut paste in the broth seems like a more modern interpretation and are more commonly found in Taiwanese, Japanese and American variants. Sichuan style Dandan Mian have a characteristic thinner, looser sauce.
Dandan Mian has quite limited representation locally; and most versions are that of the Taiwanese and Shanghainese kind. Which I have nothing against, but just so happens they're not quite the best examples either. I find them either too sweet or insipid.
Probably the only place that serves this dish closest to Sichuan style is Sze Chuan House at the Aloha Hotel. You'll most likely miss it in the encyclopedic menu if you blink. But they've been serving bowls of this for 35 years. I've probably been having it for over the last 20. Their Dandan Mian still has that familiar unpolished street quality that I love. The sauce fragrant, deep and smoky. (Technically it's more noodle dish than soup.) The fresh wheat noodles firm. In terms of spiciness, as mentioned in an earlier post, Sze Chuan House tempers the levels for local tastes. But it's quite easy to tell them to be generous with the Sichuan peppercorns. In any case additional heat usually means a slow, glowing, tingling sensation (aka ma la) rather than a sharp bite (like that of bird's eye chilies). For me it's the perfect one dish meal. Or snack. It comes in a smallish bowl.
The Dandan Mian's simple goodness explains its successful crossovers to different cuisines and quite glad to have a version here. Though admittedly a bit of a trek to get to. But if you do make the effort to get to Sze Chuan House, try to hold out ordering sweet and sour pork and go with the chef's recommendations and Sichuan specialties which not a lot of Chinese restaurants serve locally.
LABELS: Anonymous Paul, Dandan Mian, Ramen, Sze Chuan House