By sanju on 16 November, 2012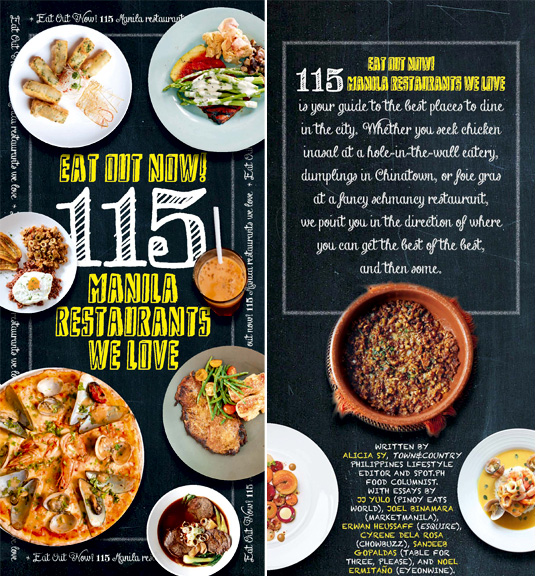 A few months ago, I got an email from my friend Alicia Sy, asking me if I wanted to be part of a book project that she was going to do. She wanted me to be part of a select group of panelists that would help her curate a list of restaurants that would form the backbone of what is now called "Eat Out Now! 115 Manila Restaurants We Love."
Of course, saying that I was happy to oblige would be an understatement as it has always been a dream of mine to be part of such a project. It was also quite humbling to be part of such a highly esteemed group of people. Aside from Alicia who writes for Town and Country and Spot.ph, I had the pleasure to work with my eating and drinking buddy, Cyrene De La Rosa who not only has a Masters in Food Studies from NYU, she also has one of the more discerning palates that I have come across. Another friend, Noel Ermitaño has a blog called Eye on Wine that is a veritable resource for wine drinkers. I have learned a lot (and continue to) from Noel during our meals together as he has always been extremely generous with sharing both his wines from his impressive collection and his knowledge as well.
Third on the list is talented chef and writer JJ Yulo. JJ is one of the founders of Pinoy Eats World and writes for Rogue and Spot.ph. I also believe that one day he will open his own successful restaurant. The last two are Zubuchon owner Joel Binamira of the very popular blog Marketmanila.com and, Erwann Heussaff, Esquire Magazine Philippines Food Editor.
Each panelist was asked to write a short essay. My essay was about the experience of eating in Chinatown, one of my favorite places in Manila. I was also fortunate enough to accompany Alicia and talented photographer Kai Huang to a few restaurants where we met a few of the chefs, tried some of the food and took food shots. Although it was fun to do this, I realized that it also entails a lot of hard work and dedication.
I have to say that I am honored to be part of this publication. From the stunning food shots to the attention to detail, it is a very impressive piece of work that should be part of everyone's bookshelf. On behalf of all of us here at tableforthreeplease.com, I would like to express my heartfelt gratitude and congratulations to Alicia Sy and the rest of the team at Summit Publishing for a job well done.
Eat Out Now! 115 Manila Restaurants We Love is available at National Bookstore at the most reasonable price of P250. Get your copy NOW!
LABELS: Eat Out Now, Spot.ph