By sanju on 26 November, 2012
I am back in Hong Kong just for a quick overnight trip. I decided to visit Bistronomique upon the advice of fellow foodie friends AYFKM and SHOT. I would have visited sooner but the not so accessible Kennedy Town location always put me off. However, on this trip I was able to sneak in a quick lunch before heading off to the airport.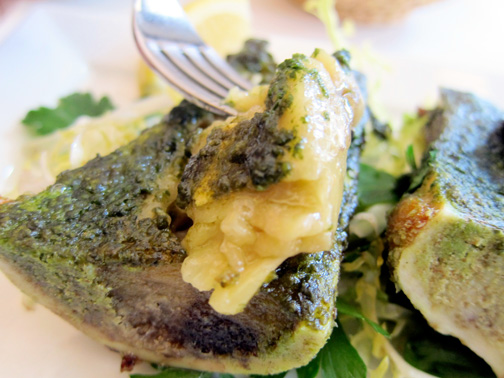 This smallish bistro has a nice menu that consists of hearty bistro fare like Steak Tartare, Terrines, an interesting Foie Gras Torchon, Sausages made in-house  and the like. They also have a good value HK$99 two-course set lunch or three courses for HK$132. I was not too happy with the set lunch offerings, so I initially wanted to order ala Carte. However, the two items that I wanted: Steak Tartare and Bouillabaisse were both not available. I then decided to have the set menu but I supplemented it with an appetizer and dessert.
I was initially served a deconstructed  Caesar Salad with a perfectly poached Egg. This was quite standard but, I nevertheless enjoyed as the greens were cool and crisp, plus I love anything with poached eggs. Then, the star of my meal arrived. Oven Baked Herb Encrusted Bone Marrow topped with Escargot Butter and Escargot pieces(HK$110). Both AYFKM and SHOT were raving about this particular dish, so I made sure that I ordered it. It was decadent, and well balanced. The herbs and escargot did not overpower, while the marrow was easy to scoop out and did not break off. This is a sure sign of excellent cooking technique. Bravo!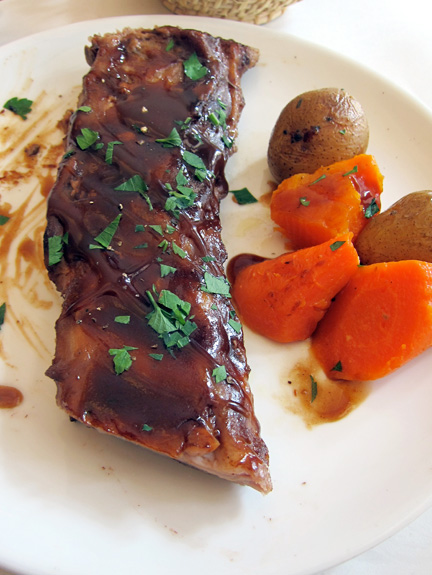 My main course was a forgettable Barbecued Baby Back Ribs that I barely touched. I found it tough and dry. After I had this, I felt a twinge of regret, as I should have stuck to ordering off the menu instead.  I am sure that I would have enjoyed the Frog Legs Two Ways (HK$88) instead. The bright side is that now I have a reason to make a return visit as I definitely want to try Bistronomique's other offerings and of course, to have a second crack at that marrow.
Dessert saved the day though as I ordered a Lemon Tart with Homemade Hazelnut Ice Cream (HK$52). Its more sour than sweet flavor is, as I like it. The use of quality ingredients was in evidence.  The addition of a scoop of hazelnut ice cream served as an adequate foil.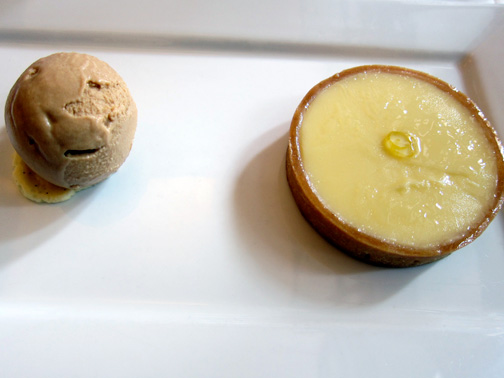 Main course aside; I am not deterred from planning a second visit during my next trip. I have a feeling that given the right plan of action, which by the way I am plotting as I write this, I will have a great meal at Bistronomique.
Bistronomique
GF 1B Davis Street
Kennedy Town
Hong Kong
Tel: +852 28188266
Email: bistronomique@gmail.com
Closed for lunch Mondays
LABELS: Bistronomique, Hong Kong, Sanju