By Anonymous Paul on 22 November, 2012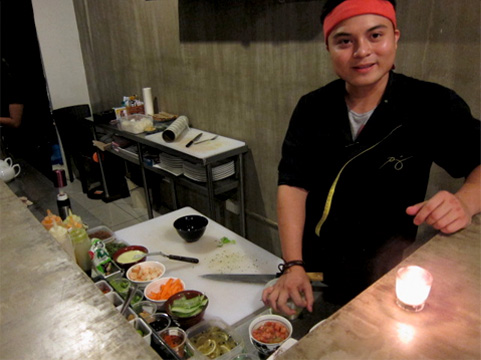 I finally had the chance to visit Sensei Sushi a few weeks ago. I had known of Bruce Ricketts a couple years back as the executive chef of the now defunct Robot. His menu seemed quite interesting then but the restaurant, unfortunately, had an abbreviated run. Bruce then set out with his own restaurant. A simple-looking, neighborhood style joint. The only decor on the walls would be this huge chalkboard that serves as the menu. He confesses he wasn't really trained as a Japanese chef but that he chose to focus on this type of cuisine because it highlighted fish and seafood, which he loves, the most. "Japanese food purists hate this place," he candidly says. It is his own interpretation of Japanese and he's thankful that a lot more people are understanding it now. I've always had an open mind with regards to food and so I decided to go with his tasting menu.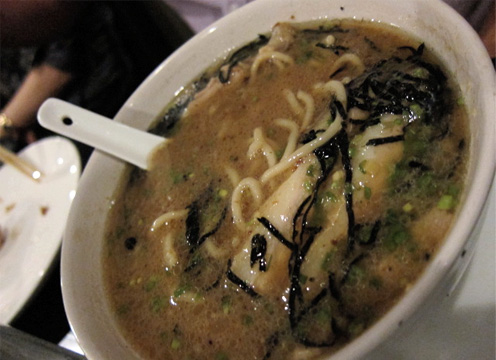 Not everyone in the group was willing to go through 10 to 15 courses, though, so some ordered a la carte. I had a taste here and there. In which his pork ramen really stood out. It's stock made with pork face, bones and black chicken and simmered for many hours. The broth was thick, sticky and rich. The noodles handmade and al dente. Quite nice.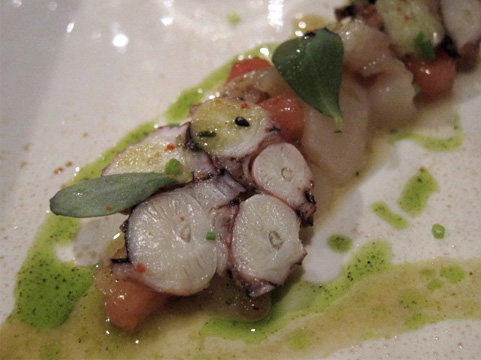 Soon enough the first course came. Poached octopus and fresh Hokkaido scallops with watermelon cubes, tapioca and mint sauce. I loved how sweet and tender the scallops were. And the unusual pairings with watermelon and mint worked.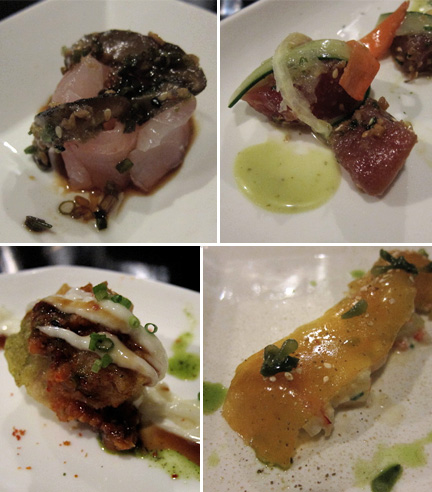 Clockwise from top left: sea bass sashimi, tuna sashimi, lobster with tangerine jelly, oyster tempura
Next came tuna sashimi served with an herb based Green Goddess sauce, mustard vinaigrette and toasted sesame seeds. Very silky textures from both the fish and the dressing. The pickled ginger that came with it was a bit old and stringy; but that was more a side than an actual component.
The lobster course was very unusual; prepared in homage to the kani salad. Made with potatoes and seaweed and blanketed over with a tangerine jelly. Again I loved how sweet and fresh the lobster was. I just didn't like the bits of (artificial) kani that was mixed in the dish. I understand it was a riff but I felt it unnecessary.
A sashimi of local sea bass topped with pickled shiitake, scallions, soy and sesame oil followed and I felt we were back on track. The texture of the sea bass being noticeably more firm than the tuna. Delicious.
A perfectly fried oyster tempura came next; simply served with radish, Japanese mayo and soy. The wasabi infused batter gives a nasal clearing kick towards the end. A dish with familiar flavors nicely done.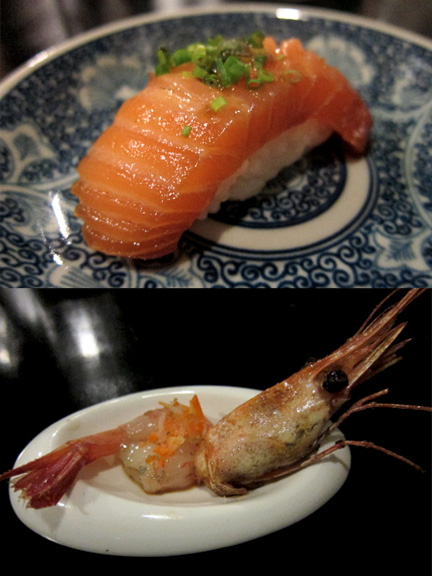 What seemed to be an innocent looking nigiri sushi was actually made with salt and yuzu cured salmon. Again a welcome surprise. Like Japanese style lox. Simple but works.
Shrimp done two-way was one of my favorites. The body was cured in a similar way as the salmon but the head was salted and roasted. Nothing better than sucking out warm shrimp roe and brains. If that's your thing.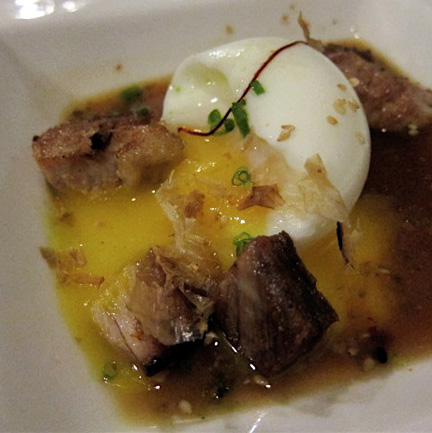 A slew of heavier dishes followed, starting with the 12 hour pork confit and soft boiled egg in a spicy kimchi broth. Topped with bonito shavings. Truly comforting with that runny yolk and fall-apart soft pork. The broth was really deep and complex.
A trio of mantis shrimp tortellini, uni and pan fried lapu-lapu came next. Served with a Japanese curry sauce with a bright kaffir lime flavor and Korean fermented black garlic paste. This is what I call a surf-and-surf.
Slivers of seared skirt steak followed next. Beautifully pink inside and with a nice char on the outside. It was served with a savory yaki udon sauce and generous shavings of home made foie gras torchon. At this point we were quite full and decided to tap out.
So Chef Bruce then capped everything off with a grilled banana dessert topped with silken tofu, caramel, dulce de leche, sesame and togarashi. An every-bite-different kind of thing.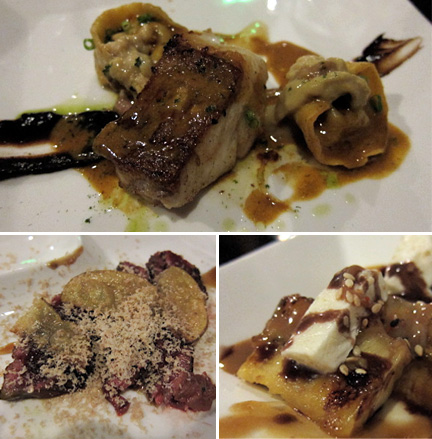 Clockwise from top: surf-and-surf plate, grilled bananas with tofu, seared hanger steak with foie torchon
The tasting menu we had for the night cost about P1300 per person; which I think was of very good value. As an independent place, it's actually very flexible. You can opt for the Omakase normally going for P1500. Or you can set the number of courses or amount you're willing to spend. Or have him keep going till you've had your fill. Of course there are also a la carte items.
Going in with no expectations, I must say I was pleasantly surprised. With the food that came out from the most basic of kitchens and all from a guy in his early twenties. He certainly knows his ingredients and how to highlight them; showing inventiveness, restraint and finesse only found in those who've logged far more hours in the kitchen. He goes to the market everyday and bases what to serve on what's available. At this point he says he pushes himself and tries to make every Omakase dish he sends out unique. Everything different. We'll see on the next visit how true this is. But for that evening, I left impressed.
Sensei Sushi
268 Aguirre Street,
BF Homes,
Paranaque
Mobile: (+63919) 377.2966
Sensei Sushi Facebook Page
LABELS: Bruce Ricketts, Japanese, omakase, paranaque, Sensei Sushi