By sanju on 17 October, 2012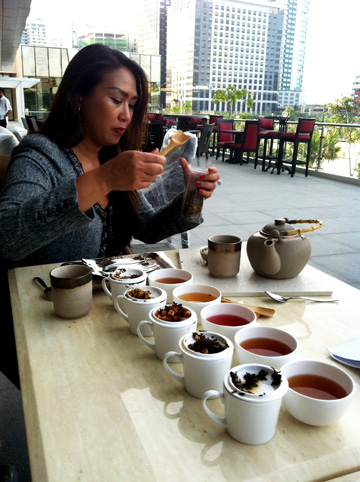 Renee cupping tea
Renee Sebastian opened my eyes to tea in the same the way that Jim Araneta did with beer. Being a coffee drinker, I have not given tea the attention that it deserves.  That is, until I tried some of Renee's tea blends which are available at her tea salon, da.u.de. After my initial visit, I could not wait to go back and try as many blends as I could as they were all little surprises of flavor.  Let us listen to Renee, as she gives us a peek into her world.
Please tell us how your love affair with Tea started?
As a singer I always relied on tea to condition my throat. I suppose in hindsight, one may call that more of a necessity than an affair, but it was something that truly allowed me to initially understand the benefits of tea drinking at an early age. It really is my curiosity about different cultures that somehow led me to my passion for tea. I traveled the world to widen my perspective and I felt drawn to tea more and more as I began to notice the similarities and differences between tea drinking societies.
What made you decide to put up a dedicated tea lounge like da.u.de. in the Philippines at this point in time?
I have always thought of myself as a progressive artist. I saw the challenge to bring authenticity into the tea drinking culture here in my motherland and decided that it would be something worth tackling. I also wanted to contribute to the advancement and acceptance of tea worldwide and saw that if I could convince Filipinos then I would be well on my way to this goal. I feel that this challenge truly shaped the concept of da.u.de tea lounge and I'm proud to say that it is the very reason why my work stands unique despite the myriad of tea concepts found in the western world.
Please share with us your concept of da.u.de., and, how you came up with such a unique name?
da.u.de's mantra is "Traditional wellness for modern lifestyles". It is also in line with my philosophy in art and life that we must continue to pay homage to our traditions whilst trying to modernize. da.u.de tea lounge is a showcase of that concept where tea is presented in different applications, the kind you come in contact with day in and day out. It is designed to educate and encourage people to introduce it into their lifestyle. That is why I have created product lines like da.u.de's coffee alternatives, which give drinkers another option to add into their daily ritual of hot cuppas.
I started the brand in NYC and being part of the diaspora there, I sought to brand my identity by embracing a name that is truly Filipino yet not so obvious. I wanted to pique people's interest so that it would open up the opportunity for me to talk about my ancestral land. I came across the word "dayude" in a travel book about the Philippines and it said it was the most intricate part of a tribal loincloth. It is the Igorot's mark or identity. I always revered the craftsmanship dedicated into those designs and I knew that my work needed to be intricate and that my work needed to be associated with my ethnicity.
Aside from running da.u.de, I heard that you are involved in other tea related activities/businesses abroad.  Please tell us about these.
I consider tea blending my main profession. I distribute my teas outside of Manila as well but my office in the USA is only open to the trade. I also do private labeling where a company will go into a contractual agreement with me in order to carry my blends under their own brand.
What is your all time favorite Tea?
Difficult to answer! As far as orthodox teas, I do love my Oolongs. And, please don't make me choose between my own blends. That's impossible!
Lets now switch to food:  What is your favorite food blog, cookbook, food-related TV show and food magazine?
I don't watch that much TV; but when I get the time to watch the television I enjoy watching Emeril Lagasse's show partly for the food and the humor. I really think that art has to be both skill and personality and he's got both! I'm a sucker for Martha Stewart's magazines. They just do it all!
If for example, you have to entertain a foreign guest for a day,  where would you take him for breakfast, a mid-morning snack, lunch, an afternoon snack, dinner and cocktails?
Around Manila, I'd take my guest to:
Breakfast:  Gram's Diner for some Tapa with Rice
Mid morning Snack: On a Saturday, I'd definitely go to Salcedo Market
Lunch:  Abe for some Filipino Food or da.u.de for some Filipino-American comfort food
Afternoon snack:  da.u.de for some afternoon tea!
Dinner: Dampa or some authentic Filipino seafood place
Cocktails: back at da.u.de or maybe my place and I can mix up some mean artisan drinks (tea infused of – course)
Do you also love to cook? If so, please tell our readers what is your signature dish?
Actually, I do when I have the time. In NYC, I used to throw dinner parties often. I love doing themed nights like doing an all Oaxacan menu where I would make the mole from scratch. I don't really consider it my signature dish but I do think it was the hardest dish I ever learned how to make (and the most painful because of having to peel 7 different chilies without gloves!)
What junk food do you love?
I occasionally have my Nachos and spicy cheese dips.
Is there a food that you just can't seem to enjoy?
Well, I don't normally like curry except when it is done really well like green curry in Thailand or da.u.de's beef rendang made by Chef Ramon Antonio.
Can you give three tips to aspiring Tea Masters?
Don't focus on the title. Focus on the craft. I always get asked in da.u.de tea lounge how it feels to be a tea master. I always jokingly respond that I'm just Renee. But in truth, it is my experience and passion that propels me ahead, at least in these islands, for tea can never be mastered in a lifetime.
Live the lifestyle. You can't be a tea master if you don't love it enough. My most recent tea master who taught me how to make green teas said the reason why he shared his knowledge with me was because he believed that the tea that my hands produce would probably be a very good one. I asked how does he know. He responded that he knew the moment he saw my notebook with all the teas I've sourced around the world complete with my tasting profile notes and because of the  passion in which I speak about teas. I do because I live it.
Don't stop learning. There is a lot of  information, particularly in the Internet, about tea. Some of them are misleading. Read enough to be able to discern the facts and continue to challenge what you've previously read. That was the only I was able to know now what I know. I had to challenge the source and then trust it when I was convinced.
What are the future plans for Renee Sebastian and da.u.de?
For me:  I would love to win a tea blending championship. Every year I do my best to enter a blend into competition and I'm hoping that I make my mark soon.
For da.u.de:  I would love for da.u.de teas to be in an average Filipino home. Expansion is always a goal but I believe in quality not quantity. da.u.de must always retain its artisan approach and it must be a brand celebrated internationally but remains rooted in the Philippines.
da.u.de Tea Lounge
GF, Net Lima Bldg.
4th Ave and 26th Street
BGC Taguig
Tel: +632 4783579
LABELS: da.u.de, Interview, On The Table, renee sebastian, Sanju, tea