By Anonymous Paul on 23 October, 2012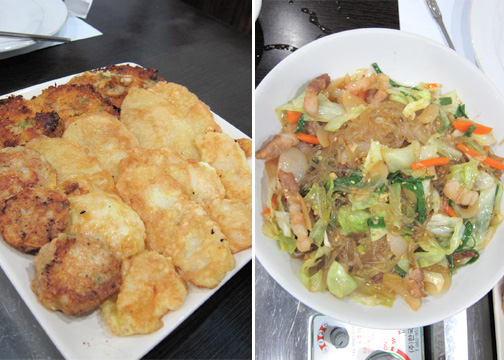 It was a spontaneous random Saturday night dinner. A couple of friends and I decided to meet over at Manna Korean Garden; located in one of the tight alleys in Makati's red light district. It sits beside one of the more popular (but now shuttered) massage parlors curiously named after the street: Don Pedro… So I've been told. The location does not put me off one bit though. I find the best Korean joints in Manila can be found in tight alleys and sub-streets. In fact, Manna was packed and we had to wait a while to get a table. I guess the hunger from the wait made us order quite a bit of food as well.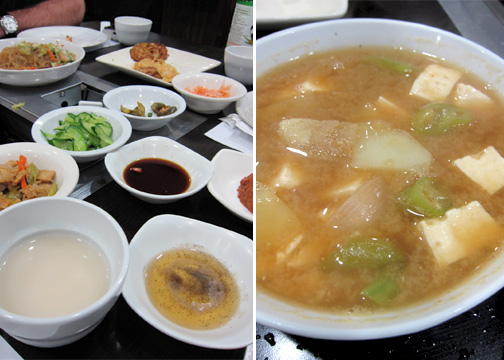 For starters we had the mixed pancake plate. As well as the japchae. The jeons came in smaller patties and in different assortments as seafood and kimchi and were quite filing. The japchae looked like your regular sotanghon guisado and it did taste like it, but with chewier noodles. It was actually not bad.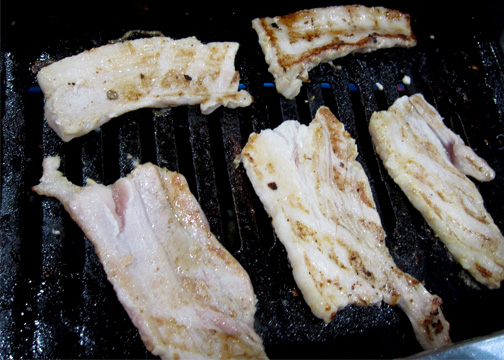 The banchan consisted of some fishcakes, picked cucumbers, radishes and kimchi and I have to say they were ok but not great. The general taste was watery and the fishcakes were limp and overcooked. We also had a donjeang chige (beanpaste stew) which was less than stellar. Again I felt it lacked flavor. For banchan and donjeang chige I still prefer what Chung Mi Rae serves over off Timog Ave.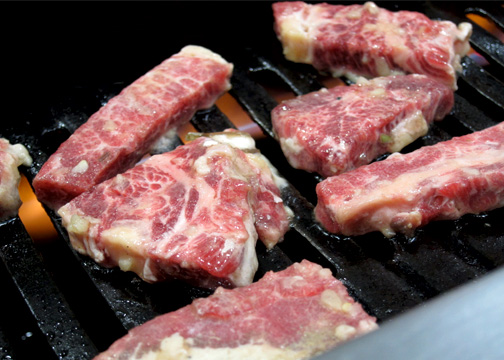 The meats, as with most decent independent Korean eateries, were of pretty good quality. We had donjeang samgyupsal, or slices of streaky pork belly marinated in fermented bean paste. Which you grill and just crisps up wonderfully. We also had the ribeye and the short-rib meat; both specimens beautifully marbled. You just need a couple minutes of cooking on each side and that's that. You wrap it up in lettuce with some rice and kimchi and bean paste and it's just interactive fun eating.
With the meal we had some makkoli; this fermented beverage made from rice. Very similar to beer. You have to shake the bottle up so as to mix the white sediment at the bottom and it looks cloudy and milky when poured (like horchata). It's slightly effervescent and has a pleasantly sweet finish. And goes perfectly well with fried, greasy, spicy food. A great match. And less potent than soju; if you don't want to end up being hammered after a meal.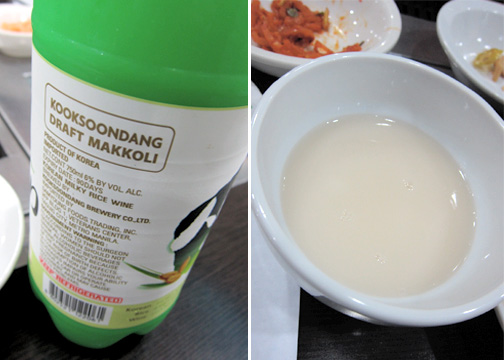 But what I really look forward to after a Korean meal is Korean ice cream. I head out to the box freezer out front and pick out an Encho bar. Inexpensive and looks much like a pinipig crunch. Crispy chocolate cover with vanilla ice cream and a raspberry flavored center.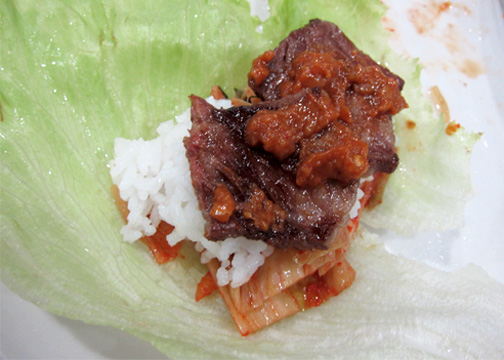 I would say it's a typical Korean restaurant. Good but it wouldn't be top of mind if I'm craving for Korean. There are too many to choose from now really. To be fair it was a more than decent dinner. So when in Manna, go for the meat!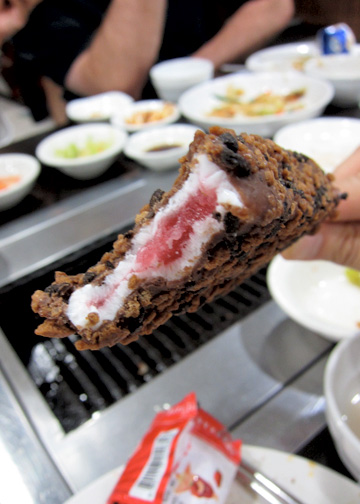 Manna Korea Garden
5650 Don Pedro St.,
Poblacion, Makati City
Tel. (+632) 897-8552
LABELS: Anonymous Paul, Korean Food, Makati, makkoli, Manna Korea Garden, Restaurants