By Kitchyart on 26 October, 2012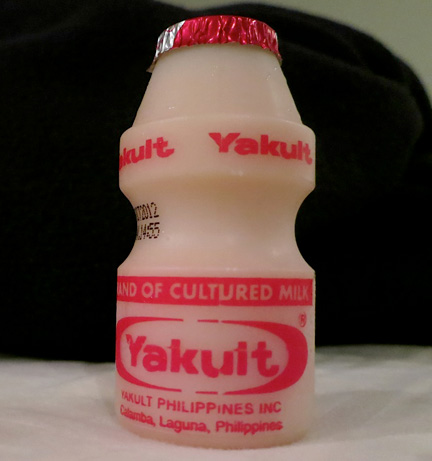 Did you ever drink Yakult as a child? I still remember the TV ads talking about Lactobacilli Shirota strain and a flash of the digestive tract on the screen with the matching Yakult tune. It seemed to me that every home had a pack of Yakult in the fridge since I had so much of these growing up. I've always wondered why it came in such tiny bottles because it's so easy to consume more than two bottles in one sitting. Our parents didn't stop us from drinking this sweet, milky drink because they drank copious amounts of it, too.
I'm glad that with the milk tea craze most of them offer the Yakult based drinks. When Tea Tap Cafe opened in San Juan last year, I went there every day for two weeks (my cravings/fixation usually last that long) and got my Peachy Yakult fix. It felt like such a conquest to be able to drink Yakult from a cup!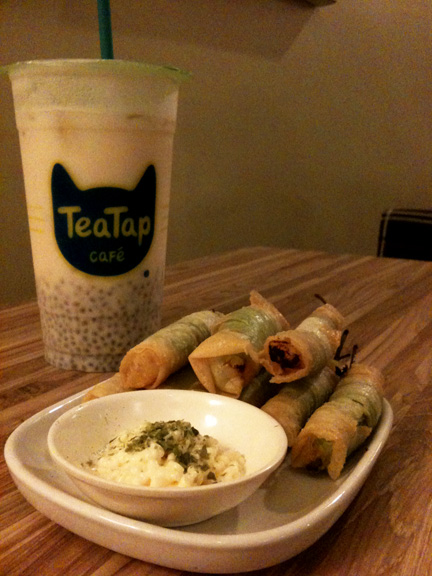 For non milk tea fans, there's also the adult version to enjoy Yakult, the Korean way, which is mixed with soju. From time to time I still buy these babies in the supermarket. I love this drink so much that I still believe it really cleans up my insides, even just a little bit. Do you still like it?
TeaTap Café
Ongpauco Sister's Building
P. Guevarra cor. Wilson Sts.
Tel. (+632) 661.7331
LABELS: Food Nostalgia, Kitchyart, tea tap, yakult