By sanju on 31 October, 2012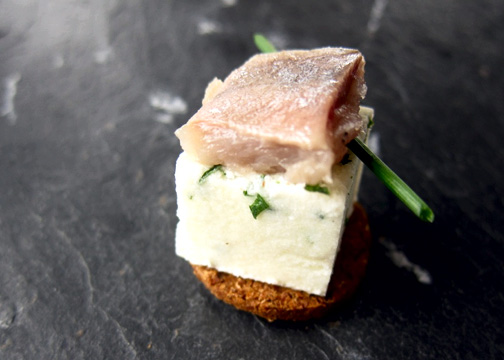 Herring Tart
As I previously mentioned in an earlier post, I was in Dusseldorf recently on a short business trip. Although I had limited time, I was able to try a couple of restaurants in the area that were worth writing about. My favorite during the whole trip was Berens Am Kai (Berens on the Quay).
One star Michelin chef Holger Berens holds court at this twenty-year old restaurant. Located at the Media Harbor area that has lots of cool looking buildings nearby, Berens Am Kai, showcases Northern European classics with a twist supplied by Chef Holger. The setting is modern and stylish, with large bay windows, white tablecloths and black leather chairs. As I was there for lunch, the large bay windows provided lots of natural light to give the whole place as cheery albeit efficient look. So efficient, that waiters are not seen standing around the restaurant. They only show themselves when they carry an order out to a waiting table. As they arrive tableside, restaurant manager Barbara Beerweiler or Chef Holger himself does actual service and explanations. The wait staff then discreetly disappears to the confines of the kitchen, never to be seen again until your next dish is ready.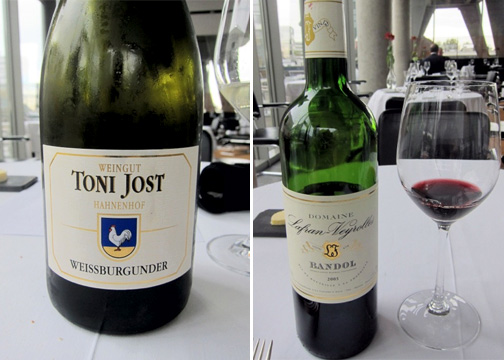 I had the three-course set lunch menu with 2 glasses of wine (€58). I started out with a delicious Smoked Herring Tart, with a Potato Terrine. This little amuse bouche set the tone for a highly enjoyable meal that I would certainly reprise, if given the chance to visit Dusseldorf in the future.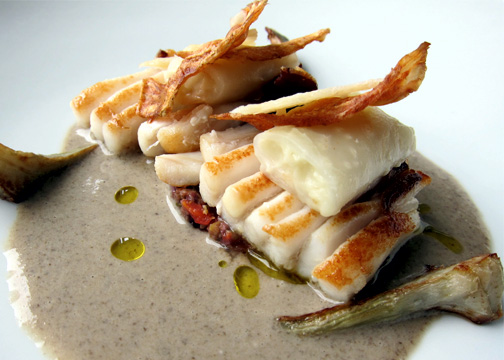 First off, I was served delicately cooked Stingray in a Fresh Mushroom Sauce with Artichokes and Crunchy Joselito Ham Pieces. The ray had the right consistency. Not too chewy, and it was extremely fresh. The crunchy bacon-like texture of the Joselito ham provided the perfect foil. This dish was the epitome of perfect execution and flavor. Bravo.
A short note on Joselito Ham. My research shows that it comes from the little town of Guijelo, about 150 miles south of Madrid. It is considered to be one of the most prized hams in the world and is sold at a minimum of US$1000 per leg.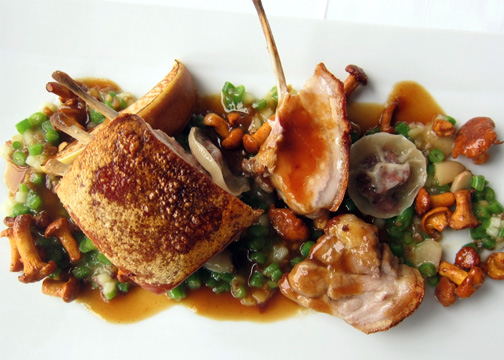 For my next course, I was served some Juvenile Farrow (pre-adolescent pigs from a litter), Fresh Pears, Beans, Chanterelles and some Speck. For those who love pork, this dish is for you. Much like how an orchestra validates an opera singer on stage, the accompaniments were restrained enough as to not shadow the crunchy and tender pork. The whole thing was such a visual delight, I thought twice about disturbing its beauty. Although, a fleeting thought it was.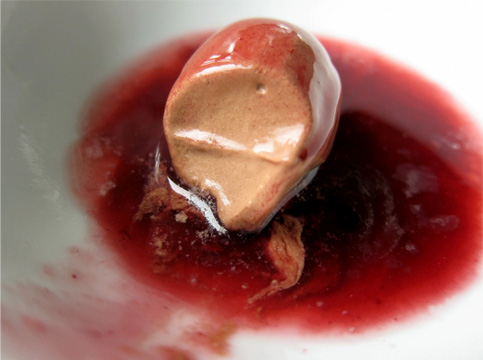 To cleanse my palate for dessert, I was served a Mild Chocolate Sorbet with an Elderberry Soup. What is not to like: Fresh Berries and Chocolate!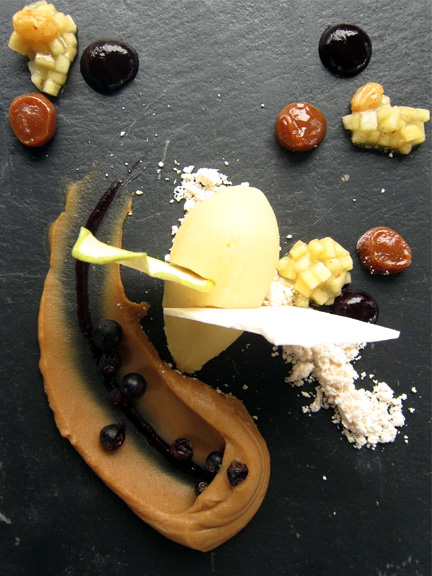 For dessert, another feast for the senses beckoned. A subtle Brioche Mousse with an Apple Sorbet, Fresh Green Apples and Cassis Berries with some Caramel and Fruit Infusions. Mix and match the mousse with the different components, eat them separately or all together, no matter what you do, every bite is a revelation unto itself.
After my meal, Chef Holger came by to chat with me for a few minutes. He was very amiable and helpful. When our conversation turned to wine and I asked him to recommend a reputable wine shop, he gave me directions and even drew me a map. Restaurant manager, Barbara was also very pleasant and kind. She even offered to call the wine shop to make sure that they were open and to expect me. The level of service during my whole meal did not feel contrived or forced at any point. Everything felt organized and effortless. They made quite an impression I must say.
Berens Am Kai
Kaistrasse 1640221
Dusseldorf-Hafen
Tel +49 211 3006750
www.berensamkai.de
LABELS: Berens Am Kai, Dusseldorf, herring, Sanju, The Travelling Table