By Kitchyart on 24 September, 2012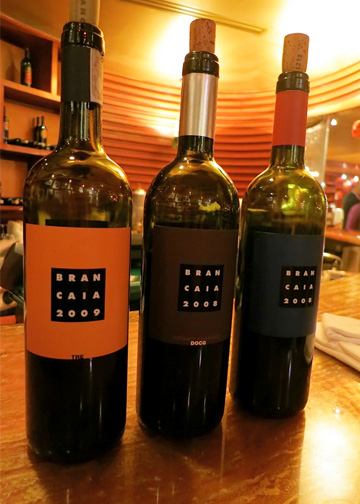 A couple weeks ago I met Pierre and her husband, Cyril, through Sanju and C at the Cheese Club of the Philippines' 30th Anniversary. A week later I received a lovely invite to attend a dinner hosted by the Straits Wine Company; dubbed The Iconic IL BLU Back Vintage dinner at Paparazzi at the Edsa Shangri-la Hotel. I was very excited since Pierre is the head sommelier; it was opportunity to learn more about the wines from La Brancaia. Paparazzi's Chef Roberto Cimmino prepared a special menu for the occasion. Casa Brancaia's Martin Kronenberg was also present at the dinner to introduce his wines and his estate.
I got to the event early and greeted with a refreshing glass of Brancaia Il Blanco 2011; a blend of Sauvignon Blanc, Gewurztraminer and Semillon.  I enjoy white wine since it's perfect for our naturally warm weather.  I carefully nursed my glass because there were more wines waiting to be savored later.  There were three other bottles at the bar, a Chianti Classico 2008, an Il Blu 2008 and a Tre 2009.  The servers were handing out small plates of calamari and arancini while we waited to be seated.
Luckily, I found myself in the company of the Straits Wine team.  Before dinner was served, Martin Kronenberg explained that Brancaia was one of the leading wineries in Tuscany, receiving many national and international awards each year.  This dinner event is the first in the country, tasting 13 different vintages of the Brancaia Il Blu.  The Il Blu is a blend of Sangiovese, Merlot and Cabernet Sauvignon.  They are aged for 20 months, then matured in the bottle before they are released.  The result is a very bold and complex wine, it goes well with dishes that are hearty as well as strong flavored; such as meat or game.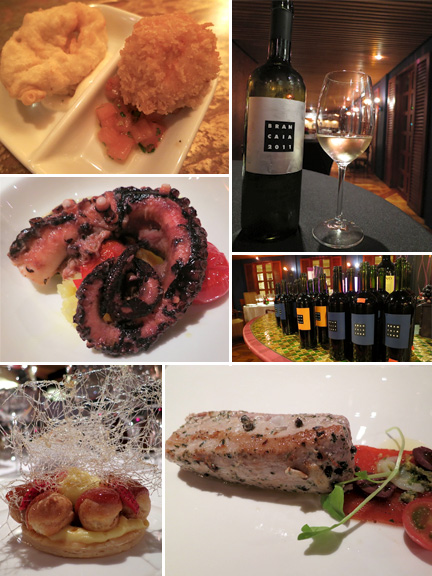 I have to admit by the second course, the alcohol started to kick in and it was getting difficult for me to distinguish the differences; we were having 3 different vintages per dish after all. I felt like such a lightweight next to them; listening to them discuss endless tastings. In fact, they had just attended another tasting before the dinner and they were discussing more tastings for the next couple of days.
The dishes prepared by Chef Roberto went very well with the Il Blu wines, the portions were very generous and well thought of.  Between the wines and the food, I couldn't tell if I was intoxicated or about to slip into a food coma.  It was a very indulgent evening featuring dishes as pumpkin gnocchi, nutty butter, shiitake ragout, ricotta and Parmesan cheese  and lardo-wrapped Wagyu tenderloin and duck fat roasted potatoes; it'll be hard to top this one.  Happy to have Pierre, Andrew, Spencer and Karen (from the SG office) to allow me to wine and dine as I eavesdropped and tried to learn from them.  This is a rare dinner event and quite the experience for a wine neophyte.
Il Blu Wines are available at:
The Straits Wine Company
2289 UPRC 3, Don Chino Roces Ave., Ext. Makati City
Web: www.thestraitswinecompany.com
LABELS: Casa Brancaia Il Blu, Kitchyart, Paparazzi, The Straits Wine Co, wine