By sanju on 10 September, 2012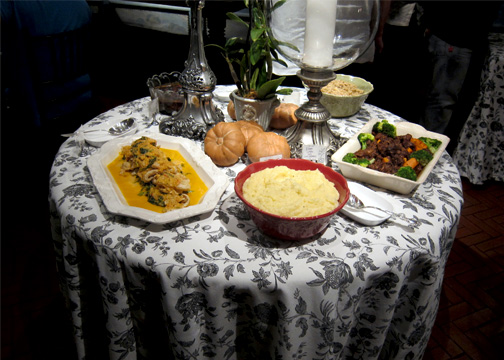 C and I were recently invited to the home of restaurant owner and chef Bambi Sy Gobio of Restaurante Pia Y Damaso fame to try out her take on private dining.
Part of the frontage of Bambi's San Juan home was converted into a parlor and dining room that is tastefully done and redolent of the spirit of many a family gathering. Personally, I found the setting, while quite formal at first glance, to be relaxing, unstuffy and for some reason, it made me want to bring out my stretch pants.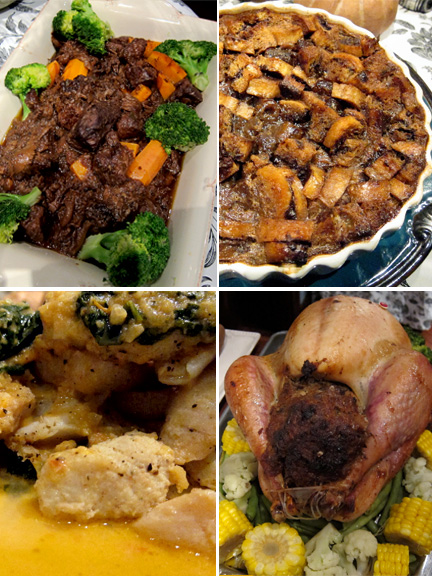 For this dinner, her theme was a Thanksgiving in August.  A recreation of the thanksgiving holidays a few months earlier than usual.  Dishes were served buffet style and the centerpiece of course, was a nice whole roast turkey with chorizo stuffing.  I was very glad I came to this dinner as I enjoy roast turkey, and this particular turkey was cooked well.  It was moist and flavorful and came with all the trimmings:  traditional gravy, cranberry jelly, candied sweet potatoes and steamed veggies. Other notable dishes were a Split Pea Soup served individually, plus a baked fish dish and beef stew.  I have to admit though that I did not give enough attention to the other dishes as I was completely zoned in on the turkey.  A niggling issue was that a little more care should have been taken when it came to the presentation of the turkey and the jelly particularly.  A few details were indeed overlooked.  It however, did not in any way spoil the whole vibe of the meal.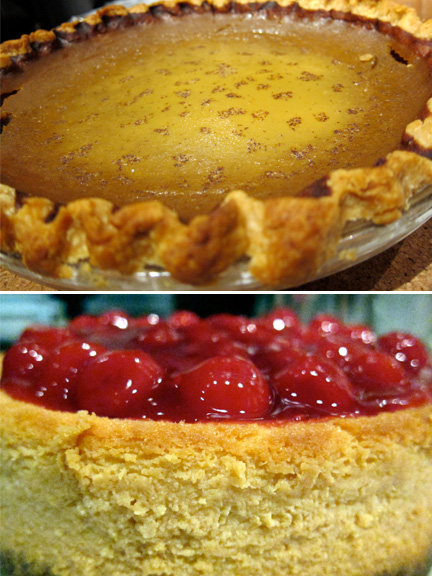 Dessert did get my full attention however.  Bambi prepared a large variety that included a Chocolate Ganache Cake with Truffles and Orange Peel, a Cherry Cheesecake and my two favorites of the night: A well-made Pumpkin Pie and an amazing Nutella and Date Bread Pudding.  When I saw these two desserts, I completely forgot how full I was and attacked with abandon.  I took a bite of the bread pudding and I was quickly transported to my happy place.  Warmth, crunch, and the flavors of dried fruit, hazelnut and chocolate interspersed to create bliss.  This was a very tough act to follow but I have to say that the Pumpkin Pie, shone in its own way.  Its distinctive spiciness and faultless consistency made me want to go for a second slice.  Alas, there was no more room at the inn.
After dinner, we spent a few moments chatting with Bambi, about food (what else?) and running a food business over cups of freshly brewed coffee.  Her home is open to private diners in groups of ten or more and can be customized based on menu choice and courses.  Cost ranges from P1500-2500 per person.
Private Dining by Bambi Sy Gobio
For inquiries Please call:
Tel: +632 502 0106
Mob: +639178480620
Email: damaso@skybroadband.com.ph
LABELS: bambi sy-gobio, private dining, Restaurante Pia Y Damaso, Sanju