By franco on 20 September, 2012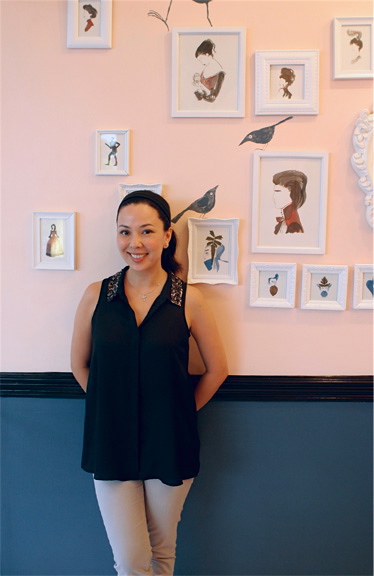 Chef Sunshine Pengson has been busy lately.

Since out last interview (over half a decade ago), she has opened a restaurant, the much acclaimed The Goose Station (with her now husband, Chef Rob Pengson), gotten married and gave birth to a (literally) bouncing baby boy. After a short break, Chef Sunshine has not only returned to the kitchen but has finally fulfilled a life-long dream – opening her own patisserie called Gourmandise.

This October, Chef Sunshine and the brigade at The Goose Station will be creating dessert-centric menu for this blog's Dinner for Dessert event.
What has changed in your life, personally and professionally since we last talked to you?
Wow, well a lot has happened in the last five years. After doing our monthly degustation dinners in Global Academy, we decided to venture out and open a restaurant. We opened The Goose Station three years ago and that has pretty much taken up all of our time since. This year, I opened my own patisserie, Gourmandise, which opened in Serendra almost two months ago. On the home front, we now have a one year old baby boy who is running around the house, causing much havoc and tons of laughter.
You have always been associated with the sweeter side of the menus you develop with your husband, Chef Rob Pengson. What made you decide to strike out on your own and open your patisserie?
True, I've always gravitated towards sweets more. Although, I do still enjoy the creative aspect of cooking. But after living in Paris in 2005, opening my own patisserie was something that I really wanted to do. So I placed it on my bucket list to dream about every once in awhile but never had enough courage to do. Several months after giving birth I felt like I was ready to go back to work.  I wanted to try something new and Rob persuaded me to finally go for it. His encouragement (and a recent trip to Paris) helped me decide that it was time for me to try it.
What do you offer at Gourmandise Patisserie? What are your favorites?
Gourmandise offers artisanal French and French-inspired pastries that are handmade from scratch using all natural ingredients. We launched our premier product, our eclairs, with 9 different flavors and we also have 5 different kinds of tarts. Expect new flavors as well as new items soon as well as some holiday specials coming up. Personal favorites are the chocolate eclair and passion fruit tart.
What are your inspirations in creating your pastries?
Well it's no secret that I was inspired by my time in Paris and eating in all the gorgeous patisseries there. I think I gained ten pounds in 6 months! But all in the name of research and study right? So Paris inspirations plus personal tastes and an assertive husband equals Gourmandise!
How would you define 'dessert'?
It's many things. It's something sweet at the end of a meal. It's your prize for eating your vegetables. It's there to evoke a memory and bring you to your happy place. For me, it means something rich and creamy. Dessert should bring about satisfaction and contentment because as we all know, your dessert tummy is completely different than your dinner tummy.
Creating a dessert-centric menu  (like the one you are doing for Table for Three Please's Dinner for Dessert) can be challenging. What are those challenges and how have you overcome them?
As with any multiple course, plated menu, you're always worried about timing and space. For a menu like this, trying to get the right balance between sweet and salty will be the key I think. Trying to tone down, compress and edit the menu…otherwise we'd have three chocolate desserts. Or trying to limit to just one chocolate, one fruit etc. Wanting to do all desserts versus savory and sweet…rambling here!
What are your favorites courses on the menu you are making?
I'm liking the foie, apple mushroom and caramel course a lot. And I'm excited about the olive oil ice cream. Must find the best Spanish oil for that one.
Last question. Say I'm a visitor from out of town, where would you suggest I eat in Manila. And what should I order?
For breakfast, I suggest Via Mare for some bibingka, kesong puti pandesal and hot chocolate. Lunch, I would recommend Cafe Jaunita. Order the laing, twice cooked adobo and the fried tilapia. Or if it's the weekend, check out Salcedo Market. I've never had a bad meal there.
An afternoon snack- Gourmandise. Chocolate eclair. Or another option would be  Hermanos Taco Shop. They have a new pork chicharones burrito that I always order and Rob always finishes. Dinner at The Goose Station. Try the Rizal menu. Another dinner option is Terry's. Ask the chef to make a special tasting menu for you in advance. This is the best food and where we go to celebrate special occasions.
And after dinner drinks – I actually wouldn't know because I don't drink!
For more details about Table for Three, Please's Dinner for Dessert, please click here.

Gourmandise Patisserie
Ground Floor
Serendra Mall
Bonifacio Global City,Taguig City.
Contact numbers: (0917)7047119/ (02)8042568.
LABELS: Dessert, Dinner for Dessert, Franco, Gourmandise, On The Table, Patisserie, Robert Pengson, Sunshine Pengson