By sanju on 29 September, 2012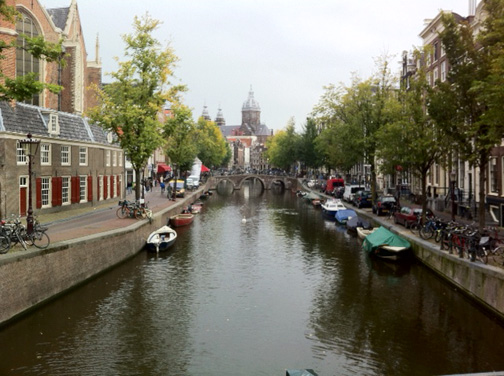 I arrived at Amsterdam Central Station this Morning on a high-speed train from Dusseldorf. I am in Dusseldorf on a short business trip. Fortunately, I had a free day in between. This gave me the opportunity to spend 24 hours in Amsterdam.
I chose Amsterdam because of its close proximity to Dusseldorf (two hours), and, more importantly, I wanted to visit my friend M who is based in the Netherlands. She was gracious enough to take the time to spend a relaxing day with me. We just walked around, soaking in the city, eating and doing a little shopping in between.
I decided to book my overnight stay at the Convent Hotel, a heritage hotel that was previously a monastery. I thought that it would be pretty cool to do this as The Convent had all the modern amenities on can ask for, including airconditioning (a rarity in Amsterdam), but set in a historical building.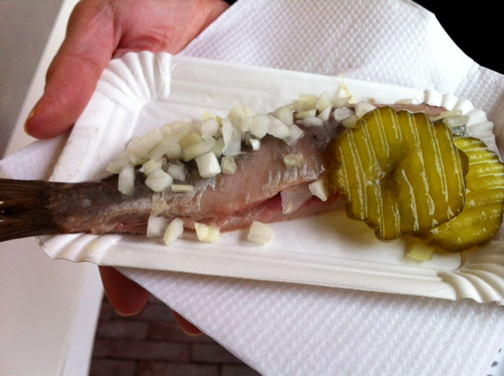 Salted Herring
After I checked in, M and I went on our way. Our first stop was a roadside stand that sold… yes, you guessed it, Salted Herring. (€2.50) The herring was deboned, slightly smoked and served with chopped onions and pickles. The traditional way of eating it is to hold it by the tail in an upright manner and just gobble it down. It was surprisingly delicate and delicious. I thought to myself that I can eat ten servings of these. Of course, knowing that I had a long day of eating ahead of me, I practiced restraint.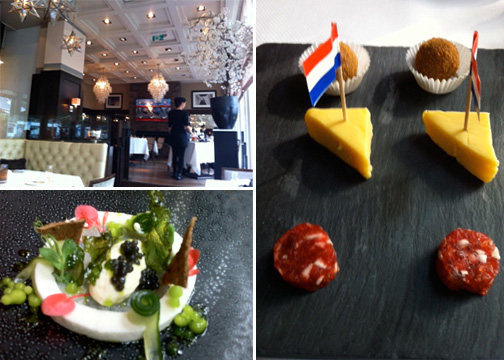 Restaurant Ron Blaauw.
I booked lunch at this Michelin-starred restaurant as I have been reading rave reviews about it online. I wanted to give it a try and judge for myself. Restaurant Ron Blaauw offers a four-course lunch (€55) that both M and I had. To be honest, though I could tell that the kitchen only used the best ingredients and that the food was creatively presented, unfortunately, the whole dining experience lacked the oomph that I was waiting for to blow me away.
My favorites were the mignardises that were served with our coffee. Two in particular caught my fancy: The Strawberry Chorizo Jelly with Frozen Yoghurt Bits and the Lemon Flavored White Chocolate Cheese Slice. I took a bite of the Chorizo Jelly and I was amazed at how it mimicked the real thing in terms of consistency. The jelly had an intense strawberry flavor, but it had the same chewiness of a regular chorizo. The frozen yoghurt played the role of the fatty bits commonly found within. The same goes with the cheese slice. It feels and looks like cheese, but once you taste it, a strong lemon flavor initially overwhelms your senses. A mellow white chocolate finish then quickly replaces it. Amazing!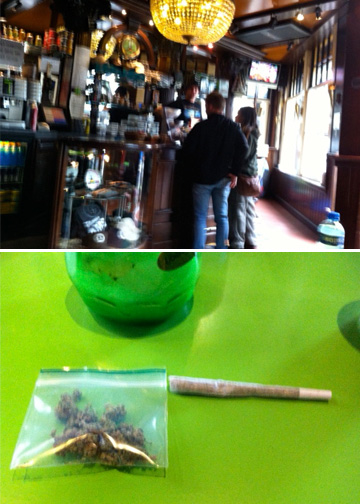 The Dragonfly
(Taking pictures at the Dragonfly was actually not allowed. I however was able to sneak in a few.)
After walking around the city center, we stopped by the Dragonfly Coffee Shop to have a pre-dinner joint. Marijuana use is legal in Amsterdam. You can find many purveyors called "coffee shops" around the city. At the Dragonfly, one picks from a menu of different blends of Marijuana or Hash. Expected effects are also listed. I picked the White Widow blend chiefly because it listed euphoria as one of its many effects. I asked our "barista" Johann, if he could he help us as both M and I are not experienced smokers and do not know how to roll a joint. He initially refused but quickly changed his mind when he saw our feeble attempt at rolling. "Man, I have never seen a more f____d up joint in my life." He then expertly rolled us a joint while laughing uncontrollably. Once he was done, he handed it to us and exclaimed: "Now that's a joint". He then proceeded to call his friends and family to tell them about what he witnessed. Admittedly, it was not our finest moment.
I had most of the joint as M only took a couple of token puffs. Although I am no expert, I can say that the White Widow blend that we had was of good quality and it was similar to the white chocolate cheese slice that we had earlier: Initially overwhelming, with a nice mellow finish. Enough said.
Haesje Claes
Dinner at this traditional Dutch restaurant was a semi-blur as you can imagine. I had Hutspot (€15.75), a dish that consists of a mound of mashed potatoes with grated carrots, topped with sausages, bacon strips and a fairly large meatball. M had Zurkool (€15.75). It is similar to Hutspot except that the carrots were replaced by Sauerkraut. These two Dutch specialties are normally winter staples. They are however available year –round in some Dutch restaurants.
The Convent
After Dinner, I walked M  to the station so she could catch a train home. Back at the hotel, I decided to turn in early as I was still jetlagged. While I wasgetting ready for bed, my television started to turn on and off on its own. When this happened, I suddenly remembered a story that M told me over lunch.  Apparently, M can sometimes see or sense ghosts. One time while staying at a hotel in Provence, she woke up one evening to see a man who looked like Albert Einstein in pajamas, standing at the foot of her bed. She didn't panic at first. She closed her eyes and told herself that when she opened her eyes "Einstein"would be gone. When she finally opened her eyes, he was still there with a smile on his face. Then, he started to climb into bed with her. She tried to scream but nothing came out. She passed out and woke up a few minutes later drenched with sweat. I asked her what was going on in her mind during this incident. Aside from abject horror, she was thinking that she didn't want her first Caucasian sexual experience to be with an old man.
The relevance of this tale comes to light as M used the restroom in the lobby before heading home. She mentioned to me that she sensed a presence while she was in there. At the time, I paid cursory attention to all these stories since I have never experienced such events first hand.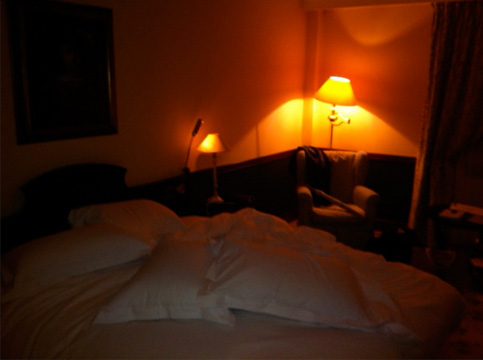 However, at this moment, alone in my hotel room, M's stories began to have credence. I first thought that I was being paranoid from the effects of the White Widow. I tried using the remote control to manually turn the television on, but nothing happened. Fed up, I removed the plug from the electrical outlet. That settled the issue, or so I thought. A few seconds later, the floor lamp began to flicker. It couldn't have been an electrical surge as all the other lights in the room were fine. Again I removed the plug from the electrical outlet.
Now fully alert, I thought about what to do next. I couldn't watch TV, I couldn't sleep, nor, could I call downstairs and ask for a change of room: "Excuse me sir, I would like to request for a room change as I think there is a ghost in my room." I didn't think that was possible unless I wanted to risk being laughed right out of the hotel.
Here is what I did. I decided to write this post in long hand; something I haven't done in years. Thankfully, things quieted down while I was writing. Finally three hours later I was tired enough to actually fall into bed and was able to get a few hours sleep with all the lights in the room left open; something I have never, ever done in my life. I also didn't risk looking on the other side of the bed nor at the empty lounger, for fear of seeing a nun, a monk or worse, another Einstein. It is now 5:07 AM, September 28, 2012. This is the end of my day in Amsterdam.
Restaurant Ron Blaauw
Sophialaan 55,
AmsterdamTel: +3120 4961943
The Dragonfly Coffee Shop
Nieuwezijds Voorburgwall, Amsterdam.
(beside The convent Hotel)
The Convent Hotel
67 Nieuwezijds Voorburgwall,
Amsterdam.+3120 7219178
Haesje Claes
320 Nieuwezijds Voorburgwall,
Amsterdam.+3120 6249998