By Anonymous Paul on 1 September, 2012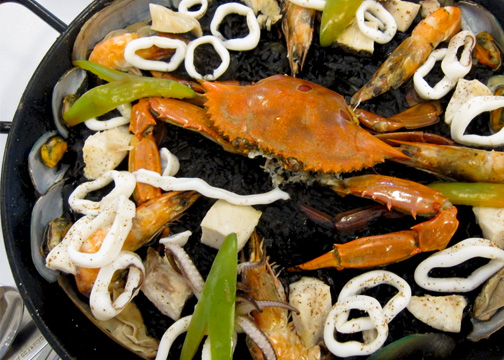 Tiny Kitchen isn't such a small place…now. But it's one of those inspiring success stories that started out from simple operations and has now grown to a full service restaurant. It is not a Spanish joint per se, but it serves Spanish centric food. Some with a Pinoy twist; plus a selection of cakes and pastries. It's expansion has also not stopped the chef/owner from still being blue-collar and working the kitchens. Which is a good thing.
Orders are taken by just one person. The majordoma. She knows EVERYTHING on the menu and can give an accurate description per item. She'll make suggestions on good parings of food and quantity. She'll also let you know that she gets upset if you don't finish your food. Seriously.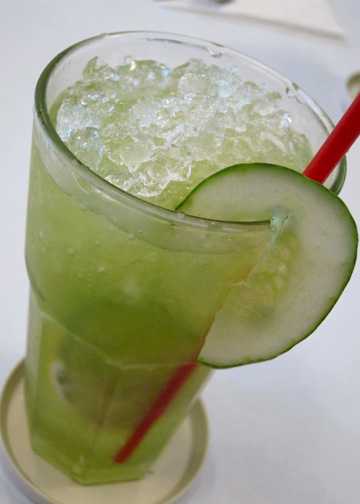 And one of her good suggestions was the cucumber lemonade. So refreshing and…green. It was a perfectly balanced mix of sweet, sour and just that hint of salt to give a round finish. I saw the chef behind the bar working on vats of sliced cucumbers; draining the green liquid to mix with the citrus. Quite interesting.
We had the paella negra; which they're quite famous for. I loved the generous scatterings of perfectly cooked fish and seafood. And I also appreciate them not drowning everything in aioli. The rice was plump and creamy and had that deep briny flavor from the squid ink. I just wish it had some soccarrat, which is any paella's best part. It surprisingly had none at all. Very little if ever. I think it's best to tell them beforehand next time that one prefers the crusty bits if one desires it.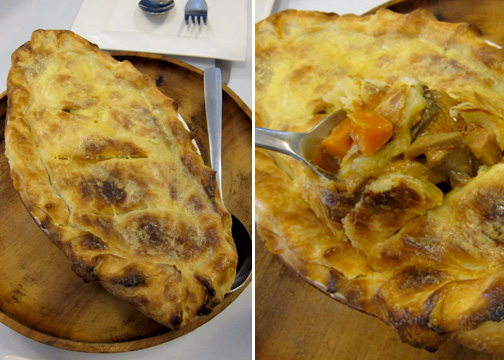 We also had the lengua pastel, of which it's crust stood out. That's the first thing I notice about pastry though. It was crisp and flaky and very buttery. The filling was creamy and punctuated by chorizo, tender vegetables and mushrooms but there was hardly any meat. Or in this case, tongue.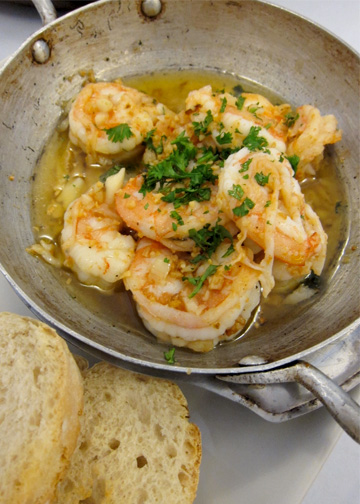 The gambas al ajillo was simple but good. Plump, tender shrimp perfumed by toasted garlic oil. Served with crusty bread on the side to sop up the juices. Pretty straight-up.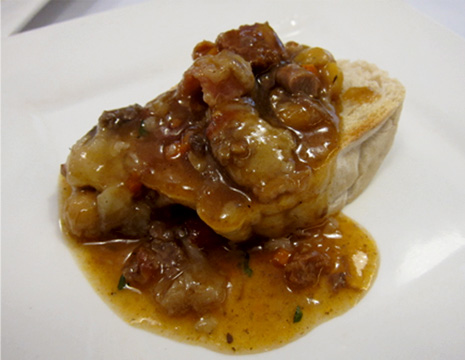 The callos, while it's gelatinous gravy was really flavorful and redolent of smokey chorizo, was devoid of any tripe! There were strips of ox cheeks/skin, globs of fat and the occasional bits of meat but I have never had tripe-less callos before. A first for me. Which was sort of a buzzkill as the rest of the components were really very good.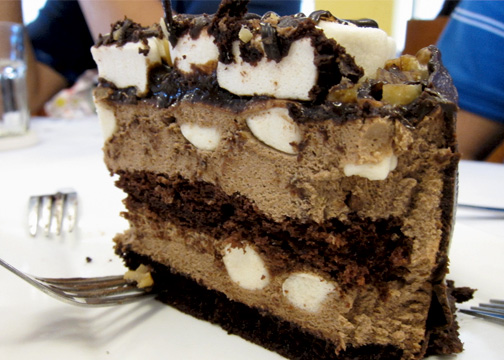 For dessert a slice of the "major-major" cake was ordered and shared. It's sort of like a rocky road cake; with marshmallows, nuts and dark chocolate. Surprisingly it wasn't as sweet as it looked (which is good) and I imagine really goes well with a coffee. They've got quite the selection of pastries including their frozen chocolate brazo de mercedes which was included in the Philippine Daily Inquirer's 25 Best Desserts of 2010. I, however, heard the call of the yema cake more. But will save that for next time.
In all, it's easy to like this place because the food they serve has that real homemade feel. Save for a few issues as stated above. I guess you just have to come in and be a little bit specific in terms of preference. But it's a notable place if you have the time to spare when in Davao.
Tiny Kitchen
Torres Street
Davao City 8000
Philippines
Tel. (082) 305 9232
LABELS: Anonymous Paul, callos, paella, Spanish, Tiny Kitchen