By Anonymous Paul on 5 August, 2012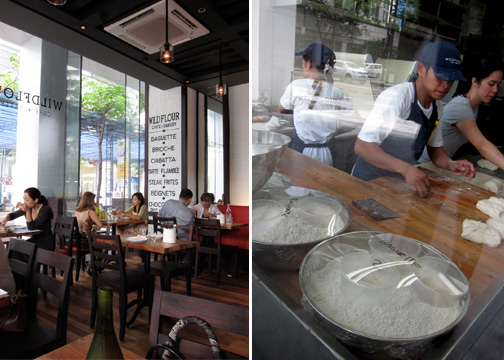 When you've got a few food lovers in your network posting food porn in your Facebook newsfeed everyday you tend to find out more quickly of the newer places out there. But the stars sort of aligned at one point last week in that pictures from this just-opened place called Wildflour kept popping up.  And with said friends going back several times within the week I figured it was worth a visit to see what all the fuss was about.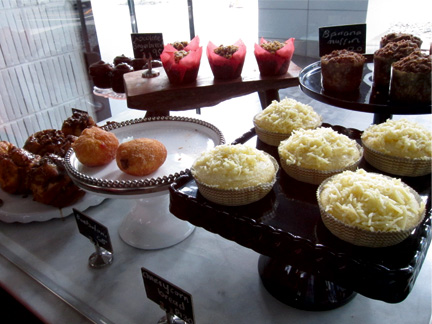 This place is built around the breads that they bake on-site. You get a loaf of baguette once you sit down and the ciabattas, baguettes and brioches are also used in their massive sandwiches. The menu is very straightforward; filled with solid, hearty food. Consisting of only a handful of quality ingredients at most. (And I have to say one of the few places in Manila that has quite a limited but well thought-off breakfast menu. At least on paper.) Did I mention the bread being divine? The complimentary baguette was served warm; the crust was nutty, crunchy and a gorgeous golden brown.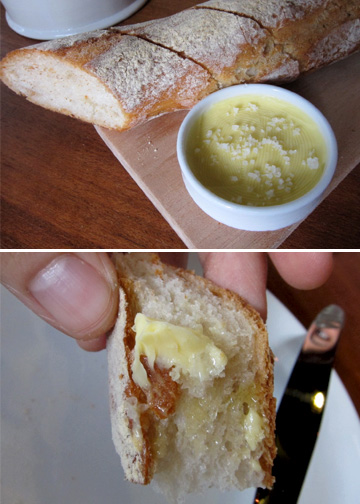 I had lunch with the wife and Sanju's better half, C, and we had decided to order a few things on the menu to share. We had the tempura of mixed vegetables (asparagus, zuchini, oyster mushrooms) as a starter. Flavor-wise it was good but overall I found it too greasy. It's obviously deep fried but it was more that batter soaking up too much of the frying oil that tends to get you.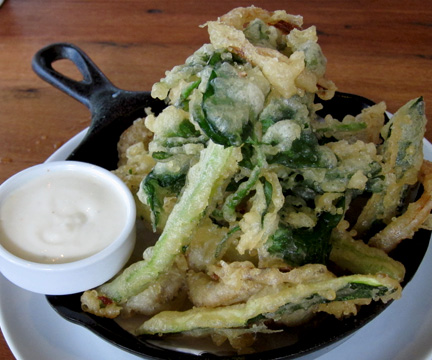 The wife had ordered a croque madame; basically a ham and cheese sandwich topped with egg. However it didn't look so basic when it arrived. It was a beautiful hulking gooey mass. Thick cut, milky brioche loaded with layers of ham, melted gruyere and with a perfect sunny side up sitting on top. Quite overwhelming.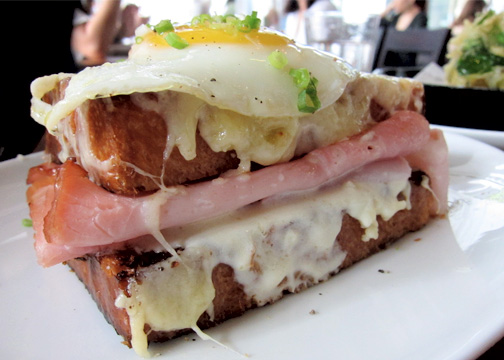 I had ordered that particular day's special, which was the porchetta sandwich. Again, the menu just states pork belly, arugula and bread but what arrives is something really impressive. Two six inch ciabattas generously stuffed with slices of the most tender, aromatic, fatty roasted pork; it's richness counterpointed by the fresh bitter greens. The bread was firm enough to absorb the juices from the roast without turning soggy.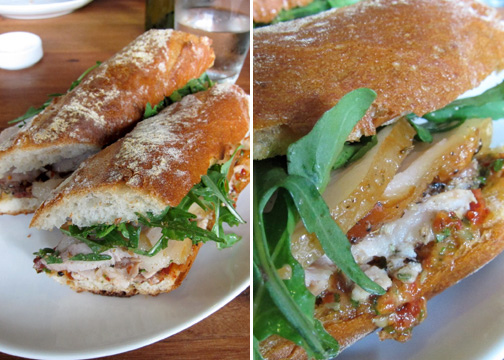 C's order was quite the dark horse. She had ordered the "soup, salad, sandwich". And what arrived was really the most awesome cheddar and emmenthal grilled cheese sandwich; with thick brioche slices buttered on the outsides and then pan fried. Decadent is an understatement as it not only drew sighs but expletives upon first bite. The thick tomato soup and the acid from the green salad just makes for a really balanced meal.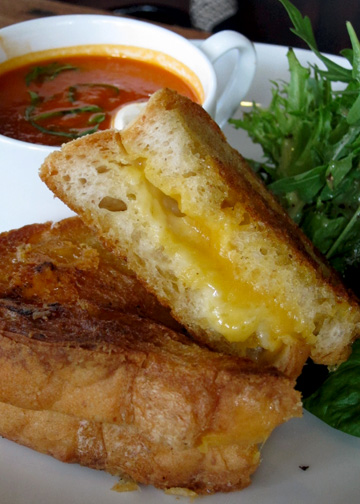 For dessert we had ordered the Wildflour Sundae; made with home-made ice cream, bananas, nuts and brownie squares. C commented that it's profile was similar to a Ben and Jerry's Chunky Monkey. It was not my favorite thing, though. I had originally wanted to order the passion fruit cream pie but had no space left in my stomach.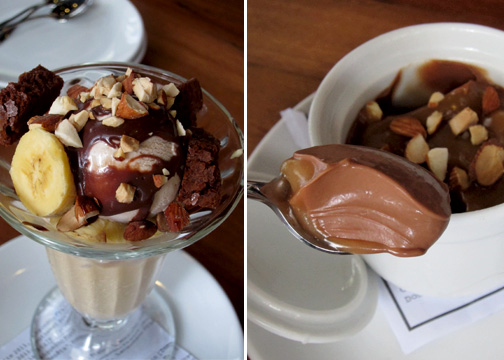 But what worked for me was the chocolate pot de creme; a smooth pudding made with lots of eggs and cream. Their version is topped with a layer of sea salt caramel and chopped nuts. It's really so sinful and addictive; the texture so silky. The touch of salt just gives that additional depth and roundness. It's something to come back for.
What I concluded on this first visit is that there is a need for more visits. Despite all the food we had on the table, we kept on looking at all the food coming out of the kitchen and on the surrounding tables: the thick burgers, the huge 800g dry aged cote de beouf with all the trimmings, meatball and smoked salmon sandwiches. But what I like about this place most is that it makes good on the basics and builds up on those to create simple, satisfying, unpretentious food. Of course I can't expect everything on the menu to be stellar; but this early on I can tell this place will have a lot of regulars. Oh wait… it already does.
Wildflour Café + Bakery
G/F, Net Lima Bldg,
4th Ave. corner 26th Street,
Bonifacio Global City, Taguig
Tel. (+632) 856-7600
LABELS: Anonymous Paul, bread, fort bonifacio, wildflour cafe + bakery