By Anonymous Paul on 18 August, 2012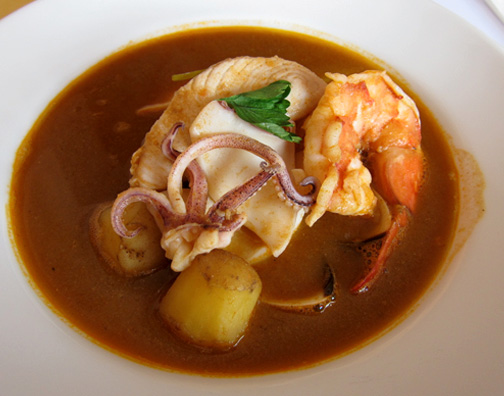 Bouillabaisse is quite tricky and time-consuming to make. It's a traditional Provençal dish with peasant beginnings; said to originate hundreds of years ago from the lowly fisherman's fish boil. With the good-looking fish all sent to markets and consumed by the wealthy; they were left with the grotesque-looking specimens as rockfish, monkfish and scorpionfish. Their external spines and bones, however, provided a great deal of sweet seafood flavor and that gelatinous texture. Richness was added by using onions, leeks and celery. The selection of fish and seafood used would vary upon availability, but it is a specific combination of aromatics, spices and herbs (saffron, fennel, orange peel among others) that make this stew what it is.
You barely see this item on restaurant menus, not even on a call-ahead basis; considering the Philippines is surrounded by water and all types of fish and shellfish are available at any given time. Understandably there is some expense taking to account the ingredients used. Nevertheless, it's not impossible.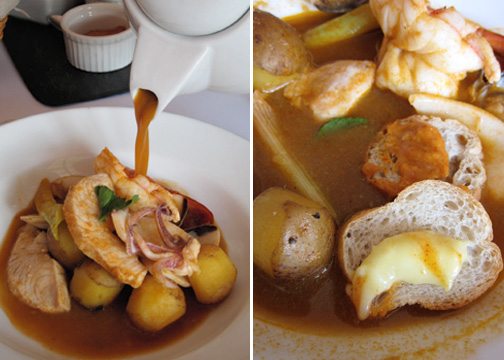 One of the few places to serve this in Manila is Brasserie Ciçou. (A decent one and accessible; it costs a bit less than it used to compared to Restaurant Ciçou and half to that of La Regalade's). It's not quite the bounty of the sea extravaganza, I know; but they use salmon fillets, squid, clams and prawns. (What I would assume as consistently available in the market at any given time.) All poached till soft and giving; perfectly done. The broth itself is complex and intensely flavored; I gather from roasted shrimp heads and shells. (With the addition of cream probably ends up as their prawn bisque.) And the use of aromatics does make this stew what it is; a one-pot-wonder. It's classically paired with croutons plus the traditional aioli and rouille (basically aioli with saffron and chili). You slather either on the bread and drop them in the bowl. The bread sops up the broth and the melding of flavors is just incredibly satisfying. I could  easily have two portions of this. One caveat: it'll give you garlic breath so don't have this on a first date.
Brasserie Ciçou
57 Annapolis St
Greenhills, San Juan
Tel (632) 661.9200
LABELS: Anonymous Paul, bouillabaise, brasserie cicou, one dish meals