By sanju on 23 August, 2012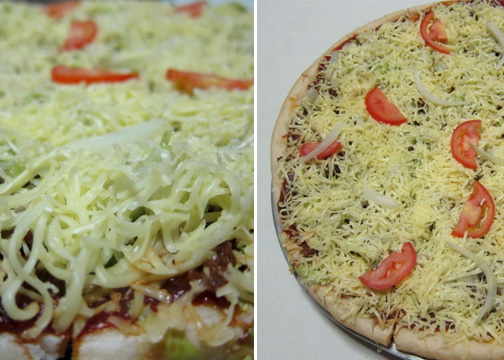 When we decided that our theme for the month was going to be one-dish meals, I initially wanted to feature C's moussaka recipe. However, due the continuous inclement weather, we could not find the cornerstone of the recipe: Decent sized eggplants or aubergines. I had to abort Plan A and rack my brains for Plan B.
First I had to breakdown what I thought a one-dish meal should contain. Some protein, veggies, starch and dairy. More importantly, it should be filling and not have that "umay" factor. After doing a bit more racking, I finally came up with what I thought would be perfect: Di'Mark's Taco Pizza. (Small-P235, Medium-P545, Large-P765).
I am a big fan of Di'Mark's, One of the oldest pizza places in the Philippines. It opened in 1957, closed down in 1997 and reopened again in 2002. In fact, I am proud to say that I was their first ever delivery customer when they reopened. A fact that owners Nina and Jay Assad have not forgotten (since I always remind them).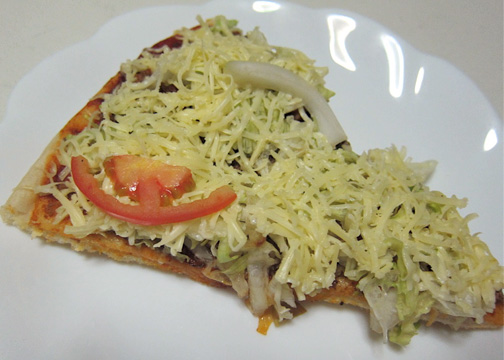 Through the years, Di'Mark's Taco Pizza has been our default delivery choice when C and I crave for pizza. It is topped with perfectly seasoned ground beef chili, onions, tomatoes, lettuce shreds and LOTS of grated cheddar. I always add a dash of Tabasco or Sriracha for that tangy spice factor. Simple yes, but believe me it works. Another reason as to why I enjoy having Di'Mark's Pizza so much is its dough. Medium in thickness, crunchy and almost breadstick like in its consistency and flavor. It is able to hold all toppings well without folding, making it a complete joy to consume with your hands- as pizza should be.
My daughter always complains that I tend to be sappy towards the end of my posts. This time, in her honor as she is celebrating her 15th birthday in a few days, I will be un-sappy: I heartily recommend to everyone who has a pizza craving to head to down to, or call Di'Mark's and try their Taco Pizza. There you go. Happy Birthday S!
Di'Mark's Pizza
2646 Taft Avenue, Manila
Tel +632 4040683
With branches in Mandaluyong & Tomas Morato, QC.
LABELS: Di'Mark's, one dish meals, Pizza, Sanju