By sanju on 3 July, 2012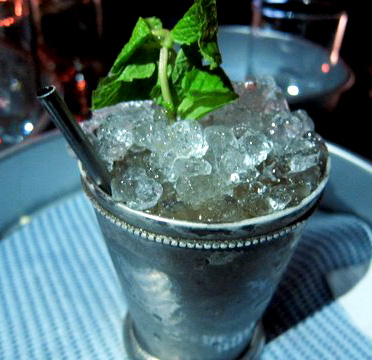 A tumbler-full of mint julep.
Have you ever been to a bar, ordered a cocktail so awful that you think to yourself:  "My next drink is going to be a beer."  I know, as I have felt this way many a time.  Enter The Blind Pig.  The supposedly not so secret bar that has been one of our favorites since it opened a few months back.
The bar has a speakeasy concept that harkens back to the days when the Volstead Act was in effect.   Darkened room, muted music, old artifacts, and a locked door, completes the theme. Once you are buzzed in, you know that you are going to be well taken cared of, as everything that is done at The Blind Pig is done very, very well.
Once seated, the servers ask for your name in true speakeasy style, and give you a menu card with a few drink specials.  They will also ask you if you would like a tailor made drink based on your specific tastes and preferred libations.  All servers are knowledgeable and personable.  Trace and Dave, who have been my regular servers, have to be commended on their memory and attention to detail.  They have never failed to give a credible answer to my many questions.
Be assured that only high quality spirits, and liqueurs are used for all drinks.  Ingredients and fruits are always fresh plus citrus is squeezed to order. Ice is also a serious matter at The Blind Pig.  Depending on the type of glass and drink, ice is either finely crushed, molded or hand carved following the shape of the glass or tumbler.  The use of had carved ice impresses me to no end as this ensures that one's drink is cooled at an even temperature.  Galing!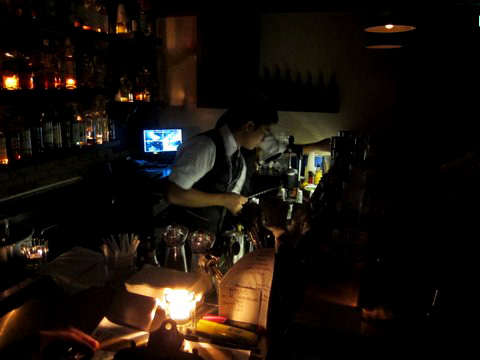 On a recent visit with Anonymous Paul and our better halves, I ordered a Mint Julep (P300) while he had a Whisky Sour (P300 most cocktails range in the P300-P350 level).  I have been partial to the Blind Pig's Mint Julep.  It has bourbon, sugar syrup, and lots of fresh mint.  This is served in a steel tumbler. I always ask for mine to be heavy on the bourbon and light on the syrup, making it an extremely stiff drink.  AP's classic Whisky Sour was topped with some fresh, whipped egg whites and Angostura Bitters.  Quite refreshing.
We all ended our night with Dave's recommendation called Sunflower.  A gin based shooter with elderflower liqueur and an Absinthe rinse.  Fragrant notes coupled with a hint of anise makes this potent drink a must try.
Judging from the way he was laughing at all (!) my corny jokes, I have to admit that I may have gotten Anonymous Paul a wee bit tipsy.  That being said, I was still struck by what he told me as we were saying our goodbyes:  "The Blind Pig makes it difficult for one to drink anywhere else."   To that I say Salute!
The Blind Pig
227 Salcedo Street
Legaspi Village, Makati
Tel: +632 4786990
Open Mon-Sun, 6PM onwards
Reservations Essential
LABELS: cocktails, Sanju, speakeasy, the blind pig