By Anonymous Paul on 24 July, 2012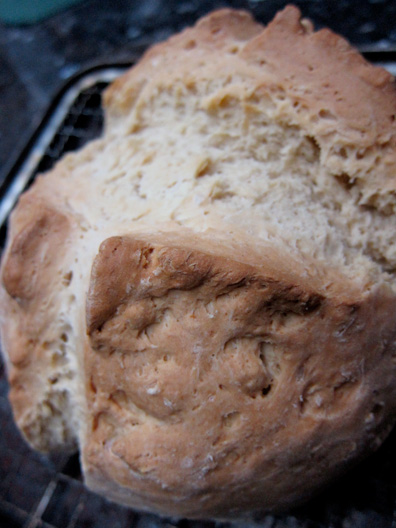 Bread. Love it (along with other carbs). But I'm not quite the fan of Asian type breads which are for the most part sweet, light and gummy. Crusty, chewy, hearty loaves are more my sort of thing. Nonetheless, I understand bread in general is quite tricky to make. And I'm really not much of a baker; being much more comfortable behind the stove. It's funny how I probably wouldn't mind waiting for a stew to cook for 4 hours but have no patience for bread to rise quietly in a corner. But it was over a visit to Singapore's Blu Kouzina that sparked memories for me as it reminded me of a type of bread I used to make when I was a pudgy teen. They had served a dense loaf of home-made bread (with their fabulous olive oil) that was very similar to a damper bread. The damper is of Australian origin; a quick-bread they used to make in the Outback leavened only with baking powder. In essence it's dough was really very basic; only consisting of flour, water, a little butter and the baking powder. This was then placed over fire in a Dutch oven. If no Dutch oven was around, the dough was wrapped around ends of sticks and held over flames; much like marshmallows. If there were no sticks they would throw these right atop the campfire ashes to bake.
Leaden is one word to describe it. It's hefty and attains this hard shell when baked. Inside it is soft and crumbly, much like a large biscuit. But with the addition of butter in this modified recipe, you get a bit more richness and color. We don't allow for proofing here so the addition of yeast is also basically for that fresh, home-baked flavor.
Interesting enough I found the exact same recipe I used back then from the Aug 1987 issue of Sunset Magazine. The wonders of Google!
Australian Damper Bread
Ingredients:
1pk active dry yeast (about a tablespoon)
1/4 C warm water (110 degrees F.)
1 C warm milk (110 degrees F.)
3 C all-purpose flour (thereabouts)
1 Tb baking powder
3/4 tsp Salt or to taste
2 Tb Butter or margarine
Instructions:
In a small bowl, soften yeast in water, about 5 minutes. Stir in milk; set aside. In a bowl, mix 3 cups flour, baking powder, and salt. With a pastry blender or your fingers, cut or rub butter into flour mixture until fine crumbs form. Add milk mixture; stir until evenly moistened.
Turn dough out onto a lightly floured board and knead until smooth, about 15 times (do not over-mix!); add flour if required to prevent sticking. Shape dough into a lumpy round loaf, 5 to 6 inches in diameter. Dust lightly with flour, then place in a greased 8-inch round cakepan. There is no need to let the dough rise. With a sharp knife, cut an X about 1/2 inch deep and 3 inches long across center of loaf. Bake on bottom rack of a 375 degree F. oven until well-browned, about 55 minutes. Remove from pan and letcool on a rack for 5 to 10 minutes, then serve warm.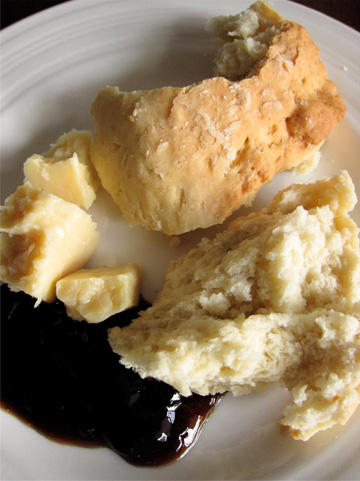 It'll kind of look like a giant monay out of the oven but the comparison ends there. The smell is incredibly yeasty. I hastily tore ivory hued chunks off the loaf and had it for breakfast with some sharp aged cheddar and guava jam; it was just sublime. Substantial and filled me up through lunch.
Obsessed about bread after this easy version, I've actually found a recipe from the 80's as well replicating the natural sourdough starter from the famed Acme Bread. On paper it looked simple enough to do but the process of making the starter to proofing the dough, kneading and baking it would take a few days of preparation. I'll let you know when I get around doing it. In the meantime this damper should more than suffice.
LABELS: Anonymous Paul, Breaking Bread, damper bread, Table Recipes