By sanju on 13 July, 2012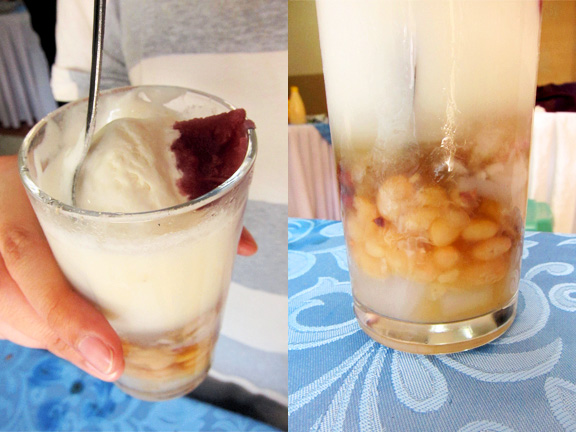 My maternal grandfather was my first foodie partner-in-crime.  Although I lived in Manila, I used to spend my summers in Cebu, where my mother's family is based.  One afternoon–I must have been 6 years old–it was only my grandfather and myself left at home.  Everyone else, including my grandmother, was busy working in the family handicraft store.  Dada, as we all called him, was battling a heart condition and diabetes.  His doctor advised him to take things slow and put him on a strict diet.  Dada, however, decided that a cheat day was in order.  He asked Mameng, our housekeeper, to go down to the mini mart to buy three Ice Bukos with beans on the top.   He swore us to secrecy and warned us that there would be hell to pay if my grandmother ever found out.  I enjoyed the creamy flavors and the added dimensions brought about by the beans and the shaved coconut meat that seemed to magically appear as I licked my way through this refreshing confection. I was so excited to tell the rest of the family about trying Ice Buko for the first time. I held my peace though, since I was hoping that Dada would reprise our special afternoon very soon.  Alas, it was not meant to be, since Mameng told on us in spite of her Ice Buko bribe.
Dada would frequently come to Manila on buying trips.  He would also visit nearby provinces to purchase local specialty items.  If, by chance, an out of town trip would coincide with a day that there were no classes, he would take me along with him.  My most memorable trip with him was to Paete in the province of Laguna.  We left early in the morning, and arrived in time to have breakfast at the local panciteria by the town plaza.  We would then visit his different suppliers who mostly had makeshift workshops in their modest homes.  Dada would see what they were offering; start haggling and make his purchases.  His items would then be loaded into our van and we would move on to the next vendor.  Lunch was spent in the home of one of his old friends.  I still remember that we were served Tapang Usa.  It was the first time for me to try it and I loved it—to the point that I enjoy eating all types of game meat to this day.
Dada resumed his routine for most of the afternoon. I started to get restless, and decided to wait outside by the van. I noticed a roadside stall displaying thick, squat tumblers with little edible multicolored gems.  My curiosity piqued.  I ambushed Dada as he came out bearing his latest purchases.  "Dada, what's that?" I asked pointing towards the stand.  "Oh, that's Halo-Halo.  It's sweet. Do you want to try?"  Jackpot!  "Yes, Dada, I want to try."  We sat on wooden stools and watched as the stall owner added some Bear Brand evaporated milk and finely crushed ice into the tumblers, each filled with pinipig, beans, gelatin and nata de coco. I watched how Dada made his way to the bottom of the glass by gently tapping his spoon on the shaved ice.  When his spoon reached its destination, he deftly mixed all the components creating a milky, colorful slush.  I tried to do the same, but ended up spilling most of it on the counter and on myself.  This elicited a chorus of guffaws from both Dada and the stall owner, who, after seeing my obvious frustration, gave me a free replacement that she mixed herself.
While we ate, Dada recounted that he first saw Halo-Halo in the late 1930's being sold by Japanese vendors.  "They were probably trying to copy Japanese shaved ice desserts but began to use local ingredients like candied root crops and local fruits soaked in syrup since it was more convenient. I guess everyone enjoyed it, so it remained even after liberation."
As I finally got to try my Halo-Halo, I was pleasantly surprised.  It was the same yet different.  Every spoonful was creamy but each had a different flavor and texture, depending on what I scooped up.  I tried eating one ingredient at a time, then two, and then tried fitting three into my spoon.  "This is amazing!  It is like eating a hundred desserts at one time," I told Dada.  Soon, I could see the bottom of the glass peeking out; then, to my dismay, it was over.  "Dada, can I have another one?" "Let's save it for another time," Dada prudently said.  He was probably thinking that an overfull nine year old plus a swaying van does not a very good ride home make.  "Let's schedule a trip to Baguio.  I know a roadside stall along Asin Road that serves Ilokano Halo-Halo with big chunks of gulaman." He declared as my eyes widened in anticipation.
Dada passed away suddenly soon after. Although we never got to go on our Baguio trip, his legacy remains. Ice Buko and Halo-Halo have become my favorites. Many happy memories have been associated with both: Having ice buko with my best friends after school; going on Digman Halo-Halo dates at the Landmark food court with my future wife; having the famous Halo-Halo Fiesta at the Peninsula during special occasions; watching my 1 year old daughter's eyes light up when she got her first taste of Ice Buko and sharing Travel Café's humongous Halo-Halo with my family on a lazy Saturday afternoon. Every time I indulge in Halo-Halo or the now harder to find Ice Buko, I remember Dada fondly.  I am often left in awe at how certain types of food can elicit such nostalgia. In my case, having either one of my favorite desserts not only fills my tummy, but also gladdens my heart and nourishes my soul.
LABELS: Food Nostalgia, Halo-Halo, ice buko, Sanju