By Anonymous Paul on 29 June, 2012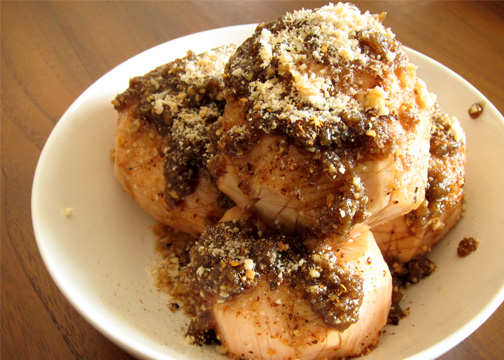 We have a santol tree in the backyard presently burgeoning with fruit; some actually just falling to the ground. However good it might be one can only eat so much of it plain, with a sprinkling of rock salt. So to vary things up a bit, I decided to try a Thai-street-style fruit preparation; dressing it in a fish sauce/palm sugar syrup, mixed in with pounded peanuts, dried shrimp and, of course, chili. I've tried this dressing quite a few times with their famous sweet, crunchy green mangoes but never with santol. However if rock salt pairs well with it, I assumed this amped up dressing would surely work even better.
Santol with Peanut and Chilies (Grathon Song Kreuang)
Adapted from David Thompson's Thai Street Food
Ingredients:
handful of salt mixed in a big bowl of water
3 to 4 pieces santol
2 Tbsp dried shrimp (hibe)
2 Tbsp shelled dry roasted peanuts
1 tsp dried thai chili flakes. (If you can find the Foodex brand in the groceries that'll work great).
2 Tbsp grated palm sugar (panutsa; which you can find in cake form in some groceries) or brown sugar.
2 Tbsp thai fish sauce (nam pla) or good quality patis
1. Peel the shell of the fruit with a paring knife, leaving a good part of the fleshy, pithy rind. Quickly place in the salt water to prevent oxidation and to draw out the sharp tartness and astringency. Do this for each fruit.
2. Take a fruit then tap it rhythmically with a blade of a heavyish kitchen knife, producing deep scores all throughout the surface. Then return to salt-water. Again do this for all.
3. Pound/grind the dried shrimp in a mortar and pestle till floss like.
4. "Sung-song" or sun dried peanuts seemed to work for this recipe. Dry roasted them in a pan till fragrant. Then pound to a coarse meal in a mortar and pestle.
5. Mix the sugar and nam plaa in a saucepan and heat over a low flame, continuously stirring so it doesn't burn. You can also mix in the chili and dried shrimp at this point. Also the peanuts if desired. But leave some of each for topping. I may have made more syrup in my version but just maintain a 1:1 ratio for the liquids to double the quantity if desired.
6. Squeeze and dry the santols and place in a bowl.
7. Drizzle with the syrup and sprinkle remaining peanuts and chilies to garnish.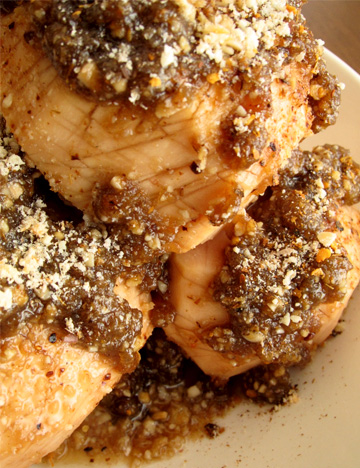 As with most things Thai, the flavors you'll get here are just explosive. You get the tempered sourness from the santol skin, whose rind just turns almost meaty from the salt treatment. You get a sweet/salty umami packed sauce that just complements the tartness. Crunch and nutty notes from the peanuts and the glowing heat coming in last. The best part is when you reach the sweet, pulpy seeds at the center. This recipe's a keeper.
And since it's still santol season, I'll probably also get to try some great suggestions (from pickling to candying and using as a soup souring agent) by our readers on our facebook page.
LABELS: Anonymous Paul, santol, thai street food