By sanju on 20 June, 2012
I always enjoy myself when I get the chance to visit Sze Chuan House. Located at the ground floor of the Aloha Hotel along Roxas Boulevard. This old time institution (est. 1977) has been a favorite of many since it has continued to deliver reasonable and consistent Sze Chuan Cuisine through the years.  Take note though, that the food here is generally not as fiery as in other Sze Chuan restaurants that you may have tried. My theory is that it is tempered down to suit the Filipino palate.  So if extra spicy is your thing, either request the kitchen to make your orders extra spicy or add some of the house chili sauce that is served table side.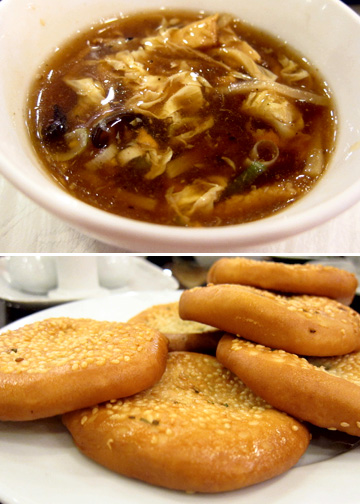 Hot and Sour Soup and Onion Pie
After looking at some drool worthy pictures on the net, my friend Cy and I decided that a revisit was in order. We then quickly organized a dinner one Saturday evening.
Looking through Sze Chuan House's voluminous menu could prove a daunting task.  Luckily our group came prepared armed with our list of favorites, plus some recommendations from friends. We started with some Hot and Sour Soup (P240 for Small), and some Onion Pie (P70).   I am not a fan of Hot and Sour Soup in general but the rest of our group enjoyed their soup as evidenced by the empty bowls all around.  The Onion Pie, which came dotted with specks of green onions, could have been crispier, but was delicious nonetheless.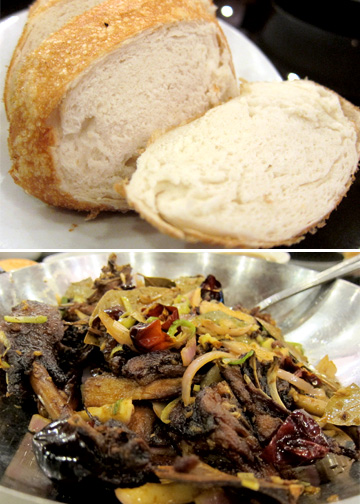 Fried Imperial Bread and Fried Duck with Spices
For our mains, we ordered some Fried String Beans with Pork (P170),  Fried Duck with Spices (P540), Sliced Beef Loin Boiled in Special Spicy Sauce (P595), Eggplant with Hot Garlic Sauce (P170), and an order of Fried Imperial Bread(P70) to sop up some of the sauces.  My favorites for the night were the duck and the beef.  The duck appealed to me, as it was very tender and prepared in way that I found to be unique.  The beef was perfectly seasoned and almost stew-like in its consistency.  It went very well with some steamed white rice or the fried bread.   The beef was also the hands down favorite of the rest of the group for the evening.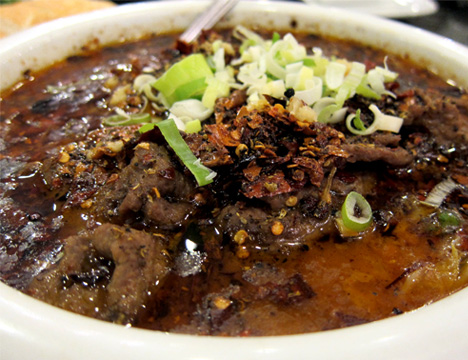 Sliced Beef Loin Boiled in Special Spicy Sauce
As it always happens when visiting places that have been around for some time, our table conversation took a nostalgic turn and topics ranged from old movies, television commercials and even Cy's old boyfriends.  I have come to realize that sometimes one does not only return to a restaurant solely because of its food (although great food does play a major part in the decision process), but also for the total experience it evokes.
Sze Chuan House
GF, Aloha Hotel
Roxas Blvd cor Quirino Ave,
Manila
Tel +632 5268088
Web: www.sichuanlou.com
LABELS: Aloha Hotel, Manila, Restaurants, Sanju, Sze Chuan House