By Anonymous Paul on 11 June, 2012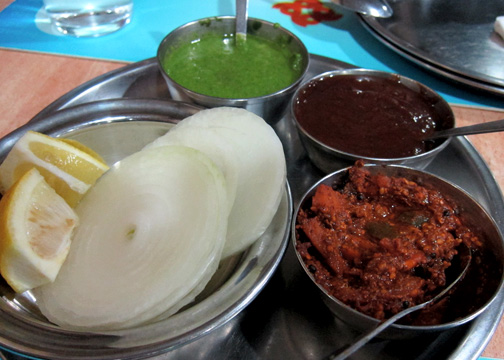 Standard condiment plate of atchar and chutney.
When I tend to get "goose-d out", or if I'm seeking something aside from the Chinese flavor profile you tend to eat day-in and day-out in Hong Kong, I naturally gravitate towards something different. This trip I was fixated on Indian. It was Sanju who suggested to me this pure vegetarian Indian place called Branto; located on the second floor in this oft overlooked narrow street off Nathan Road, right in the center of Tsim Sha Tsui. Hong Kong has a pretty prominent community of Indian residents as well as transients on holiday and business and I assume this place pretty much primarily caters to them. But of course everyone is welcome. In fact it is always busy; however utilitarian the feel of the place is. It's more canteen than restaurant. The menu's quite extensive, with a seemingly out of place section of western dishes. But the Indian food, despite being vegetarian, is hearty and has that home cooked quality.
So dinner for that night consisted of a Rava Masala Dosa, Dal Makhani and Paneer Butter Masala. With some chapatis on the side.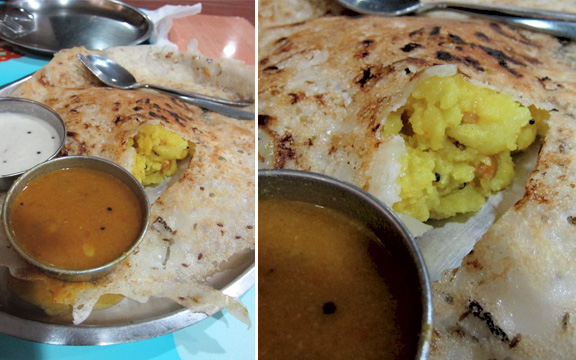 The Rava Masala Dosa is a large thin crepe made with semolina flour and filled with spiced potatoes. Deliciously crisp and chewy in different areas. The potatoes were tender and fragrant. Though I do prefer the plain Dosa made with ground rice and dal as it makes for a more uniformly crispy pancake.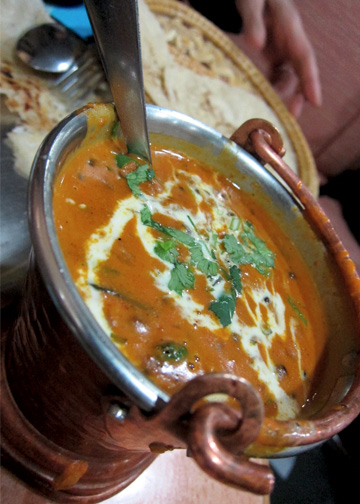 Dal Makhani is cooked for a very long time to break the lentils, chickpeas and kidney beans down; giving the dish this signature creamy texture. With every bite you get that great mix of spices, the richness of the ghee and cream balanced by the acid from tomatoes. Very hearty; exactly what I needed at that time as it was a chilly 10 degrees outside on that February night.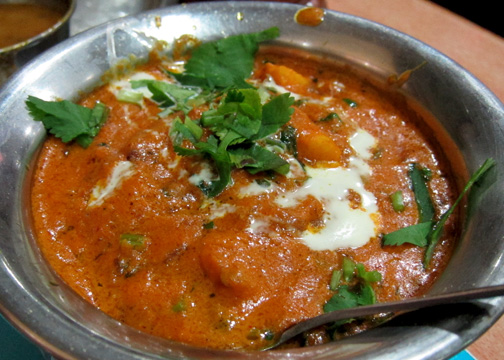 The Paneer Butter Masala was another spicy, creamy, tomato based dish. With the cubes of tender white cheese just going perfectly with torn pieces of the warm chapatis. Not the greatest specimen I've had of this dish but still very good.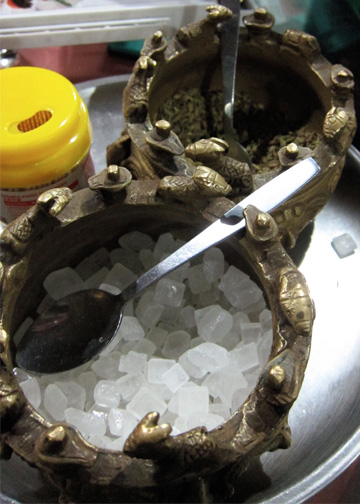 Sauf or fennel seeds (top right) and rock crystal sugar. Breath freshener and aids digestion. I'm addicted to the bright candy coated variety of this.
I don't think a vegetarian meal can be as satisfying as an Indian vegetarian meal. We were full and fortified for the cold walk back to the hotel. Though I'd like to return sometime soon to try their Dahi Puri and Bhel Puri as well as their Thali (mix plate) to get a wider sampling of their dishes. There will be a next time.
Branto Pure Veg Indian Food
1/F, 9 Lock Road, TST
Hong Kong
Web: brantoindianvegetarian.com.hk
LABELS: Anonymous Paul, Branto, Hong Kong, Indian