By Anonymous Paul on 1 June, 2012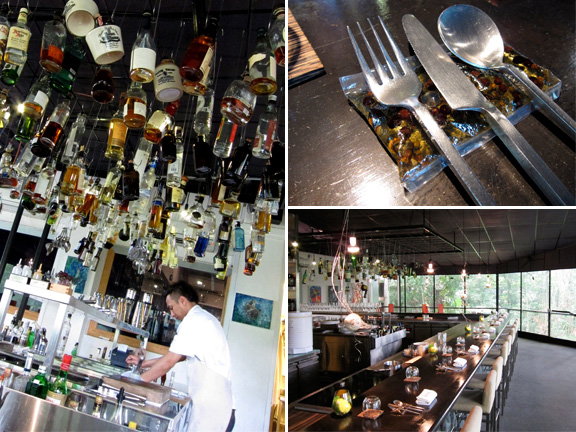 At a most recent trip to Singapore we were quite pressed for time but still wanted to squeeze in a special meal. And the only time we had was for a Saturday lunch. We had looked at other options but decided to go with the Tippling Club up at Dempsey Hill. I'd been wanting to try this place for some time now as as it's name suggests, the crafted cocktails share the limelight with the food. A collaboration between mixologist Matthew Bax and chef Ryan Clift. However, we had gotten the classic 5 course tasting menu without the pairings as we both felt it was too early to be downing five or six cocktails around noon.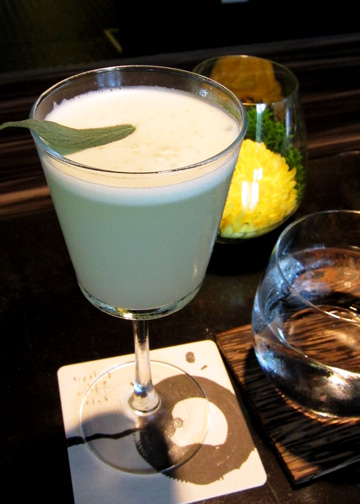 But as I was scanning the drinks list, the signature cocktails really called out so I just had to get the Boabab Guava Fizz. Deliciously fruity and refreshing. It was very aromatic and that really heightened the natural sweetness of the ingredients. It didn't have that syrupy texture with typical bar drinks drowned in sugar and it tasted really clean and precise. It also paired quite well with the couple first courses.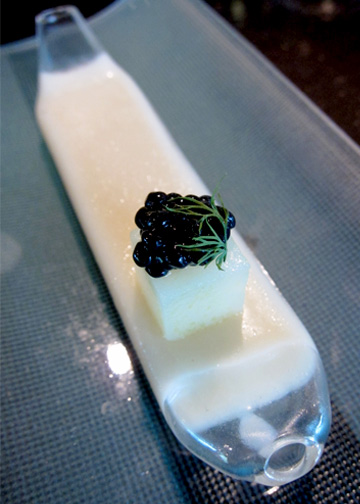 We were presented with three amouse-bouches. First that came was a vichyssoise… in a tube topped with a potato cube and caviar. It was a bit awkward putting the whole end of the tube in the mouth and sucking in one go but that was a pretty refreshing starter. Very apparent fresh potato flavor.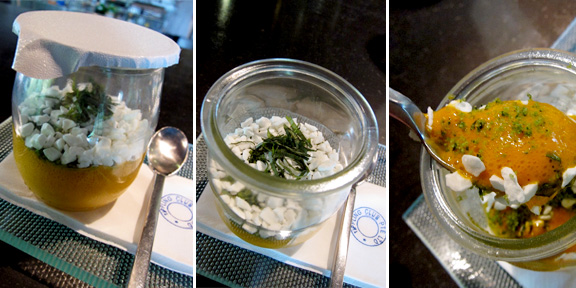 What they call the "Curry Pot" came next in which a curry foam is topped with freeze dried yoghurt and chopped mint. I loved the textures and the explosion of flavors in this dish. And the cleverness of packaging it like a tub of yogurt.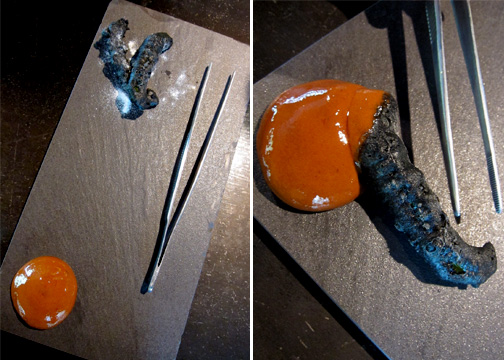 A tempura of sweet green pepper came last and was served with a miso-ish, wasabi-ish foam. Nice crispy squid ink crust and the sweetness of the peppers really came through. Though too much of the sauce can be overpowering.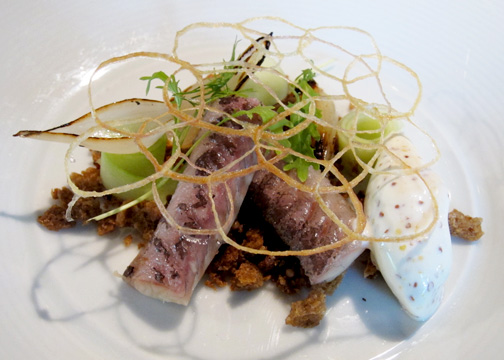 With the listed first course of uni not being available at that time, we were served a dish of house-smoked eel as an alternative. Presented with greens, braun bread crisps and a grain mustard ice cream then topped with lace of shallots. A dish of familiar flavors and again, a nice play on textures. Plus temperatures. You try to get a little bit of everything on your fork and it just works altogether.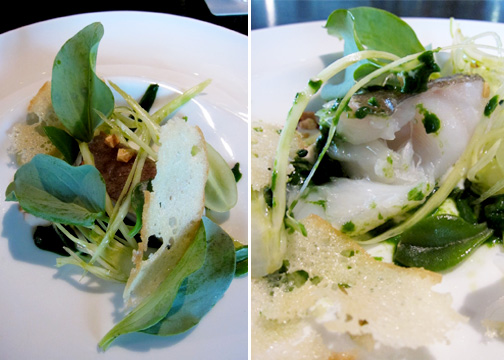 The bacalao course looked a bit blah when it arrived. With the cod being buried under a mound of greens. But with every bite this dish just grew on me. With the sweet white grapes, the pesto-like sauce and crouton melding with the lush, fatty flesh of the fish. This was an appropriate subtle dish that followed the salty first course.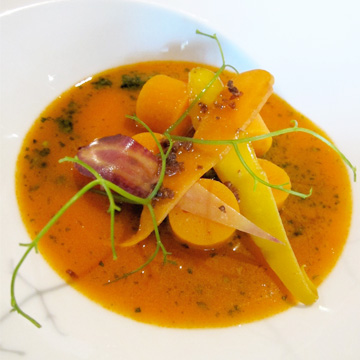 Our server mentioned that the gnocchi course took about 6 months to perfect. The gnocchi in itself was different. More firm and "bouncy". And orange. This was served over a broth made of heirloom carrots and scented with chervil. The dish had similarities to maybe a pureed minestrone. And though not bad, it was not my favorite of the courses.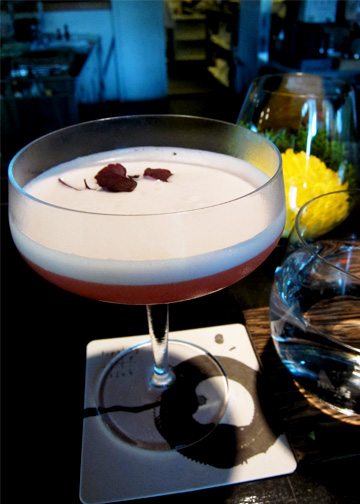 I had ordered another signature cocktail at this point; called the Valley of Nine Villages. Made with a base of tequila, Gran Marnier, sichuan peppers and raspberries, this again was another winner. And I had sort of regretted not getting the pairing menu from the start.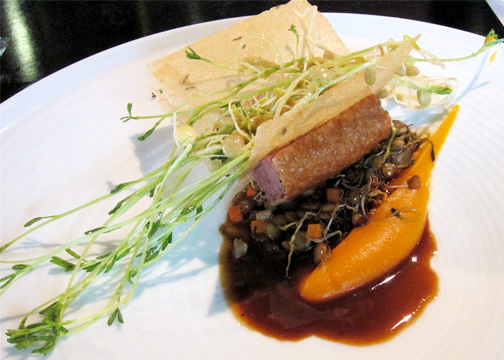 The duck course followed. Shaped like a sausage, it was smoky and cooked till pink. It's crisp skin enveloping it. Served with sprouting lentils, pea sprouts, a mash of sweet potatoes (I'm not quite sure if it was), and vinegary sauce that balanced the heartiness.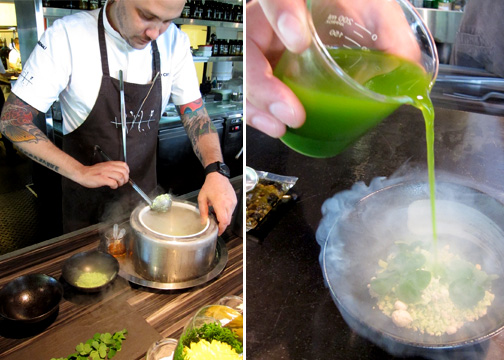 We were quite fortunate to have Ryan Clift serve us tableside, er table-front. He was experimenting on a new dish that day and he didn't even quite have a name for it yet. In a tub of liquid nitrogen he put in some wood sorrel (an edible weed; which I have growing in my yard, by the way) and scooped the frozen byproduct into a bowl. He then spooned some freeze dried argan oil crisps and drops of liquid oil on top and then poured matcha on the entire thing. The sorrel had a surprisingly acidic character, very similar flavor to that of kamias (bilimbi). The argan provided a rich, nutty background and aroma (if you've ever used argan oil in your hair, it smells exactly like that.) All in all it made for an an elaborate, yet pleasant, sorbet/palate cleanser.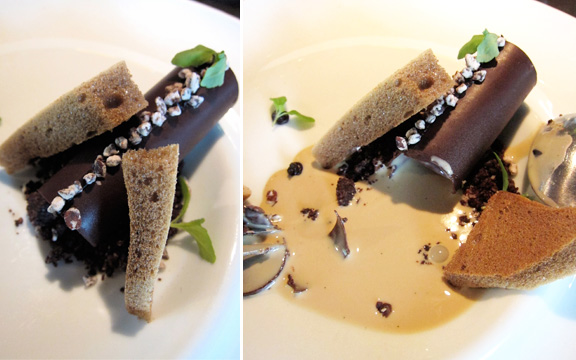 Dessert was the chef's take on the tiramisu. With a tube of chocolate you have to crack in order to release this wonderfully espresso flavored creme anglaise. You smash some of the sugar honeycomb and place a mint leaf on your spoon and, well, it's pretty good.
All the food was prepared precisely. But with wit and heart; a not too common combination. We surmised those who prepared the courses served the actual dishes to us as well. The staff were all personable and attentive. Making the effort to chat in between courses, but never in an intrusive way. True I did not find every course mind-blowing, but taken as a whole I found it to be a great dining experience. What I initially thought would be a predominantly "modernist" meal turned out to be  something more grounded. Which is a good thing. My only regret was probably not getting the cocktail pairing. Maybe I can muster up some courage for the 12 course Gourmand menu for next time. And I'm not sure if it was me being an alcohol lightweight or the potency of the drinks or maybe both, but I did have a pleasurable buzz as we had left.
Tippling Club
8D Dempsey Road, Dempsey Hill
Singapore
Tel: 6475 2217
web: www.tipplingclub.com
LABELS: Anonymous Paul, dempsey hill, Restaurants, ryan clift, Singapore, the tippling club, The Travelling Table