By Anonymous Paul on 8 May, 2012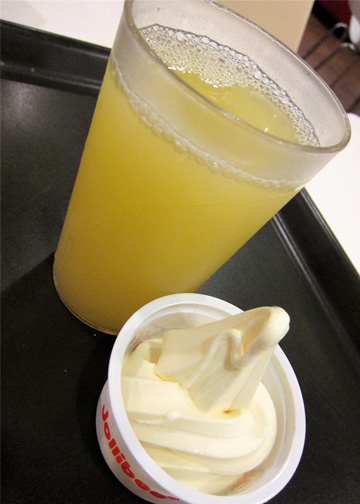 I remember it was scorching hot in Walt Disney World quite a few years back (when I was just a teenager, say, maybe… 3 years ago.) The glaring sun was high up and I had two semi-permanent tan lines going across the tops of my feet, stenciled in care-of my Birkenstocks. I remember thinking it could've been more fun going around the Magic Kingdom if it weren't so darned hot. I think it was when we were stuck in line to get inside the Enchanted Tiki Room (to watch some singing robotic birds) that a sibling of mine walked up carrying what seemed like a pineapple float. I was parched and after taking a sip of his I just had to get one for myself. Then seconds. And thirds. And I think we had quite a few more the remainder of our stay. The soft serve pineapple flavored ice cream swirled on top was called the Dole Whip; and it was of course floating on some Dole pineapple juice.
The Dole Whip is quite popular and available in three places. In Disneyland (Anaheim), Walt Disney World (Florida) and at the Dole Plantation in Hawaii. Chances are slim to find any outside these. Hence the withdrawal after that trip. I've never been to Hawaii and have never returned to a Disney property in 15, ehrm, 3 years… so this is what I do to approximate that elusive beverage: I go to Jollibee.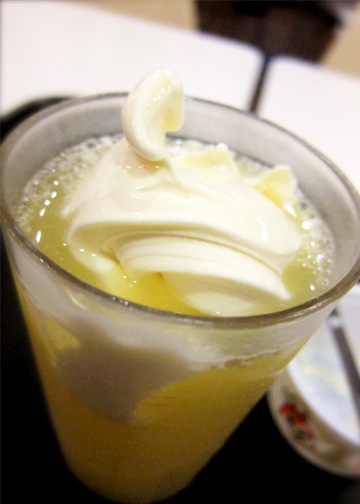 Yes I could probably order a bag of powdered Dole Whip mix and I could probably make it with an ice cream maker at home (which I don't have). It wouldn't turn out as creamy anyway. And I don't really need a 4 pound bag of mix that makes gallons of the stuff. So if I just want one serving, the Bee will do. For one they carry a vanilla flavored soft serve (not exactly Dole Whip but it'll do). Plus they serve pineapple juice. Both on a regular basis so one can have it on a whim, anytime. For cheap. No airline ticket needed.
So what you have to do is go up to the counter and ask if you can have a regular Vanilla Twirl in a cup and a pineapple juice WITHOUT ice in another glass. You may be thinking why I don't just order a pineapple float. But I have gone through the strange looks and double checking with the managers countless times and they will NOT do it. Something to do with strict corporate product appearance policies. Anyway. Once you get your cups, go ahead and float the soft serve on the pineapple juice. You can leave the twirl afloat or mix it in. But what you'll get is something sweet and tart and creamy and refreshing all at the same time. Who knew dairy and an acidic fruit juice would go so well together? Well, OK, maybe Orange Julius probably did. And Dole. Nonetheless it's a great accessible version. Is it the best thing in the world? I admit nostalgia may play a big part in me even trying to find ways to replicate it. But for me, it's worth the effort.

LABELS: Anonymous Paul, Dole Whip, pineapple float, pineapples