By sanju on 3 May, 2012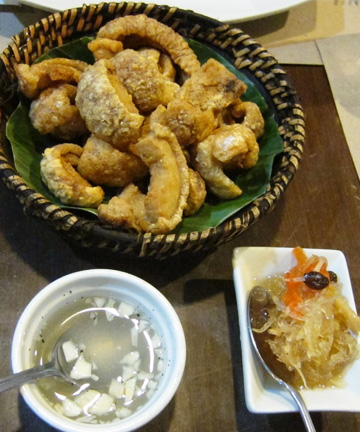 Growing up, my mom introduced my to having Chicharon with papaya atsara (pickled raw papaya) instead of the usual vinegar dip.  All this time, I thought that this pairing was unique to our family.  Little did I know that this is actually how it's done in some restaurants and homes in the Pampanga area.
I recently visited Binulo Restaurant in the Clark area to sample their version of Pititian (P195).  A platter of fresh fried pork chicharon (pork rind), with laman of course, served with a side of papaya atsara made in-house. For this dish to work, Aside from having a well-made chicharon, I think the secret lies in the type of papaya atsara one would use.  The atsara has to have a good tart to sweet ratio.  One must not overpower each other.  The Binulo papaya atsara has this down pat. Grated carrot strips and raisins enhance the textural dimensions. Heap some atsara on the chicharon, take a bite and marvel at the explosion of flavors; perfect foils indeed.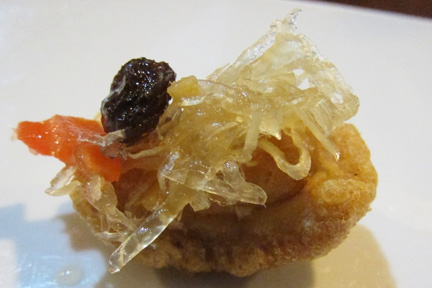 Obviously, one does not have to travel all the way to Pampanga to enjoy this. It can easily be enjoyed at home with your favorite chicharon from your usual suki or purveyor and papaya atsara.  Wash this down with an ice-cold bottle of beer and revel.
Binulo Restaurant is also worth visiting for their other Campangpangan dishes.  Try their Kare-Kare, Horno, Fried Hito with Buro and Kuhol sa Gata.  Next time you happen to be in the Clark Area or are driving northward, Binulo is worth the stop.
Binulo Restaurant
Bldg N6410 MA Roxas Highway
Clark Freeport Zone, Philippines
Tel +6345 4992238
LABELS: atchara, chicharon, Sanju, try this, unusual pairings