By Anonymous Paul on 11 May, 2012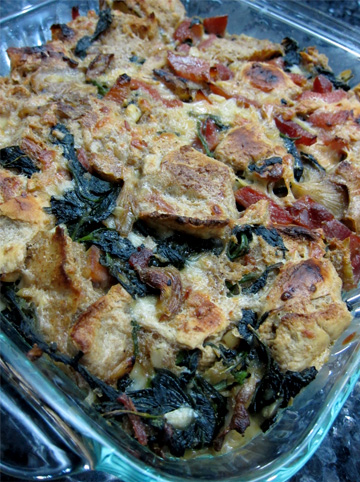 Here's the result of a relatively successful experiment. I've always loved bread pudding. With some vanilla ice cream on the side and a dollop of boozed vanilla cream, it's just downright comfort food for me. But this is a level-up of sorts. A savory version. The inspiration stemming from an episode of Dosanko Cooking on the Asian Food Channel showing a Japanese woman mixing in ham and cheese slices in with some simple custard soaked bread. But I had stuff in the pantry and wanted to build up on that base even further. So with the ham and cheese I also threw-in some pan-fried spinach and mushrooms to make it an even more "complete" one-dish meal.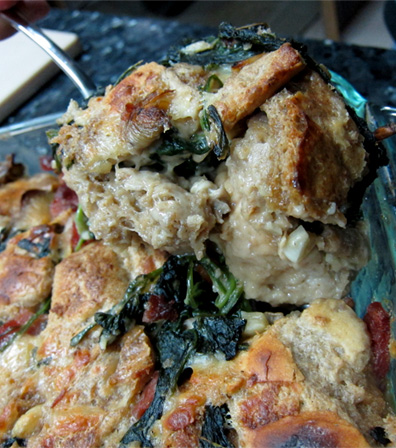 Ingredients:
2 – 3 large eggs
1.5 – 2 cups of liquid (milk, half and half, whole cream or a mix). I used about a cup of cream and half a cup of milk. I wanted a pretty rich dish.
3 generous tablespoons of brown sugar.  This will counterpoint the saltiness of the ham and cheese.
1.5″ cubes of baguettes. Or whatever leftover bread you may have. You'll need about 6 to 8 cups worth. Better if it's a few days old.
1 cup rough chopped ham. I used some farmer style ham left-over in the freezer. Any ham with a sweet-salty profile would work. I would use less if Parma were used.
1 cup grated cheese. Slightly sharper varieties will work better. I had Gouda at the time and it worked great. Aged cheddar is another option. Reserve about a quarter cup to sprinkle on top. Or just use more.
Pan fried spinach. A package worth. They shrink quite a bit and I was left with about a cup or so. Brown some garlic in olive oil, throw in the greens, a little salt to draw out the water then let it wilt. I let most of the liquid evaporate as I didn't want excess moisture in the final product.
Pan fried FRESH mushrooms. If you only have canned then just omit or use another type of veg such as broccoli or zucchini. I found some inexpensive oyster mushrooms in the grocery and they worked great. You want to follow similar procedure as with the spinach but do not crowd the pan while frying so you'll achieve some caramelization. Brown one side first then turn over.
Preheat oven to 350F
Grease a 9″ x 9″ pan with butter.
Mix the first three ingredients. Really beat in the eggs. You can put in some grated nutmeg and/or vanilla as an option but I left those out.
Pour the mixture over the bread and the rest of the ingredients. Gently fold everything together and let sit for about 10 to 15 minutes.
Pour mixture in the baking pan, pat down and sprinkle with the reserved cheese. Bake for about 45 minutes to an hour. You'll want a golden brown surface.
The house will be filled with the intoxicating smell of savory, melty cheese. The wait can be a bit unbearable.
But what you'll get is a multi-textured gem of a dish. A nice, crusty, cheesy top layer and a bottom layer that is just divinely rich and lush. The salty ham and cheese intermingles with the sweetish custard base and the pan-fried vegetables give it that extra depth of earthiness. It is off the charts!
LABELS: Anonymous Paul, cheese, ham, savory bread pudding, Table Recipes