By Anonymous Paul on 25 May, 2012
I had no idea what Samar cuisine was like prior to this dinner. In fact this was why a group of obsessive eaters converged one Friday night in Makati's red light district; to find out more, even if just a little, about this particular region's food. The place was the residence/atelier of one of Manila's most infamous fashion designers. Embroiled in a career crippling scandal last year, this year he just focuses on getting back on his feet. Having taken up culinary studies a few years back and being a good cook to begin with, as a sort-of reinvention of himself, he decided to open his penthouse unit to occasional guests interested enough to try his food.
What's surprising is however avant-garde Puey Quinones' approach to clothes is (which he still continues to do), his cooking seems to go the opposite direction. That is, being deeply rooted in down-home traditional comfort food. Stuff he basically grew up with. From family recipes passed down. And that's quite refreshing actually. Puey has three menu variations: one continental (with roast chicken and pastas), another being Filipino in general (with caldereta and crispy pata), and the special Samar based menu. The group decidedly went with the latter.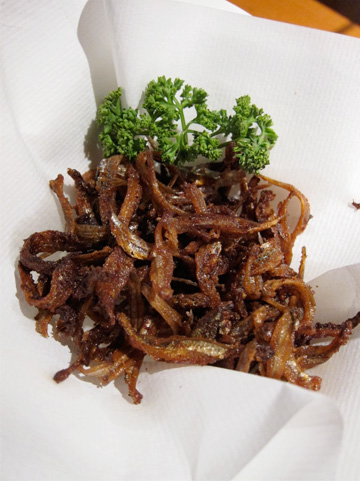 His front-of-house partners Drew and Roland chatted with everyone as guests came in one by one. They offered drinks and bowls of crispy dilis (anchovies) as appetizers. The dilis was made from scratch, freshly fried and had that nice sweet-soy flavor.
As we were seated we were served a dish made of young coconut slivers cooked in coconut cream and flavored with mint. What they call kinagang in Samar. Something they usually serve during harvest season in the province and was usually accessible only to those owning agricultural land. (Coconut is the region's major commercial crop.) The shreds of coconut were naturally sweet and tender. Most of us actually thought it was made from palm hearts (ubod). A thoughtful special dish from Puey for the group; this was not on the menu.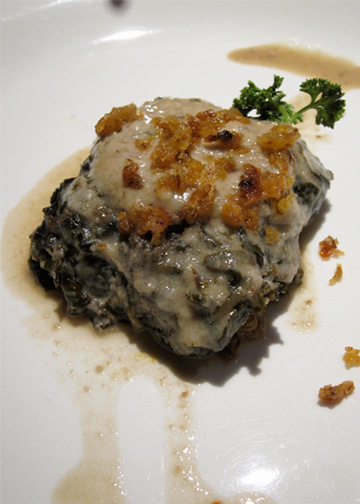 Next served was the pinangat. Parcels of taro leaves simmered in coconut milk and then topped with crispy fried catfish. The taro leaves were more coarse than the usually gloopy laing we're used to. And I like how he hides these slivers of chilies in there that gave tiny explosions of heat. The catfish gave a nice textural contrast.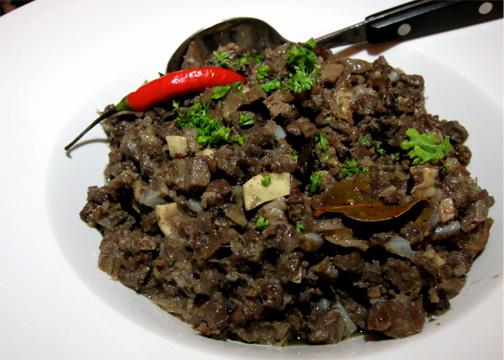 Having tried it before, I was particularly excited for this next dish. What I only surmised as guinataang bopis was actually called kandingga. It's slightly different from the bopis prepared with atsuete/achiote oil. Preparing dishes made with offal takes a pretty long time and this is an example of a dish made with love. It tasted clean and was made rich with, again, coconut cream. If you didn't already know, bopis is made with chopped pork hearts and lungs.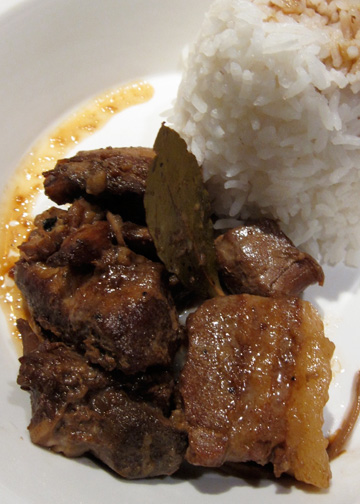 The humba was delicious. And a little different. We normally get the impression of a sticky sweet stew of pork. Sometimes made with tausi (fermented black beans) and pineapples. Most of the time served with hard boiled eggs. The Samar version has none of those; but is somewhat more akin to traditional adobo preparations. It is predominantly salty with only a hint of sweetness; add to that the savory aroma of bay leaves and anise. This was braised for hours then fried to caramelize; with the meat pulling apart in shreds and the fat layers turning gelatinous.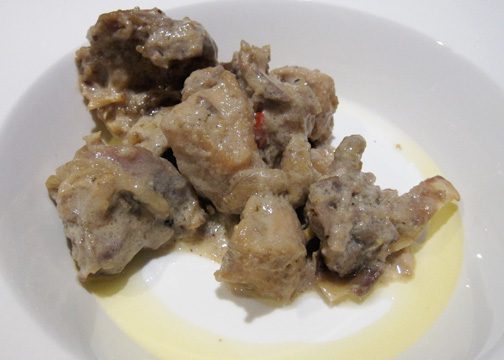 The last dish was native chicken cooked in lemongrass, ginger and coconut milk. With the chicken naturally leaner but more flavorful. The skin unusually but deliciously chewier. And the oil rendered from it mixing with the coconut cream fantastic spooned atop hot steaming rice. The cook's "favorite dish in the world."
Dessert was a Filipino-style fruit cocktail salad flavored with tarragon.
All dishes were served family style and white rice was passed throughout. A sampling of the dishes served were plated during the end of the evening; of which Puey explained not only how they were prepared but what it meant to him personally. As how dilis, with rice, was his favorite breakfast as a child and paired excellently with black coffee. How the humba he prepares contains tablea; of which his 80-something grandmother still makes from scratch in their backyard in Bobon, Samar. (Interestingly he mentions that humba was best paired with hot chocolate) And how he has all key ingredients like taro leaves and native chickens flown in from the province for authenticity. His anecdotes and the surroundings really make for a different dining experience.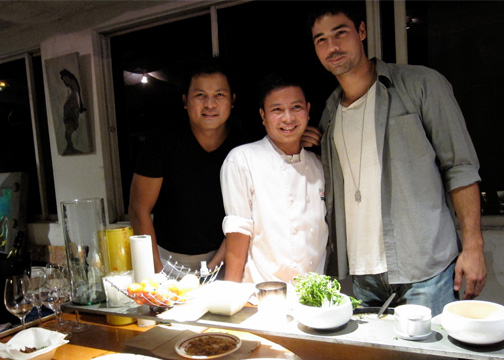 Roland, Puey and Drew.
We have always been excited for more of these private kitchens to sprout up. And Puey's Penthouse is definitely worth the very reasonable P800 per person. Why? Because it's quite rare for regional representation of food to occur and as it is extremely welcome, I think, to those wanting to understand more about our culture/cuisine in general. And because you get doggie bags of that fantastic kandingga to take home as well.
Puey's Penthouse
Penthouse, The Bel Air Place,
5013 P. Burgos St., Bel Air,
Makati City, Metro Manila.
Tel: (632) 496.0546
Email: pueyspenthouse@gmail.com
LABELS: Anonymous Paul, Filipino Food, private dining, puey's penthouse, Restaurants, samar cuisine