By sanju on 17 May, 2012
Fridays have always been reserved for family dinner night.  It gives our kids S and N a nice change to start their weekend after a tiring week at school.  It also gives C and I an opportunity to catch up with the kids in a different atmosphere. Our rules are simple: no fast food and no gadgets allowed. We believe that eating in proper restaurants exposes the kids to various types of cuisine, and teaches them proper restaurant behavior as well. The absence of gadgets, on the other hand, encourages table conversation, which is sometimes akin to pulling a tooth in this text/tweet world that we presently live in.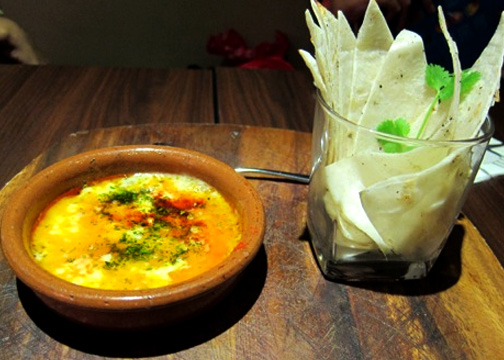 We began this Friday night ritual about three years ago. After a few months, we began to have constant arguments about where we would eat every week. We realized that our individual tastes are very different. S, our fourteen year old, is simple and almost pedestrian in her tastes. She can live on chicken nuggets and spaghetti day in and day out; while N, our nine year old, is more adventurous and has a more refined palate. Due to this, we had to add a third rule:  we all take turns picking a venue for the night and everyone else has to abide, no questions asked. Of course, back room negotiations and, if all else fails, constant pleading have been known to take place, more so if a particular choice for the evening is one of those "anywhere but there" places. There are times though, rare it may seem, when all of us are happy and content.  This always happens when we visit an old favorite, LU.
Such was our mood during a recent Friday night. Our aim was twofold:  to celebrate N's Spelling Bee victory and to also try out LU's updated menu.  After a change in ownership, LU's kitchen is now under the capable direction of Chef Tom Hines.  Of course, when there is a new chef at the helm, a menu that reflects his vision cannot be far in coming.  LU's present menu is a mish-mash of a few old favorites and many new dishes that showcase the talents of Chef Hines.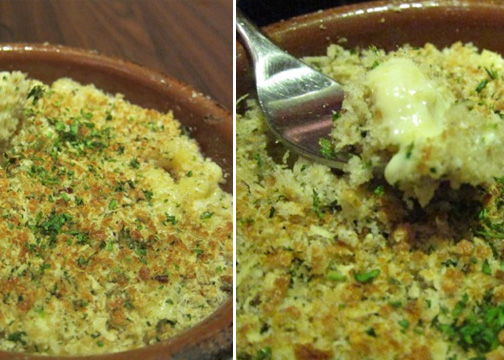 N has always had the same thing at LU.  She calls it her three course "cheesy" dinner.  She was quite relieved to note that all her old favorites were still present on the new menu.  She always starts with an order of Chorizo Queso Fundidos (P295), a four-cheese dip sprinkled with Spanish sausage bits and served with some slices of flatbread.  A taste never fails to put a smile of satisfaction on her face as her mouth is enveloped by its warm, creamy tang.  It also evokes those same feelings when her father (that's me) steals an irresistible, quick bite.  For those who are not fans of chorizo, the Queso Fundidos can also be ordered with either wild mushrooms or with spinach and artichokes.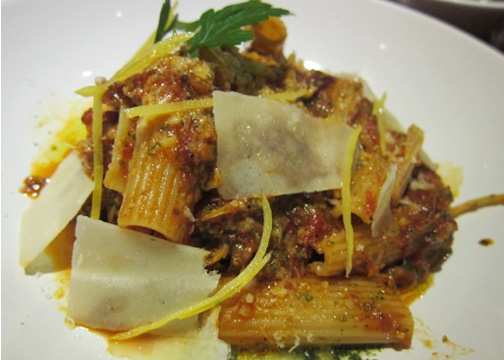 N's second course, Mac and Truffled 5-Cheese (P398) followed shortly after, delightfully al dente macaroni that is bathed in a four-cheese truffle sauce, then baked with a Parmesan cheese crust top.  "It's the best ever!" N exclaims when I ask her about her dish, showing two thumbs up at the same time. I tend to agree with her.  This holdover from the previous menu is quite hard to beat, as it has all the elements of an excellent macaroni and cheese with the addition of some truffle oil at that. N always orders a slice of Lemon Glazed Cheesecake (P250) to complete her trio. However, when Chef Hines heard that she had won the Spelling Bee, he told her that he would  send us dessert on the house. In the meantime, she had to bide her time and see what would arrive.
S opts for her usual Lamb Bolognese (P398), C and I are happy that she orders this at LU as lamb is already an unusual choice for her: More so, since the lamb in this dish is shredded, and not your usual ground meat. Lu serves it with a choice of pastas and she chose Penne.  She thoroughly enjoyed her Bolognese with its lemony undertones, accomplished with the addition of thin strips of lemon rind into the sauce.  She even took home her leftovers to have for her school packed lunch. We have been encouraging her to be more open to trying new things and this was definitely a step into that direction.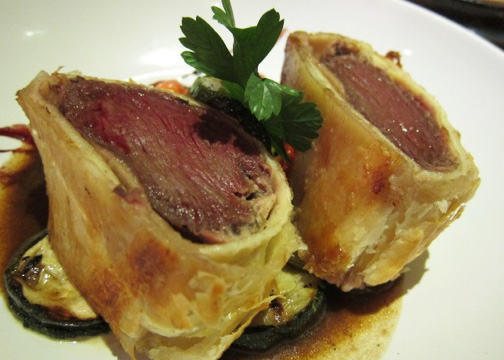 C ordered the Classic Beef Wellington (P850), one of the new additions to the menu-tender beef medallions cooked to medium, swathed in a crisp puff pastry layer. Recently, we have been very picky with steak, as many places just seem to not get it right. This was not the case this time.  C was happy with her Wellington. It was packed with flavor, and the use of good quality beef was evident.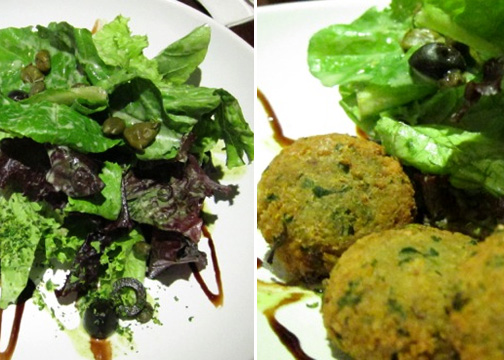 I decided that I would have the Alexandria Falafel Salad (P275) and the Club Lulu (P398).  The Alexandria Salad had fresh Mesclun greens with bite-sized falafel rounds that were greatly complemented by the refreshing balsamic yoghurt dressing.  The addition of capers added a welcome tang to this highly recommended salad.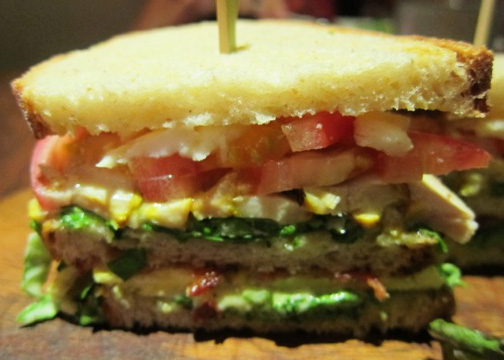 I was excited to try the Club Lulu primarily because it had poached Palawan lobster included with some grilled chicken, avocado, bacon, tomato and egg.  There aren't very many restaurants that serve a lobster sandwich.  Because of this, I always try to take advantage and order it when an opportunity presents itself. Lu gives focaccia, sourdough, tortilla wrap and bagels as their bread choices for sandwiches. I felt that sourdough was the best choice for a club sandwich and I was right. Crisp toasted, slightly buttered slices held everything in place quite well.  I was a tad disappointed with the fact that the other fillings overwhelmed the lobster.  Chef Hines has to find a way to tweak this sandwich so that lobster shares equal billing with everything else.  Having said that, I still enjoyed it very much.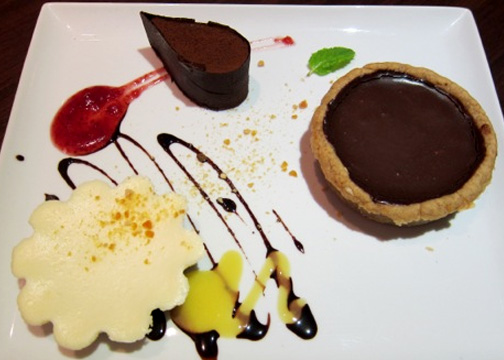 As promised, Chef Hines sent over a Dessert Sampler (P798) that consists of a slice of Lemon Glazed Cheesecake, a Dark Chocolate Tear and LU's famous PB&J Tart.  N heaved a sigh of relief when she saw that her beloved cheesecake was part of the sampler and wasted no time attacking it.  S adored the dense Chocolate Tear with its bittersweet flavor while I enjoyed the sweet-salty richness of the PB&J tart with my double espresso.  As the evening wound down, our constant dinner chatter slowly turned to quiet, individual introspection.  I glanced at my family's looks of contentment and I thought to myself that yes, this is what it is all about.
An edited version of this post was published in Olive Magazine issue #9.
LU Restaurant
GF Joya Building,
Joya Drive, Rockwell Center
Makati
Tel: (632) 4033991
LABELS: LU, Restaurants, Sanju