By Anonymous Paul on 29 April, 2012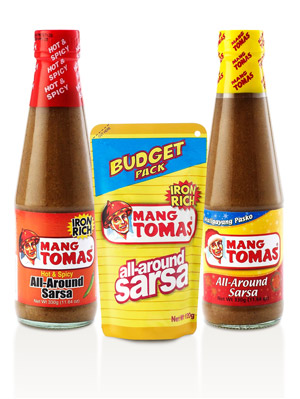 I chuckled while browsing through the Team Manila shop in Rockwell yesterday. And though upon research this limited edition t-shirt line was launched late last year, the concept incorporating an unusual and unexpected Pinoy brand remains pretty fresh. Too cool to be left unnoticed; at least to those in the know of Mang Tomas' goodness. I remember the sweet-spicy-garlicky liver based sauce being marketed simply as "lechon sauce" in it's early years. Filipinos usually drown their (Tagalog-style) lechons in sarsa so its pretty typical that it gets wiped out before the pork does. And so comes in the "need" for the Mang Tomas to supplement. And also to make that "paksiw" of the remains the day after the feast so they don't spoil.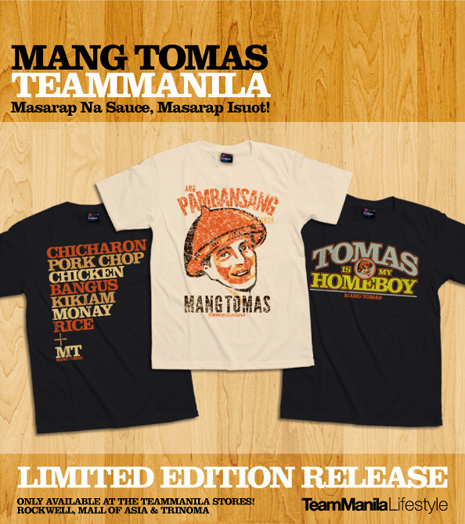 But ever since Filipinos started using it on everything from chicharon, fried fish, lumpiang shanghai, in adobo bases, french fries, poured on top steaming rice and even as a spread for bread, among others, I suppose NutriAsia decided to just label it as an "all-around sarsa".
And now Mang Tomas' Warholian mug is now cheekily plastered/immortalized/iconicized on some hip graphic tees and tote bags. For a nation of food lovers, this will definitely tug at a few heart.
Mang Tomas X Team Manila Shirts available at Team Manila Stores in Rockwell, TriNoma & SM Mall of Asia.
Mang Tomas All-Around Sarsa available in groceries everywhere!
*Photo credits go to NutriAsia and Team Manila
LABELS: Anonymous Paul, lechon sauce, mang tomas, Team Manila