By Anonymous Paul on 13 April, 2012
The family got together last Easter Sunday for dinner. And whilst nobody could be bothered to prepare anything, someone had just bought food for everyone. Kare-kare with bagoong, some great stir fried squid, spring rolls with glass noodle filling, lechon kawali made of lean strips of pork belly and a version of baked chicken chopped up and tossed in a rich mayonnaise-like sauce. Everything was pretty good (with the squid pretty much standing out for me) but what I noticed was that even though it was store bought, it really tasted like home-cooking. And so when I found out the food was from Sandy Daza's new venture called Wooden Spoon, I made it a point to visit the place soonest.
I went in around noon on a Friday and it was surprisingly busy; considering this was on Katipunan and school was out for summer. Luckily a friend of mine had arrived before me and had gotten a table. As I was scanning the menu, it was clear that Sandy had personally written each and every item and description. It was interesting to note that it also seemed like a very personal selection. Some items were from their Aux Iles Philippine restaurant in Paris, several items from different regions of the country (i.e. Pampanga, Ilocos, Bicol), some items clearly influenced by Southeast Asian flavors but all were still noticeably Filipino. We had placed orders for the Kwapao Pinoy, Beef Kaldereta, Stuffed Pechay and the Squid with Chili and Mushroom.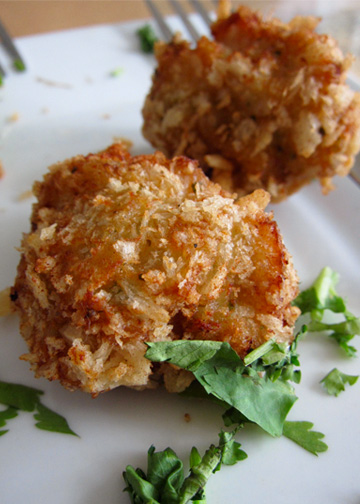 My friend had ordered the Wansoy Shrimp Balls ahead and I had that while waiting for the other food to arrive. The balls are made from minced shrimp meat, breaded in panko and fried. The freshness of ingredients was evident; it was sweet from the shrimp and light. Perfectly fried and not drenched in oil. It was sprinkled with wansoy (coriander) on top but I still added some of their wansoy dipping sauce. I love coriander.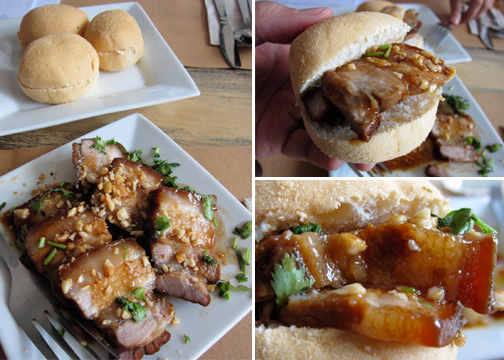 The Kwapao Pinoy finally arrived and you eat it by placing the tender, streaky, sticky-sweet pork belly strips inside pan de sal. The pork itself is delicious; perfectly cooked and melt-in-your-mouth. The buns lend a different take on the cuapao as you get that smokey aroma from the pugon (hearth oven).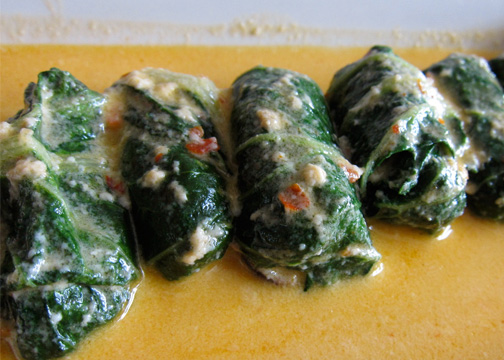 The Stuffed Pechay is made by stuffing ground pork and tinapa in tiny pechay (bok-choy) parcels and then cooking them in a thin, spicy coconut cream sauce. I liked that the sauce had a nice, spoonable consistency and wasn't cloying. The sharp flavor of the tinapa just burst through with every bite.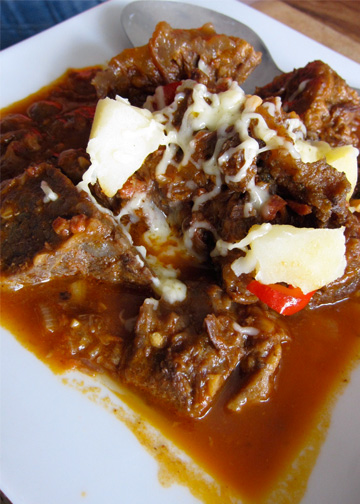 The Kaldereta was definitely cooked a long time; with the beef so tender and the sauce with that deep tomato-ey flavor. It was very similar to that of Villa's lamb shank version; including the shavings of processed cheese on top. Definitely a Pampangueno quirk. A good one. Though I do like my kaldereta with a bit more heat.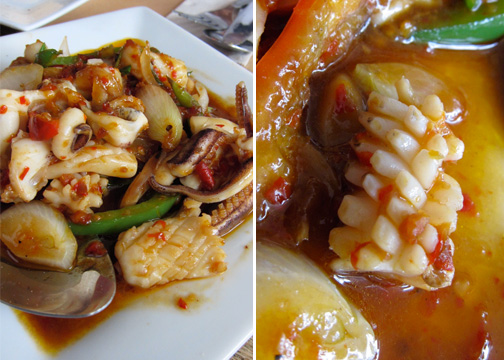 Again my favorite was the Squid with Chili and Mushroom. The sauce was predominantly sweet and spicy. Totally addictive. And the squid… so tender. Seriously who takes the time to even score squid like this these days.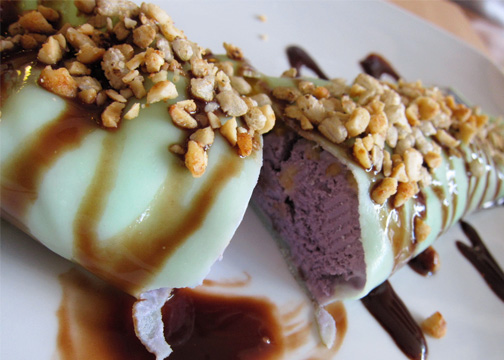 I can't say I'm a fan of their dessert selection just yet. I have tried the Sago before and it was not for me; but the Pandan Crepe I found a little better. Ube ice cream and fresh mango slivers were wrapped in a green hued, pandan scented crepe then topped with salted nuts and chocolate sauce. It's a great play of textures.
All in all it was a pleasant visit. The service was adequate, food arrived in a reasonable amount of time and Mr. Daza himself was going around, personally checking on customers. I'm planning to go back again soon, this time eyeing things I've still not tried, like the Crab Pancit and a kinilaw made of grilled pork slices called Dinakdakan. Thank God for more places serving properly cooked Pinoy comfort food. With a twist.
Wooden Spoon
329 Katipunan Ave,
Quezon City
Tuesday-Sunday 10AM-10PM
For more info, check out the Wooden Spoon Facebook page.
LABELS: Anonymous Paul, Filipino Food, Restaurants, Sandy Daza, Wooden Spoon