By Anonymous Paul on 10 April, 2012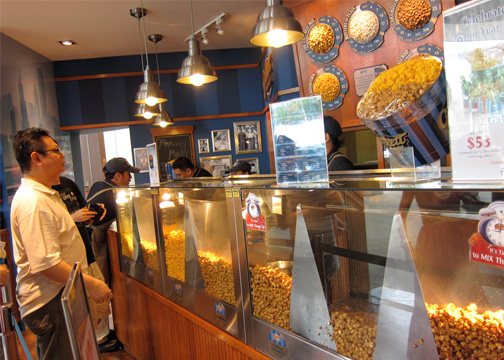 Like kettle corn on steroids. Walking around Singapore I was constantly trying to avoid lining up in one of the Garrett Popcorn Shops because I knew I would be hooked. I tend to get obsessive when it comes to food and I was trying to be a little more disciplined, in terms of food choices, because of all the eating that was happening during this trip. But after a long, tiring, beat-up day in Sentosa I just succumbed. There was a Garrett shop just outside the Universal Studios entrances and I went in "just to look". In the store were precious mounds of caramel corn. Some plain, some with nuts and, of course, the Cheesecorn. A cheesy variation that they mix with caramel corn; a concoction they call the Chicago Mix. I quite get the sweet-salty thing but what my eyes fixated on were the Macadamia CaramelCrisps. I had placed an order for a small bag. Then, already at the counter, the manager tells me the medium's about twice the size and just a dollar more. Oh, what the hell.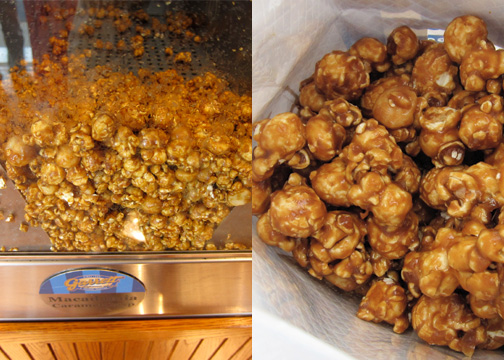 What sets Garrett's apart? Large puffed kernels. A perfectly cooked (and timed) thick, crispy caramel coating that isn't so sweet. You get a deep nutty flavor and a pretty evident butter taste, followed by that salty note at the end. And the best part about the Macadamia CaramelCrisps? They're pretty generous with the nuts, yo. Huge marble sized pieces in every cluster. Simple. Delicious. Genius. This is my kind of trail mix.
Garrett Popcorn Shops
Several locations around Singapore, Malaysia and Hong Kong
Garrett Popcorn Website
LABELS: Anonymous Paul, garrett popcorn, macadamia caramel crisps, Singapore, The Travelling Table, try this