By Kitchyart on 30 April, 2012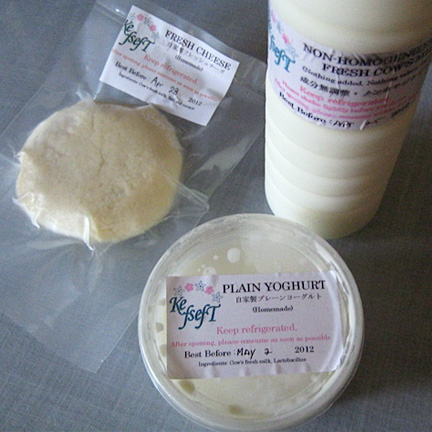 In an earlier post, I have revealed my love for Japanese snacks. I've seen this poster in a restaurant a couple of weeks ago but forgot to look it up. Thanks to my dad who frequents the Sunday Market in Greenhills, he brought home a handful of goodies for me.
Kefseft, an unusual name, is Japanese dairy company that produces fresh non-homogenized milk, fresh soft cheese and yogurt. Their products hail from a farm in Santa Maria, Bulacan. I wanted to consume all three at once, but that would've ended badly. I took a swig of the milk, a nibble of the cheese and half of the yogurt since it was really for my breakfast.
The milk (P90) swirled around like a smooth and creamy beverage. It didn't taste like fat at all, unlike commercial milk. It tasted so clean and the cool temperature of the milk was such a joy to drink in this sweltering heat.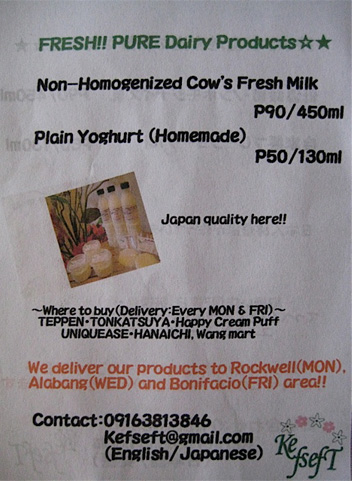 The cheese (P120) is light and creamy as well, I quickly dreamt of it tossed into a summer salad of lettuce, arugula, cherry tomatoes with a hint of a lemon and olive oil dressing.
The yogurt (P50) had a flan texture to it, I expected this to be the creamiest one but it wasn't. It was still good, not too tart with a few lumps and some whey.
I'm glad my dad found them in the Sunday market. I know where I'll be getting the next dairy fix.
Kefseft
Tel. 0916 381 3846
Email. Kefseft@gmail.com
LABELS: cheese, Kefseft Dairy, Kitchyart, milk