By Kitchyart on 3 March, 2012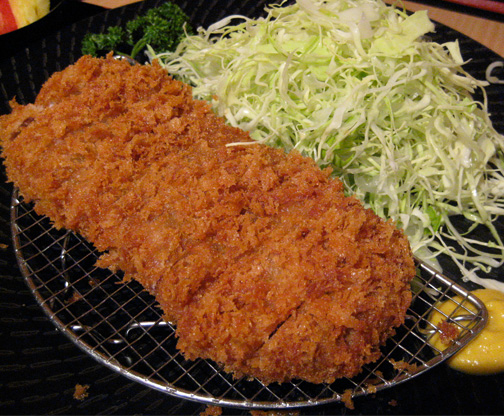 Before the ramen explosion hit the city, a steaming bowl of Katsudon was my comfort food.  It was the perfect companion on a rainy day: the hot rice, the fried pork cutlet topped by an egg mixture with onions in a slightly sweet sauce.  It was a quick and hearty meal that does the job.
When a friend and I heard about a new restaurant that specializes in this golden pork cutlet, we made it a point to have a meal together.  We met up in Yabu, at the Atrium of SM Megamall for early lunch. I arrived a little late, so my friend ordered the Seafood set (P425) for himself and the Kurobuta set (P515) for me.  There was an ongoing promotion so we were also given 2 appetizers to choose from and we picked a Wakame (seaweed) salad and cold tofu in a ponzu (citrus) sauce.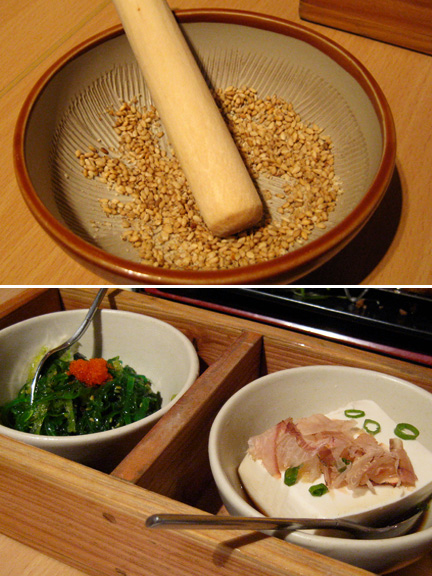 I thought my friend ordered the Seafood set as his Lenten sacrifice but he had also ordered extra prawn, oyster and scallop to our orders because he learned from the menu that the seafood were flown in fresh from Japan and the US.  He wasn't fasting at all, our orders all came together and our table that would usually fit four diners was quickly filled up even if we were only two.  And so our feast begins…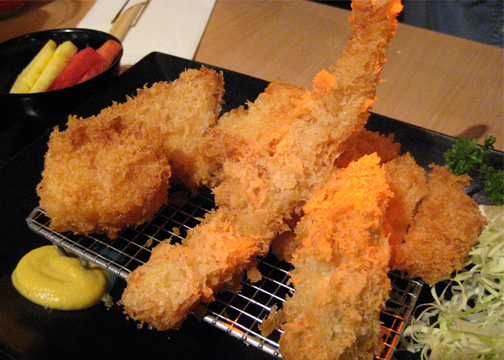 Each of our sets had rice, miso soup, a mound of shredded cabbage, Japanese pickles and fruit.  The cold appetizers arrive, so our plan of attack was to eat our hot dishes first. My first bite of the Kurobuta pork was so good, I fell silent for a few seconds to give respect to the dish. Kurobuta or Berkshire pork is like Wagyu beef; premium red meat. The cutlet was properly cooked with a slight pink center and the light panko coating was not oily at all.  I would only dip each bite into the katsu sauce at the corner to make sure it didn't overpower the meat.  My friend took a bite and had an equal reaction.
I almost forget about the extra seafood we ordered and it came as a surprise that they were just as delicious as the Kurobuta. The prawn, oyster, squid and scallop were so fresh and soft even if they were all deep-fried as well. My favorites were the giant oyster and scallop since they had a juicy quality in each bite. I hardly touched the tartar sauce and drizzled all the seafood in lemon instead. We ate the seafood salad and cold tofu between bites and they were winners, too. Both served as a palate cleanser each time we switched from the pork to the seafood.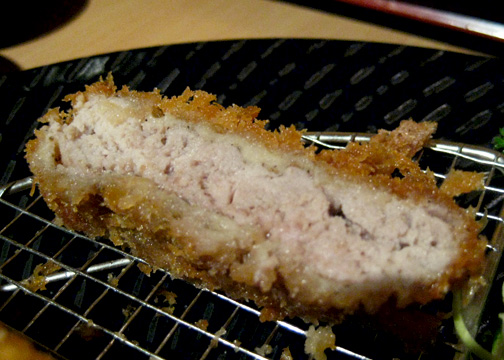 All in all, our dining experience was a memorable one. Another added surprise to this meal was that Yabu is not a franchise from Japan, yet it was an authentic Japanese meal. So authentic, we sat next to Japanese diners having what appears like a business lunch. That's always a good sign of a good restaurant.
Although Yabu offers katsudon on the menu, I'm glad I skipped it for this meal because the Kurobuta cutlet proved itself good on its own, without the egg and onions.  I'll go back to my old habit another time.
Yabu House of Katsu
Level 2, Mega Atrium,
SM Megamall, Mandaluyong
Phone: (02) 576 3900