By Kitchyart on 30 March, 2012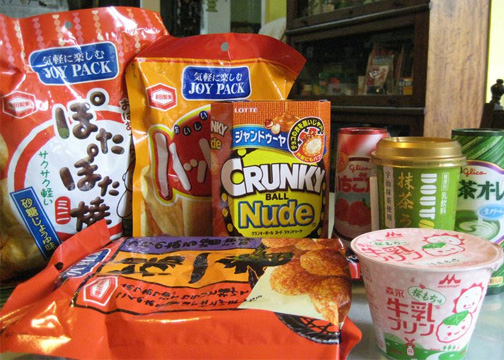 Some of you may remember that little Japanese shop next to Sango! The Burger Master in Creekside Mall, Legaspi Village called Co Op. Most of their food items sold at around P68 then eventually increased to P75 then suddenly, it closed down.
It took months or a couple of years until Co Op reappeared in Little Tokyo as Choto Stop.  My family frequents Kikufuji next door and we were so excited to shop once more for snacks we remember from our trips to Japan.  It's pretty funny since most of the snacks I tend to grab are the ones I used to eat as a child; and in my 30s these things bring me back to being a kid all over again. How can one resist their items for sale at P80?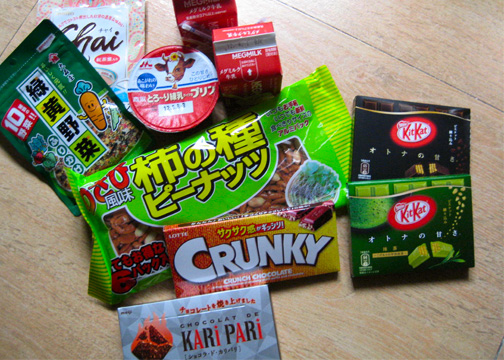 Having said that, I tend to hoard all sorts of Japanese crackers, biscuits, drinks, custard, ice cream, candy, etc… In the past few weeks, I visited other places: Konbini Store in Greenhills, Saizen in Galleria, and the newly opened Subarashi in Metro Walk. They all sell different things, but Subarashi stands out with their Kit Kat varieties. I end up with a bag or two full of these treats and, as soon as I get home, I hide most of them in my room. It's like a dirty little secret I have that I don't want people to find out. I like to lay them out on my bed and admire my purchases, I do this for a couple of days until I start to slowly eat them.
Because it is Lent, I happen to have purchased more this time thinking there's a need to munch on something between meals. It doesn't really make sense but there's always a pack of rice crackers or a chocolate bar in my bag for "emergencies".
LABELS: Chocolate, Japanese, Kitchyart, lenten libertines