By sanju on 24 March, 2012
It is that time of year again when most everyone I know is giving up something they love to eat as a sacrifice. Yes it's the Lenten Season. In keeping with this tradition, many restaurants come up with their own version of dishes that have a common theme.  They are mostly seafood or veggie based dishes that are available till Easter.
Ganso-Shabuway, the California based Japanese Hotpot restaurant is no different. Known for its clean tasting broth and prime cuts of beef and a wide array of fresh vegetables, they now offer a Unagi and Seafood Dumpling Shabu Shabu set (P575). One may also opt for the same sans the unagi at a more affordable P375. This is available for a limited time. Depending on its popularity, these sets may just become a permanent menu fixture.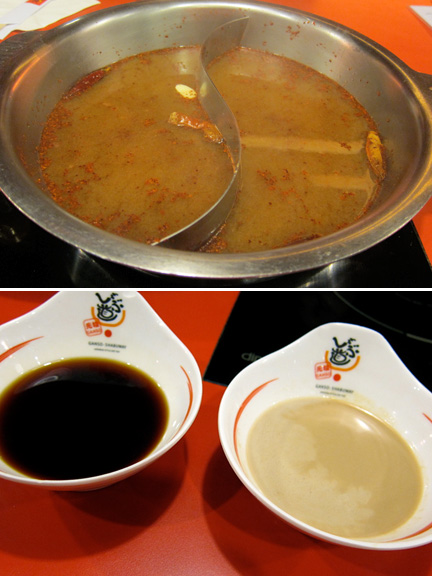 I have been to Ganso-Shabuway a couple of times, and I have always enjoyed their beef offerings served with a slightly spiced Miso broth or a seaweed broth and a very tasty sesame dipping sauce. They also serve a Ponzu dipping sauce but I still prefer the sesame variant. I find it goes very well with the meat and veggies. My only quibble about the place used to be that there is no other offering aside from beef. I have always asked the restaurant manager if they planned to introduce other types of meat or seafood in the future.  Well my prayers were answered–in a way.
Recently, I heard from my sister that Ganso-Shabuway now has a seafood variant. She was very fuzzy with the details, so I lost no time checking out what they had in store. I ordered the unagi set. It comes with a bowl of rice topped with a good-sized piece of unagi with the usual sweetish sauce, a veggie plate and a few seafood dumplings. The set had four types of dumplings: A crab and egg dumpling, North Sea scallop dumpling, fish dumpling and stuffed cod ball. There were also a couple of kani sticks, something that I am not too fond of, thrown in. The veggies were crisp and fresh as always. I also ordered a side of shimeji mushrooms (P80) just because I love all types of Japanese mushrooms.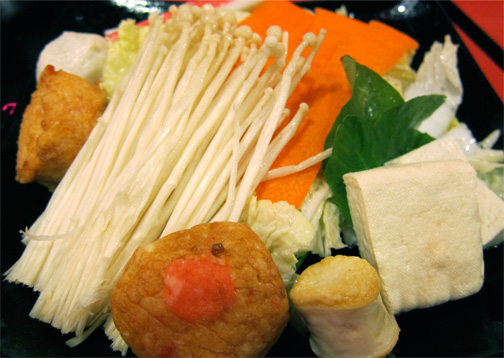 I found everything quite good. Although I kept thinking to myself how awesome this set would be if an array of fresh seafood had been included in the mix just to add a bit more variety. But one cannot have everything all the time, right? I still think that it is still worth trying especially if you want a different Ganso-Shabuway experience.
Ganso-Shabuway
2F Greenbelt 5
Makati, Philippines
Tel +6329036763
Level P1
Powerplant Mall
Makati, Philippines
LABELS: Ganso-Shabuway, Makati, Sanju, Shabu-Shabu