By Kitchyart on 6 February, 2012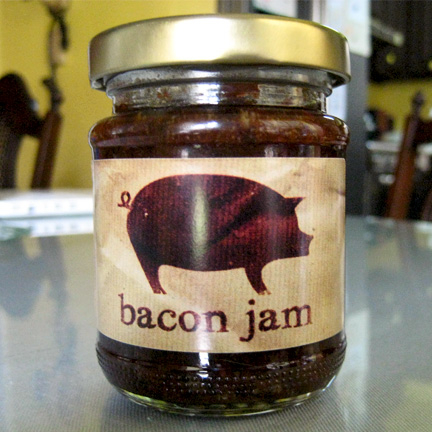 Despite the endless feasting over the holidays, I realized how much I missed cooking.  I'm not a great cook, but I do like to play around with food.  So around the time I was trying to make my candied bacon, a good friend and avid bacon lover, ManEatManila presented me with a curious bottle of bacon jam he made himself, I knew I had to make something fun and over the top with it.
ManEatManila's bacon jam started as an experiment.  He'd bring samples of his jams to parties and ask our friends to give feedback and after numerous batches of "jamming", he decided to start selling last December. And they sold like hot-cakes. The bacon jam still tastes of bacon in a sweet, smoky base. It has a mild spicy kick and a deep onion flavor.
That's where I got the inspiration for cooking my over the top bacon inspired breakfast.  I set aside some rendered bacon fat and bacon butter from my previous experiments and used it for anything that called for fat in the recipes.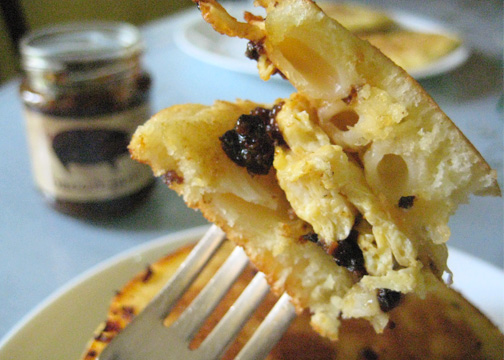 Mac n Cheese in a pancake. Who does that?!
I made Mac n Cheese pancakes, loosely based on Shopsin's recipe in the New York Times.  A man (in)famous for cussing and kicking customers out of his General Store in Essex Market on the Lower East Side and equally a madman in the kitchen for his outrageous culinary creations.  It's a genius combination of two childhood favorites; the toasted cheese makes it so fun to pick on.
Since this was not a simple meal, I added some fluffy scrambled eggs cooked in some bacon butter and topped it on the pancake.  I then slathered on bacon jam all over the piping hot eggs. It melted just a little bit and turned a little sticky.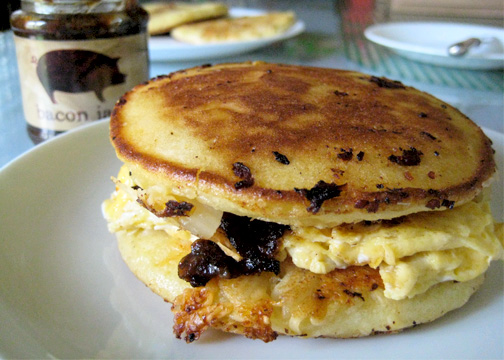 Just when you thought it couldn't get any worse.
But it didn't end there; I placed another pancake over everything to create a breakfast sandwich.  I hurriedly took photos then polished it all off in a flash. Everything had bacon in it, even if there were no actual slices of bacon in the sandwich.  It would be a close cousin of a Sausage McMuffin, sans the sausage.  In hindsight, a breakfast sausage would've been great to pair with this but it was already such a decadent meal, I passed out for 2 hours after eating it.
So thank you, ManEatManila for inspiring this heavyweight breakfast idea! Keep on jamming!
Man Eat Manila
Email: maneatmanila@gmail.com
*For those interested to try the bacon jam, please check his site for updates.  He makes his bacon jam in limited quantities to ensure the best quality.