By Anonymous Paul on 2 February, 2012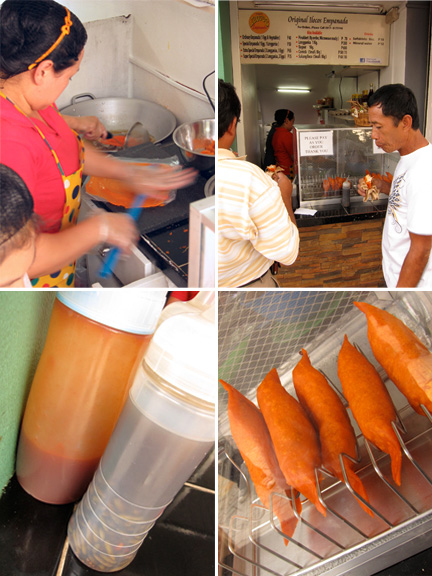 I had gotten wind of this recently opened Ilocos empanada place along Visayas Avenue. Not that there aren't any Ilocos empanada shops in Manila; but the case is there probably isn't enough. I had gotten interested in this particular operation because it had the name Farinas attached to it. And what could be more Ilocano than that. Think congressman, mayor and bus lines. Come to think of it, there has been word of a particularly good empanada stall across the Farinas Bus Terminal in the UST, Manila area. I'm not sure if this is a spin-off from that but I did get the chance to visit this Visayas Avenue branch a few days back. Farinas Ilocos Empanada is a hole-in-the wall in between a drugstore and a gas station. Considering it was just about 3pm, there was already a noticeable group of individuals milling around, waiting for their purchases. A lady ordered eight pieces. Another ordered four. The lady at the counter says their current record since opening was about 30 pieces. The pies are made to order, save for several on cooling racks out front to anticipate sudden demand. The reserves never last very long.
I asked the lady cook if she was from Ilocos and she said she was not, though she did say she was sent to Laoag and was trained for a while in Dap-ayan, or that lane beside Laoag City Hall where all the empanaderos are. All the ingredients are brought in from the province save for the eggs. Their version uses mung bean sprouts, shredded green papaya, eggs and Laoag longanisa. All wrapped inside a radioactive-orange crust made with galapong (rice flour). It's colored with achiote/achuete so no worries about artificial additives. The dough hardens to a dense shell when fried. So stiff that a corner of one pie stabs and punctures the plastic bag it was put in and it still held its shape. Not a crumb out of place.
Variations include the "ordinary" which contains one egg and the vegetables. There's the "special" which has an one egg and one sausage link crumbled into the mix. I order the "super special" which contains a couple eggs and two longanisas. If I'm going to eat an empanada might as well go big, right? They put out chili laced bottles of the dark "sukang Iloco" for the customers along with bottles of ketchup as condiments. The latter I find quite off-putting.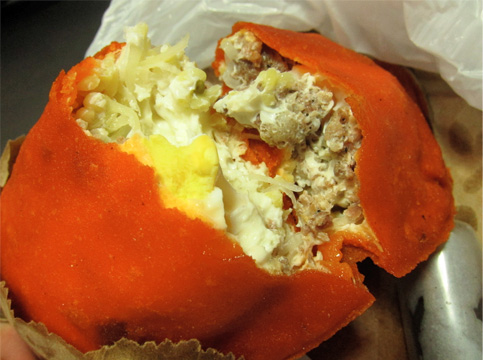 But anyway, I pull out the still steaming pie out of the now grease drenched brown paper sleeve. The super special (or "double double" as its known in Ilocos) is noticeably thick and hefty. I break it open and see generous amounts of filling. The soft cooked egg (you can request the eggs done to a malasado or runny if you want) intermingling with the vegetables and chunks of garlicky sausage meat. I drizzle some vinegar and take a bite; half chewing, half blowing out the steam and tearing-up from the slight pain. Does it taste any different? Not really. But that's a good thing in that it tastes just like the ones you get in Dap-ayan. Maybe even a little better as they keep their cooking oil fresh. All in all a pretty legit empanada. Manila should be ready for an orange pie invasion as, at this time, they've already put up another branch along Kalayaan Avenue, Quezon City and one more in Mandaluyong. With several more additional stores planned to open in various parts of the Metro.
Along with empanadas, they also sell regional favorites as pinakbet, longanisa and bagnet (in 1 kilo packs), cornicks, sukang Iloco, bagoong and the small but terrible Ilocos garlic.
Farinas Original Ilocos Empanada
Current branches:
56 Visayas Ave, Project 6, Quezon City
140 Kalayaan Ave cor Mayaman St., Diliman, Quezon City
Maysilo Circle, Mandaluyong
Mobile: 0917.817.3146
For more info visit their Facebook Page
LABELS: Anonymous Paul, ilocos empanada