By Anonymous Paul on 10 February, 2012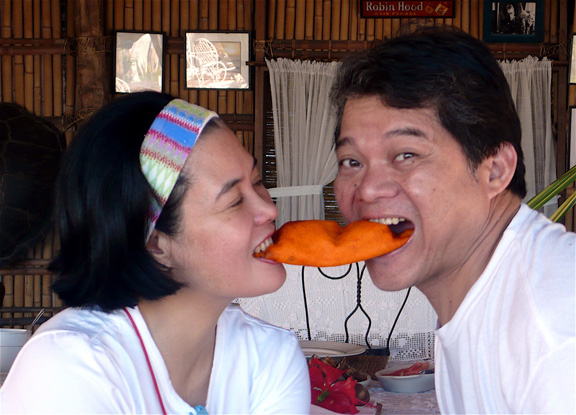 I've always admired Filipino food vanguards Claude Tayag and Mary Ann Quioc for their efforts in getting the word on real Filipino cuisine out there. What I love more is their true passion for eating. Which is evident from Claude's regular column on the Philippine Star, his earlier book Food Tour, which was basically an international crawl of good eats and to both Mary Ann and Claude's actually giving a better explanation of what Pinoy cooking is to Anthony Bourdain on his No Reservations show. Not to forget Bale Dutung. They walked the talk further by recently coming out with "Linamnam: Eating One's Way Around the Philippines", a north to south eating guide to the country. They share a light moment On the Table talking about travel, love…and even first dates.
Linamnam reminds me of how the Michelin guide started, in that it was created for motorists to find decent lodging and restaurants while touring France by road. But instead of fine dining enterprises you feature all these wonderful holes-in-the-wall and family run operations serving up regional cuisine. What was your basis for selecting the type of food and establishments?
Claude: We initially started with our personal favorites, dishes typical of a particular place we've tried from our past travels to different parts of the country through the years. Each Philippine region's cuisine has its peculiarities and nuances. But one thing we decided early on was that the food should be homegrown, available to the public in restaurants (not places with restricted entry, like exclusive clubs), from holes in the wall to fine dining finds, food that is store-bought or can be ordered from homes. What is the point of including a dish, no matter how malinamnam it is, if only a handful within a social circle can try it? The dish could be traditional, new, or a new take on an old standard; commonplace, exotic, or sublime. We've also included several destinations for their experiential totality. Given our limited time, we have no doubt there's still a treasure trove of Filipino dishes waiting to be discovered out there.
Mary Ann:  Easy, that is Claude's call. I do not suggest or offer a choice(s) anymore or else our car will never leave the driveway. We will be arguing even before we hit the road.  Life is easier when you have no choice!
How were you able to find leads for these places? Friends? Serendipity?
Claude: Leads and information from our foodie friends and relatives. All one needs is to get connected to one native of a place/region. You know how we Filipinos are all connected somehow: a cousin of a former classmate of an in-law or something. Food blogs like yours are a gold mine of information, too. Along the way, we've come across a lot of serendipitous discoveries as well (i.e. Crispy dilis salad, p.195).
Mary Ann:  Claude will say through leads from foodies and clippings. I say through his nose. I think God blessed Claude a sharp nose that can smell good food 3 market stalls away. How else one can explain how we end up in eateries tucked away behind fish stalls.  Indeed he is such a nosy fellow (pun intended)!
There are some dishes in the book that I have only heard of (e.g. Piyanggan manuk; which is chicken cooked with blackened coconut); I don't think I'm alone being in the dark about some regional Filipino cuisine. Was there a particular dish featured in the book that you never had an idea existed, chanced upon, and loved in the end?
Claude: A lot of dishes like Pancit Choko en su Tinta and tamales from Cavite, Batil Patong and Pancit Cabagan, managat and imbao from Iloilo, diwal from Roxas City, to name a few.  Many of the dishes that we've discovered and tried for the first time beg the question of Magellan discovering the Philippines.  The dishes  were already there long before we "discovered" them.
Mary Ann: Oh many, many. Like the ants' eggs in Ilocos' Adams place, the nila-ga in Bacolod which is very different from our nilaga and the goto in Batangas without rice but more like a sinigang broth.  Some dishes in our country have similar names but that's where the similarity ends there.  Like for example the bulanglang Tagalog and the bulanglang ng Kapampangan are worlds apart, and so with the Visayan tinola and the Luzon tinola. The pochero of Cebu and the pochero of the Tagalogs. This what makes eating in the Philippines not only fun but "wonderfun".  You first wonder what it is and have fun after. In other countries where their food is so standardized, diners miss on the wonder factor, di ba? Indeed, eating is more fun in the Philippines especially with the Linamnam book on hand.
I imagine this project taking a few years to compile and to physically venture to the far ends of the Philippines. Travel and constant companionship sometimes tests a relationship. I laughed at Mary Ann's introduction to the book when she said there were points where you wanted to smash each other's faces. But how did this experience strengthen your relationship as a couple?
Mary Ann: Not smash, just crumple! We are not yet at the violent stage in our married life. I am sure all wives will agree with me. Marital fights are always started by men because they are not wise. They cannot tell the difference between a woman telling a story and complaining. They cannot also tell the difference between us showing concern (albeit reluctantly) and prying when a wife simply asks, "Komusta ang meeting, nyo?" I have long concluded the wisdom to tell the difference went all to Eve when God got Adam's rib to create Eve. So it's the woman's wisdom to know when to talk and when to stop. Men may argue that they are scientific.  Then must be the big bang startled and damaged their eardrums. We also live with one rule we started from the beginning of our marriage: I shall not nag (that's easy) and he shall never raise his voice on me (I don't know if this is easy). Or else big big possibility crumpling may become smashing.
Claude: Amen to that. Men are really from Mars, women are from Venus.
Anything new you found out about your partner even after over a decade of being together?
Mary Ann: Travelling together really is an eye opener to every couple because you are together practically 24 hours a day.  I realized early that between us two, it's me who has the backbone (no pun intended). During our honeymoon, I dragged mine and his suitcase down the stairs (there was no elevator in the hotel) while he was following me with a paper bag and munching on prosciutto and manchego cheese. I then learned he has a back problem. An American tourist was so fascinated at such sight and took a photo of us. We must have looked like a P.A. and a celebrity on honeymoon. During our food trips here, we "rediscovered" one another. Like, between food and myself, there is a possibility he will choose food. That is indeed heartbreaking and insulting to any woman till God gave me the opportunity to choose between him and the toilet.  Admittedly, I am more understanding now.
Claude: Another AMEN!
Was there ever a point during writing the book that you got tired of eating/food altogether?
Claude: Never. I guess, if one is truly enjoying whatever it is you're doing, it is never tiring. And please keep in mind we didn't do the "eating" one continuous time. It was over a prolonged period of time. There were plenty of "lean" days that leave you "hungry" again for the next eating adventure.
Mary Ann: That will never happen.  Though we are 2 very different people, it is my unconditional love for him and our fondness for food that cement us strongly together.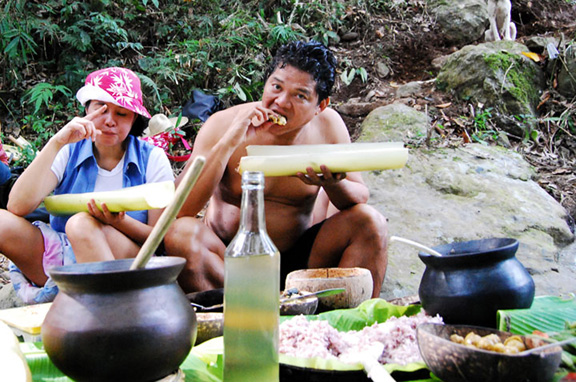 What was your most memorable meal as a couple?
Mary Ann: I will always remember this with fondness.  My friends who are all happily married (to foreigners) were matching me then with every white Tom, Dick and Harry during our Hong Kong days. I refused as I said, "I only want a Filipino,  preferably a Kapampangan who must be single and Catholic and who can cook and do body massage."  "Where will we get a kusinero-na-masahista-pa in Hong Kong?" they would often complain. By the way, it is easier to find a cook (chef even) than a masahista. On Claude's first visit, I invited them to meet and assess him. We were not yet dating then. At that time I didn't know Claude cooks. He offered to cook Hainanese chicken rice. I thought he would buy ready steamed chicken and make broth from chicken cube and simply arrange the dish. But no, he went to the supermarket and did it all from scratch in my 2 x 2 meter kitchen. I think was if there more space, he would have bought a live chicken. One sip of the nicely flavored piping hot soup, one of my friends declared, "Bataan has fallen."  And we all laughed that perplexed Claude.  Then one asked, "Claude, do you also know how to do body massage?"  "No," he said "but I like having massages." "Sold," declared a friend, confusing Claude even more.

Do you remember how romantic (or disastrous) your first date was?
Mary Ann: Our first date was in a pizza parlor in Pampanga. Claude insisted it lacked flavor so we packed the pizza and went to his home. He gathered Italian basil from his garden and generously topped it on the pizza. He was obviously trying to impress me. But I do not eat vegetables. So I removed all of it (to his dismay) and sprinkled Tabasco all over the pizza. He was shocked but I think he liked what he saw. He saw one hot woman! Looking back now it is the Tabasco that saved the evening and created interest in Claude's heart.  Or is it another organ other than the heart?
Claude: Amen to that again!
What was the last thing you cooked for your partner?
Claude: Guinataan na bilo-bilo which she loves so much. One afternoon she was craving for it and I made her. Wanting to WOW her, I filled in carabao's milk pastillas in every bilo bilo. But she was not impressed. "Ingrata," I said in jest.  "OA," she said back.  The following day she gave it a second chance and liked it.  But still she complained, "I cannot eat more than 3 bilo-bilo. Too linamnam, too rich. It's like choosing between Royce and my favorite M&Ms."
Mary Ann:  I don't cook for him. My role in this cooking and eating relationship is to eat what he cooks even at past midnight and yet make sure I wake up still with a waistline. Thank God that is easy.
Who is your biggest culinary inspiration?
Claude: My mother Adoracion Suarez Tayag. She cooked from the heart, meekly and lovingly played her role as wife to our father, mother to her 12 children, mother-in-law to our respective spouses, Lola to her 32 grandchildren and 23 great-grandchildren till her demise at 89 years old. Her house and kitchen was an open one – there was always plenty of food to pass around not just for her brood but also for the unexpected guest.
Mary Ann: My grandma Apung Pepang Lim de la Cruz. She was the mother of all foodies, if ever there was one. I grew up in her house where everything was done from scratch. She said commercially available stuff is not good enough. We made our own burung isda, talangka, okoy, heko (stronger than bagoong in smell and flavor), bagoong and yes even our brown sugar. Her patis should come from Navotas which is the unang tulo that is not sold in supermarkets. She would send a driver to Calasiao, Pangasinan, to buy puto or we make our own puto and kutsinta, and to Bulacan to buy bihon for her pancit palabok. Fish vendors in our town, when she was already paralyzed in later later years, would bring the fish to her before they offer it to the public in the market. We age our vinegar in tapayan in the basement which should be at least four years old before the tapayan is opened. We boil Arabica and barako coffee from Divisoria and sieve through a cheese cloth and topped it with gatas kalabaw. She taught me how to eat and appreciate the expensive duman (now P2,500 a kilo).
What is your favorite junk food?
Claude: Potato chips, chicharon with laman.
Mary Ann: Kisses, M&Ms. Salt and vinegar flavored potato chips (most especially Samboy from Australia).  Original Spam. Coca-cola. And of course chicharon bulaklak.
What is one thing you cannot or will not eat again?
Claude: Fried galunggong which I had the misfortune of eating and suffered food poisoning.
Mary Ann: Hmm… years ago, I would have answered any vegetable dish. For to me vegetables are a waste of space in the tummy.  But now for health reasons, I manage to eat greens.  I will never order it though but if I see it on the table, I will eat it. I ate the poisonous blow fish in Fugu but I will never eat cockroach (they say they serve this in Thailand) or vegetable if I know it is fertilized by fly eggs (vegetable na flies pa).  I heard there is a new farming technique in UK now that uses fly eggs to fertilize the vegetables because it has high protein content.
LABELS: Anonymous Paul, claude tayag, linamnam, mary ann quioc, On The Table