By Anonymous Paul on 24 January, 2012
Achiote's menu board reads similar to that of B&T's in Greenhills. With this restaurant's menu being a little more condensed and carrying a few different items like the queso fundido dip and the guacamole bar; in which you can have your guacamole with different toppings as sun dried tomatoes and spicy roasted peppers. They also have Mexican style sandwiches called tortas; with the usual choice of meat fillings served inside crusty bread. Which I couldn't really appreciate that much since they do an agohada style, or drowned (in sauce) sandwich. It was almost like a soup with all that sauce ladled onto it. The concept sounded promising at first but in the end, wet bread didn't much appeal to me. Still debating if I'd give it another try though.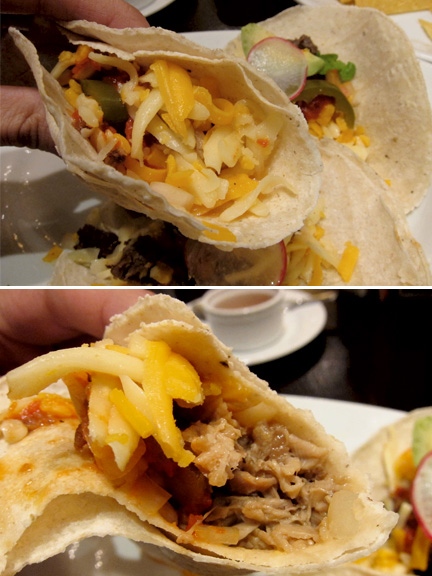 I've had a few tacos in this place. And while I do generally find their meats lacking a little bit in flavor (or too toned down), I came back for the tripas taco. I think this is the only place in Manila right now serving this variety. Tripas, or tripe, takes a very long time to process. It has to be washed several times to get rid of "pieces of matter" even before its cooked. And it has to be boiled for at least four or five hours to get it tender; lest you want to be chewing on rubber bands. You'll definitely know if tripe wasn't prepared too well; it'll definitely smell and taste like a barnyard. But I have to say, Achiote does a good job with theirs. Their tripas tastes so clean. And just like callos, so fatty and pleasantly gelatinous. Just a tad under-spiced though. I love the mild saltiness the cheddar and jack cheeses provide and that zip of tang and heat from the sliced jalapenos. As a whole it's pretty ok.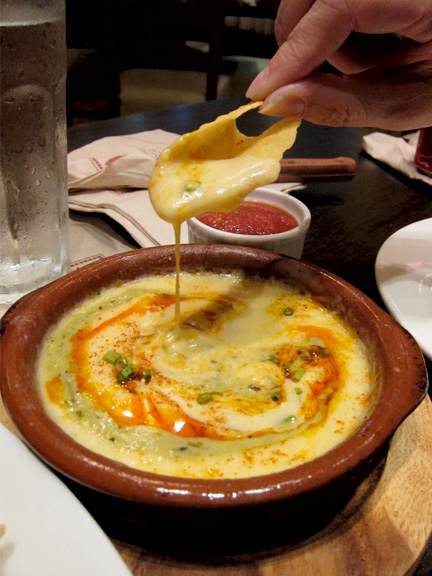 I do love their queso fundido though. I appreciate how they bake their white corn tortilla chips so that it's still warm when it gets to the table and I love the goat cheese they use for the dip itself. It comes hot in an earthen casserole; still stringy and gooey as you scoop with the chips. This particular version has chorizo bits added to it. Notice that red, smoky film of chorizo oil on top.
Offal and gamey melted cheese. A beer or two. Things that'll make me come back to Achiote.  Though could I also hear the ceviches calling…

Achiote Taqueria
G/F Power Plant Mall,
Rockwell Center, Makati City
Tel. (0915) 922 9336
LABELS: achiote taqueria, Anonymous Paul, mexican, queso fundido, tripe taco