By admin on 2 January, 2012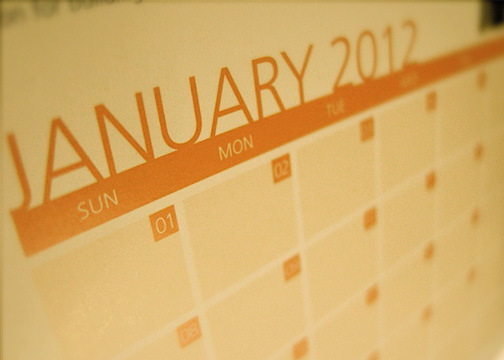 2011 was a good year for eating. We make it a point to publish and share only what's worth sharing on Table for Three, Please to keep things positive. Of course not every meal was perfect; we've also had our (lion's) share of experiences that have left rather strange tastes in our mouths. However we're still certain 2012 won't be just good but better in terms of food. And here's what we wish for this new year. (If you have your wishes too, please share as well!)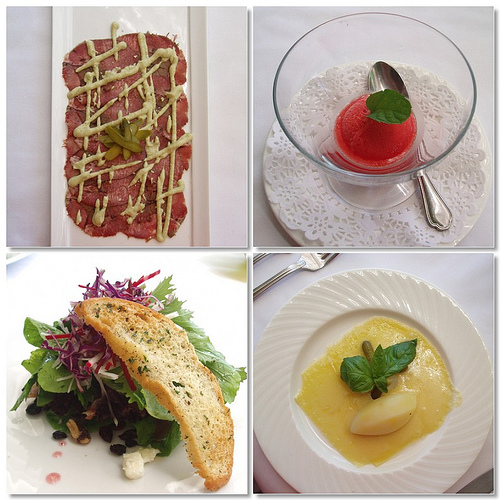 Lunch at Antonio's.
Sanju
I wish:
The Philippines would have a legitimate Michelin starred, homegrown Filipino restaurant in the country. Our food scene has so much promise and it seems that we are just a short step away from finally getting our act together.
There would be a fresh infusion of private kitchens. I recently had a chance to visit Stephanie Zubiri's Atelier 317. I was blown away by how good the food was. I loved the whole vibe of being in a home but ordering off a menu at the same time.
That restaurants put a premium on training their service staff. I have heard of and experienced first hand many negative incidents in different restaurants. Some were so bad that I have actually sworn never to set foot in these establishments again. Most times, these incidents could have been completely avoided if a little more time was devoted to training and more importantly, after-training supervision.
That new restaurants would be more creative and non-traditional. I mean do we actually need another place that serves Ebi Tempura and Yang Chow Fried Rice? Enough said.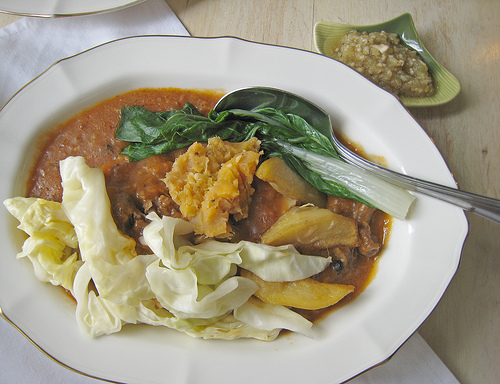 1521's Potchero ni Tankeko
Anonymous Paul:
I wish that more Filipinos push to serve Filipino food or bring guests to where they can sample good Filipino food (wherever they may be). We should stop wondering why the world still hasn't picked up on our cuisine when the first thing we do when we have guests is dare them to eat balut; we scare them away!
As a corollary, it would be interesting to have more regional Filipino dishes represented in Manila. Could've been brought about by late night reading of Claude and Mary Ann Tayag's book Linamnam: Eating One's Way Around the Philippines; wherein the couple chronicle their food finds from all over the country. Some dishes I've only heard of, some I've never heard of; all I want to try. The more I went into the book, the more I realized how limited my exposure to other regional Filipino food was. I should wish to travel to these wonderful places as well.
I wish for more "underground dining" options to spring up. It is amazing how passionate, food-crazed, independent cooks and chefs can show us different takes on dining. A special meal doesn't always have to be in a "textbook" restaurant. Sometimes the best food is found in private or  home kitchens or maybe even on the street!
The pangasius ("cream dory") may be a godsend for most restaurants. Cheap. Abundant. Also painfully neutral, mushy and generic tasting. Whatever happened to the other fish in the ocean? I'd love to see someone open up a cevicheria or serve up an exceptional bouillabaisse. Our country is already surrounded by water. Someone out there is already catching the seafood. I wish for more fresh fish-centric dishes on menus.
While pork and beef and whatever meat are great; I do wish for more vegetable options as well.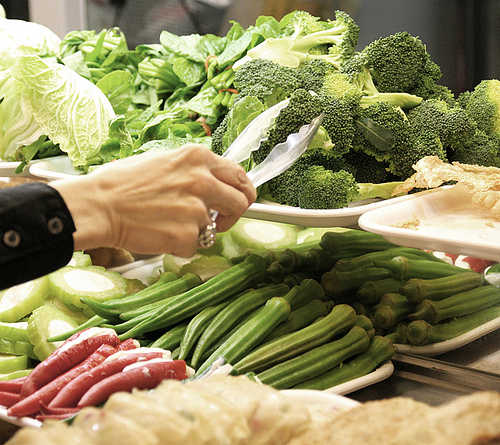 More greens please!
Kitchyart:
I would love to see dining establishments have better service because it's very painful to witness a dozen people perform a simple task.  Since we have an abundance of culinary schools, do they offer wait staff training?
Raise Filipino awareness in regional cuisines.  Our culture thrives on eating, why not preserve our heritage through age old recipes?  A recent trip to Coron made me wonder why almost all the restaurants offered Spaghetti Bolognese or Carbonara.  And local fare usually consisted of grilled seafood and meat.  They're not bad but how did the locals dine before tourists started visiting the island?  For sure there are great recipres waiting to be rediscovered out there.
Put a stop at restaurants trying to put everything on the menu.  It would be great to see dining spots specializing in limited items.
It's great to see that the slow food movement is picking up.  Hopefully in 2012, more restaurants follow this trend of using locally sourced ingredients to help our own food producers.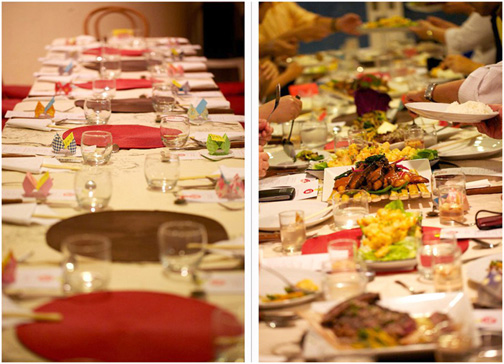 More out of the box dining. Shown here is a Pinoy Eats World experience. *photo courtesy of Cres Yulo
LABELS: Anonymous Paul, Kitchyart, Sanju, Table Conversation, wish list 2012