By sanju on 11 January, 2012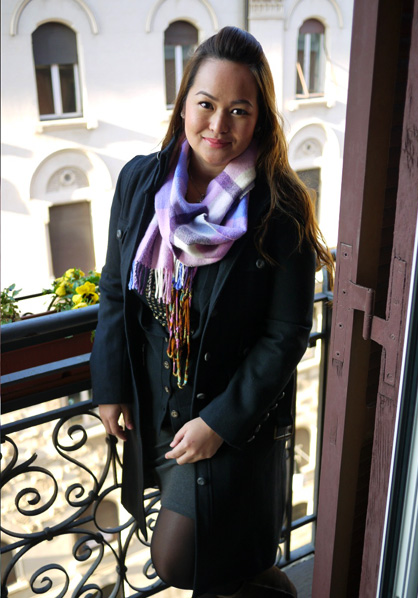 Jean Salonga Fernando leads a very busy life.  She is head of operations of the Fersal Hotel Group that counts Hotel Elizabeth Baguio and Hotel Elizabeth Cebu among its properties.  She is also an avid diver,a world traveler and has a very engaging blog called  Trip or Treats, where she shares with us her food and travel adventures.
Let us venture into her world and see what she is all about:
Of all the things you could write about why food and travel?
Trip or Treats actually began as therapy after I had a very bad experience in a "luxury" resort in Bohol.  The entire time on the plane going home, I couldn't stop thinking about what a rip-off my stay was, and that it was unfair to portray something as a "small luxury hotel of the world", when I was treated like I was in a hostel.
I lived abroad for most of my adult life, from Malibu to Santa Monica, all the way to New York and even studying in Italy for a semester.  Being in a different city/country/culture/, livens me up and brings me back to my heyday now that I am based in the Philippines and still have a sense of reverse-culture shock.  When I  travel I'm reminded that I know only one part of the bigger picture, and going around to visit new places allows me to see the different facets of life, culture and traditions that seem unorthodox in the Philippines.
As for food, well dining is one of the cheapest ways to experience a different culture or country without even having to take a plane.  It also goes hand in hand that when you travel, you usually remember an amazing meal at a random taverna with interesting people.  Food has a lot of emotional attachments in our memories.  Also, Filipinos usually exhibit care and hospitality through serving food, so it was an easy combination.
Who are the food and travel writers that inspire you and why?
I love Ruth Reichl because she puts poetry in the basic of ingredients and really elevates culinary literature.  Anthony Bourdain, for his satirical standpoint as well as sarcasm, and for his short stories on Kitchen Confidential.
As for travel, I really love Alain de Boton.  Though not a travel writer, his books The Art of Travel and A Week at the Airport, attempt to explain the emotions and intangibles of traveling as a quest to find one's self which is really what seeking the world is all about.
Many regional cuisines like Thai, Singaporean and Vietnamese have found their place on the world culinary stage, why do you think Pinoy food has not achieved the same global claim?
I think that reason why it's not at the same level of exposure as Thai and Vietnamese cuisine is because Filipino food is very regional.  Take for example, adobo. Capampangans like to make it fried and very dark; Ilocanos use tomatoes, and so on.  One dish is reinterpreted as much as we have dialects, so our national culinary identity is also varied.  It is a tough sell when we ourselves cannot pinpoint what the official components of a single dish are.
Another reason I see is that when people attempt to inject some sort of "Fusion" into Filipino food, it is not very successful. Filipino food is homey and very regional. Aside from our Spanish and Chinese influence, it's hard to describe what Filipino cuisine is, aside from "it has a lot of sauce", and is "served with rice".
You have been writing your blog for a few years now.  What changes have you observed in the local food scene over the years?
For one, people are more willing to shell out for good food.  Back in the day, dining out was a once a week treat.  Now, I'd be kidding you  if I told you that I ate at home more than I ate out.  People are willing to experiment with unusual flavor pairings and even have dining clubs with foodie friends.
Dining out is the new Starbucks.  You don't really sell food anymore, but the entire experience of the restaurant, the ambience, the way a certain restaurant perceives who you are in conjunction to dining there.  Starbucks was never in the business of selling coffee, it was there to offer  a 3rd place between the home and the office.  Dining is the new third place.
What is your favorite food blog, cookbook, food-related TV show and food magazine? What is your favorite city, hotel, airline and airport?  (Please tell us why.)
I have been addicted to Top Chef since my Santa Monica days, because, though it's a reality show, it doesn't attempt to bastardize the contestants' skill at cooking.  The best really wins, not the coolest or the "nicest" chef.  I even have the cookbooks which are based on the recipes the contestants create.
I have a love affair with Florence, New York and Santa Monica, mostly because I've called those cities my homes, and I built my culinary palate as well as my character in those places.  I can build you a one day, week, one month itinerary on those places alone with matching tidbits of random information and why.
I collect Saveur Magazine because the dishes are so ambitious.
Lately for long haul flights to Europe, Qatar Airways seems to have great rates, and if you fly business class they provide you with pajamas during red-eye flights.
If for example, one day, Anthony Bourdain calls you and asks to spend the day with you.  Where would you take him for breakfast, a mid-morning snack, lunch, an afternoon snack, dinner and cocktails?
I would take him to my grandmother's house in Guagua, Pampanga, for some Adobong Balut (duck fetus) and some Buko Sorbet (flavored with dayap, and frozen using ice and rock salt contraptions).  For lunch, I would take him to Claude Tayag's Bale Dutung, for some art and Filipino food.  Then for dinner, I'd invite him to Pepita's Kitchen for a 16 course Filipino Degustacion, with four kinds of stuffed Lechon.  Then for dessert, I'd take him to Baguio for some "kulangot" and see how he likes it.
After reading your blog, I know that your love for cooking is evident.   Please tell our readers what is your signature dish?
I usually cook a lot of pastas, but for special occasions I make this amazing rib eye roast, which is like roast beef but it's all boneless rib eye meat.  I slice the meat and insert whole cloves of garlic in certain areas, rub a garlic EVOO mixture all over it, then I coat it with a dijon mustard/horseradish crust and put it in the oven for about 8 hours.  It's the best steak people have tried, or so they tell me.  That's why when I eat at restaurants, I hardly order steak because my family always brings in our own meat when we go to the US.
What junk food do you love?
People would laugh, but do you know Cheez-it?  The local cheese snack that has a mouse on the packaging?  I love it!  it's incredibly light and leaves your fingers bright orange.  And Oishi's Sponge Crunch.  It's a chocolate revelation.
Is there a type of food that you just can't seem to enjoy?
Camaro.  It's a Capampangpangan delicacy of mole crickets.  My father loves it, but I can't seem to get past the crispy legs.
Can you give three tips to aspiring food bloggers?
First would be, prepare to gain a lot of weight!  You really have to love food or else you would never allow yourself to indulge as much as you will.
The second one, is to take as may photos as you can.  Change angles, play with the light.  Be creative.  There is a reason why digital cameras are a godsend because you have all the second chances you need to create a shot that visually represents what you verbalize through words.
The third would probably be to keep an open mind and be original.  Everyone talks about food nowadays, it's important to find your niche and not just be the next talking head for restaurants.  Be honest if your meal sucked.  But also be objective when writing a complaint.  The last thing people want to read is someone who bitches just to get a free meal.
What are the future plans of Jean Salonga Fernando and Trip or Treats?
I just migrated to my new site (no more blogspot) so I'm still in the process of putting the old posts on the .com.
Well now that I've gained all the chubrub from the food, 2012 is geared towards finding a balance between indulgence and wellness.  If I get to that equilibrium, I'll tell you how it goes.
As for the traveling, I've set my 2012 itinerary for trips and I'm maxed out!  But, there's always that last minute inclination to just disappear for a weekend or so.
As for community, I'm cooking something up where foodies can meet together over "potluck".  We'll see how that comes along.
.
LABELS: jean salonga fernando, On The Table, Sanju, trip or treats