By sanju on 29 January, 2012
Drinking Single Malts has always been a passion of mine.  It has always been my drink of choice when I am on a night out or when C and I entertain at home.  I remember my first encounter like it was yesterday.  A buddy of mine offered me a shot of 10 year old Laphroaig to try.  One sip of it and I was completely hooked.  There was something about it's smokey almost medicinal flavor that made me a fan.  Thus began a love affair that has not ceased for years.
Single malt whisky traces its origins to fifteenth century Scotland and is normally produced from a single type of grain, hence its name.  I have had the pleasure of sampling numerous types of Scottish single malts both here and abroad.  A visit to the Glengoyne distillery outside Edinburgh was one of the highlights of a recent trip to the United Kingdom, that is however, meat for another post.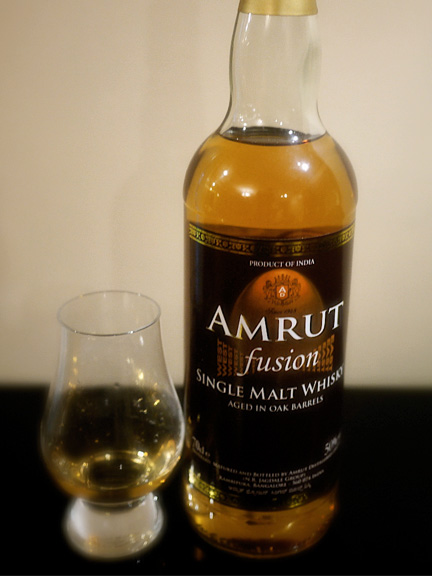 It was during said trip that I had come across a certain single malt of Indian origin called Amrut that was supposedly making waves around the world.  There were bottles available but I foolishly thought that it did not make sense to buy something made in India from Scotland.  "I am sure this will be readily available in Asia", I told myself.  Only to find out later on, that Amrut has not been released in Asia and is only available in limited quantities in Europe and America. A Classic definition of regret if there was ever one.   My quest did take a happy turn though, as I happened to mention Amrut to my friend and fellow Wine and Spirits Club of the Philippines member, Jay Labrador.  He told me that he was able to get a bottle from Distillery along Jupiter Street.  When I heard this, I quickly called my cousin who happens to be one of the owners of Distillery and we snapped up the last two remaining bottles of the award winning Amrut Fusion.
Amrut Fusion is rated at 97/100 by Jim Murray's Whisky Bible.  Murray further adds that he considers Fusion to be the third finest whisky in the world.  Very impressive, I must say.  It has a mixture of Indian and Scottish barley and packs a wallop at 50% alcohol volume.  It is distilled and stored in Oak barrels  at the Amrut Distillery outside Bangalore.  Cost is about P300o per bottle at Distillery, when available.
So how did it taste? I am by no means an expert in evaluating single malts, but I could tell that we have a winner here.  It was bold at first, with a strong licorice and vanilla note and finished subtly with nice chocolate undertones. The smooth finish was very surprising, given its complexity and high alcohol volume. As a food pairing option, Amrut Fusion should complement  either beef or game, but I am sure it would go with most meat dishes that do not have a saucy consistency.
It is quite encouraging to note that there are other single malt whisky options out there aside from those from Scotland. Japan, also has the Suntory line of Single Malts, of which, The Yamazaki 18 years has also been very well reviewed.  Of course,  The Scottish distilleries still have the majority in terms of volume and tradition, as there are multiple distilleries that have been producing great single malts for many, many years.  Hopefully, the success of the Amrut Distillery, will encourage the emergence of other Asian whisky makers to come out with their own version of excellent single malt whiskies in the future.
LABELS: amrut fusion, Sanju, single malt whiskey