By Anonymous Paul on 26 December, 2011
Ok, so it's a loosely interpreted version of the banh mi. But I call this the Christmas Cleanup Sandwich simply because it does a great job as a medium to consume leftover holiday meats . Roast turkey? Check. Chicken Gallantina? Works. Excellente ham? Great. Steak, lamb, sausages? Fantastic. Embutido, morcon? Awesome. Pinoy-style barbeque on a stick? Superb. The only thing that probably takes time to prep is the Vietnamese style daikon and carrot slaw; otherwise it's all easy assembly. For this sandwich I had some Thai-style grilled chicken breasts in the fridge and just used that. But will share the recipe anyways below.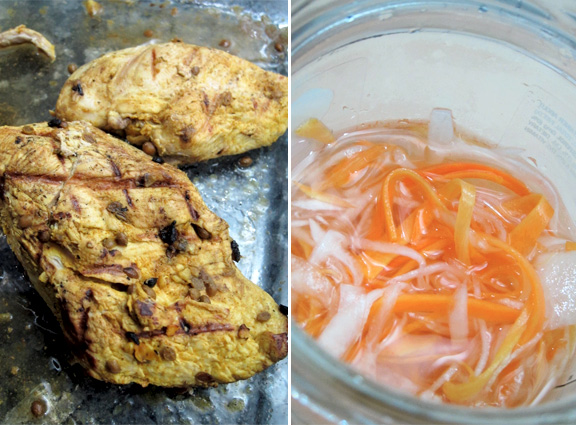 Grilled chicken on left. Slaw on right.
For the Daikon-Carrot Slaw:
1 med to large carrot
1 med to large daikon raddish
1/4c distilled white vinegar (Cane vinegar is fine.)
3T water
3T white sugar (Use less if you like it less sweet.)
1tsp salt
Julienne the carrots and daikon. I don't have super knife skills so I use those cheap Japanese mandolins and shave off paper-thin strips lengthwise then slice them into finer matchsticks. Mix in with all other ingredients, stir, and let sit for at least 30 minutes. Leftovers keep pretty well in the fridge and you can use like atchara.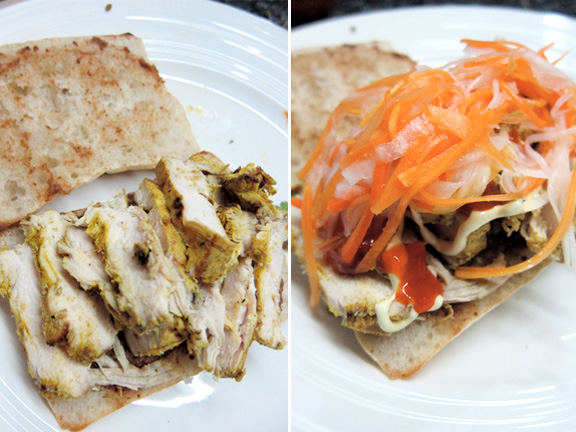 Assembly.
For the Thai Style Grilled Chicken:
One kilo chicken breast fillets
A few tablespoons of fish sauce (patis or nam plaa)
3 to 4 cloves minced garlic
1 to 2 Tablespoons crushed coriander seeds
Sliced bird's eye chilies. To taste.
1 to 2 limes or lemons
Pinch of turmeric
Just throw in everything together and let sit for at least an hour. Or overnight if you like. I don't really have exact measurements for the ingredients so I basically eyeball everything. I then grill the chicken 5 to 7 minutes on each side or till juices run clear. I usually like putting in a splash of neutral alcohol like vodka or lambanog to tenderize the meat if there's limited time. But again, if this sounds complicated (which it's not), just substitute with whatever leftover holiday meat you have.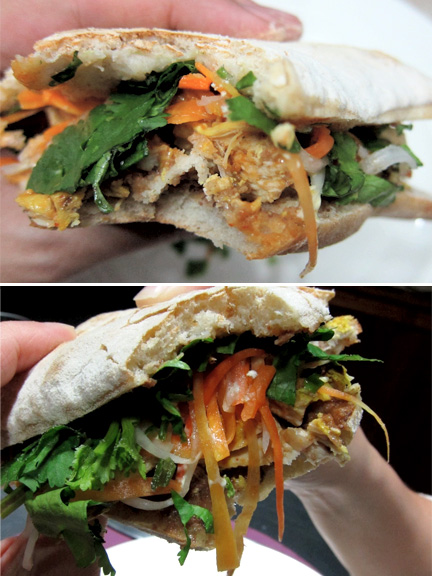 Messy beast.
And finally, for the rest of the sandwich:
Ciabatta (I like this better than baguettes as it has more body along with a great crust)
Japanese mayo
Sriracha hot sauce
Pate. Can be duck liver. Can be potted meat. I used liverwurst here and it was fine.
Torn basil and/or cilantro leaves
Slice open a ciabatta loaf. Spread pate on one side then toast to get a crisp crust. The liver taste doesn't really stick out in the final product but gives the sandwich this wonderful, smoky depth. Take the bread out and pile strips of chicken, or whatever meat available. Use as much or as little mayo and Sriracha as you like. Pile on some of the drained daikon-carrot slaw. Add a layer of torn basil and cilantro leaves. To make things even more decadent you can add a couple of sunny side-up eggs in the mix.
The sandwich is probably about six inches in height at this point so it's best to squeeze everything down before biting into it. Earthy flavors from the meats and pate, textural contrast from the crusty bread, freshness from the herbs and that bright lift from the slaw. Best thing ever.
LABELS: Anonymous Paul, banh mi, christmas cleanup sandwich, Table Recipes