By sanju on 14 December, 2011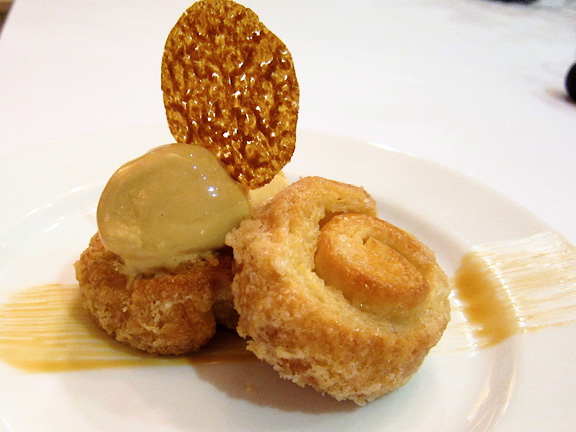 My Friend Cy has been a fan of Chef Cyrille Soenen's version of  Kouign Amann (kween a-mon) for a long time.  She has always considered it to be one of her favorite desserts.  Well, I finally got to try it this week as she invited C and I  to join her for dinner at Chef Cyrille's newest venture Brasserie Cicou.  I was a bit hesitant to brave the Greenhills Christmas traffic so I suggested that we go to someplace else.  However Cy was adamant:  "I need my KA fix, traffic be damned."  So off we went.
Brasserie Cicou is a very casual place with simpler more affordable food.  There are sandwiches, pastas, Pates, plus of course Chef Cyrille's specialties that deserves another post altogether.  The star of our evening though was definitely the Kouign Amann (P300).  This dessert originated in the Brittany region of France and loosely translated in the Breton dialect it means "Butter Cake".  It is basically made using layers of puff pastry, LOTS of butter and a crystalized sugar topping.  It is shaped like a smallish pie and served warm.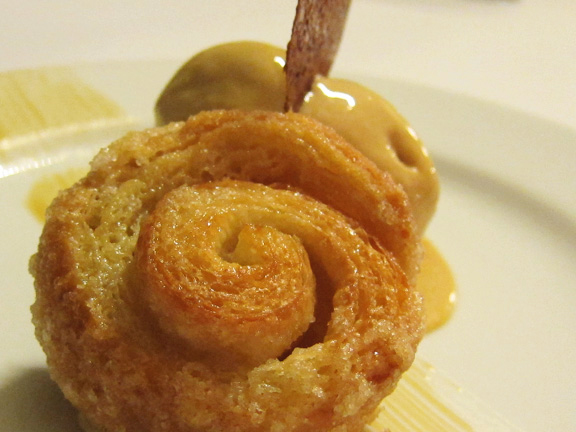 Chef Cyrille's version is served with a scoop of Salted Caramel Ice Cream and it is decadent.  At first, C wanted to eat half of the dessert and wrap up the rest.  I initially agreed, but it was so good that I finished the other half as well.  I like my Kouing Amann without the ice cream but with a cup of double espresso on the side.  It was crunchy, moist and the bitterness of the coffee provided the right foil to cut the sweetness level.
I normally hate to go to the Greenhills area as I find it too congested.  After last night though, I suddenly think that I have had a change of heart.  I now have Kouign Amann to entice me.  Highly recommended!
I would like to take this opportunity on behalf of Anonymous Paul, Kitchyart and Franco to greet all our readers and supporters a very Happy Christmas and a Prosperous New Year.  2011 was a good year for us, filled with lots of laughter, food and adventures. We are looking forward to a very exciting 2012.
Brasserie Cicou
57 Annapolis Street,
Greenhills, San Juan,
Tel +632 6619200
LABELS: Cicou, Cyrille Soenen, Dessert, kouign amann, Sanju