By Kitchyart on 9 December, 2011
The bacon trend has been around for a couple of years now. Never did I imagine that cooking bacon would pose such a challenge for myself.  And I'm not even talking about buying a slab of pork and curing it at home.  In the past weeks I've tried to find ways to make bacon crisp and many people have given their useful tips using the microwave, the oven, and on the stove top.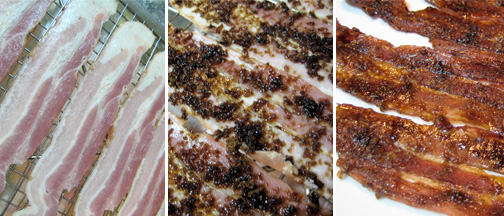 For my nth attempt to make candied bacon, I chose to use the oven method. It's real simple:
Preheat oven to 350F.
All you need is bacon, brown sugar, a cookie rack and a baking sheet covered in aluminum foil.
Lay out the bacon on the cookie rack, be sure not to overlap the bacon slices.
Cover each slice with about 1-2 teaspoons of sugar. Bake them in the oven for 15-20 minutes. Be sure to check from time to time since the sugar can burn quickly.
Once it's out of the oven, let it cool on the rack for a few minutes.
This current batch I made came out better than my previous attempts, although it still lacks a bit of crunch.  Not wanting to waste food, I chopped the bacon up and mixed it together with some softened butter.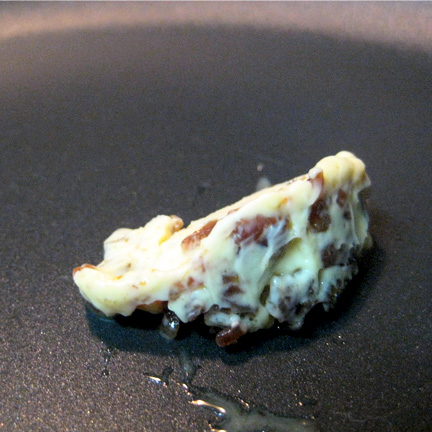 For breakfast I used the candied bacon butter to make french toast.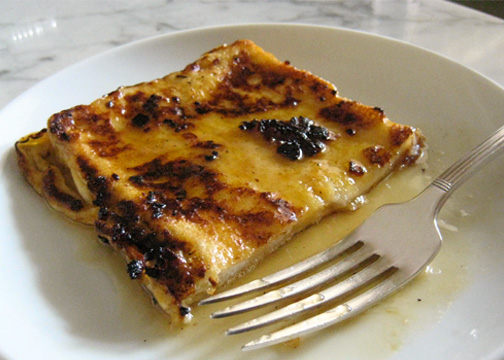 This is just an example of what you can do with the butter.  You may also use it for pancakes or grilled cheese sandwiches.
Have you tried making candied bacon? How did yours come out?
LABELS: bacon, bacon butter, candied bacon, Kitchyart, Table Recipes