By Kitchyart on 30 November, 2011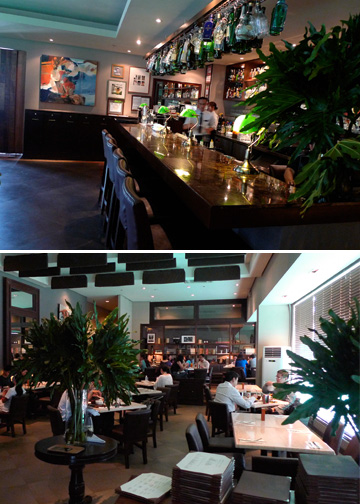 If I had to eat like a man I had to do a bit of research; and I came across a series on YouTube called "Epic Mealtime". I'm not sure people are going to recreate the food they prepare on the shows, but it usually consists of massive amounts of bacon, all sorts of meat products, special appearances of fast food meals stuffed into their creations and sauces made with Jack Daniels to name a few of the key ingredients for their not-for-the-faint-of-heart-dishes.  It always ends with the crew devouring what they've made and honestly, it's not a pretty sight.
Despite watching all that excessive eating, the thought of bacon was in my mind all day and I kept hearing about the Bacon Chicharon at 2nd's in Bonifacio High Street.  I had to make a trip and see what the commotion was all about.  I brought an equally curious friend with me to try it out for lunch.
From the sunny surroundings of Bonifacio High Street to the heavy, wooden entrance of 2nd's, we were quickly transported to what felt like very masculine interiors. Lots of dark wood, cool colored walls, a well stocked bar by the entrance and some memorabilia neatly displayed on a shelf.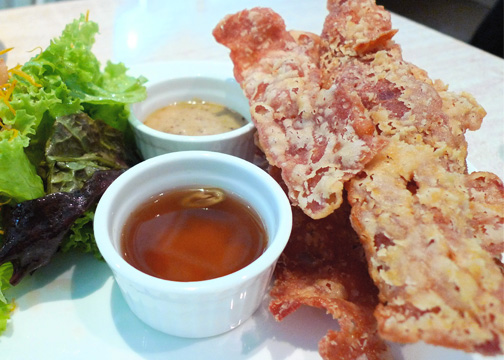 We were promptly seated and was very excited to order. We started with the Bacon Chicharon served with a muscovado mustard dip and spiced vinegar.  It was so crunchy and went extremely well with the spiced vinegar. The light batter sort of makes the bacon taste subtle yet it somewhat reminds me of the jamon flavored chips I tasted in Europe.  We didn't want to get full too quickly so I brought some of it home. (Hours later it was still as crunchy, but I forgot to ask the server to include the dips. It's not something to have all the time but definitely a fantastic treat.)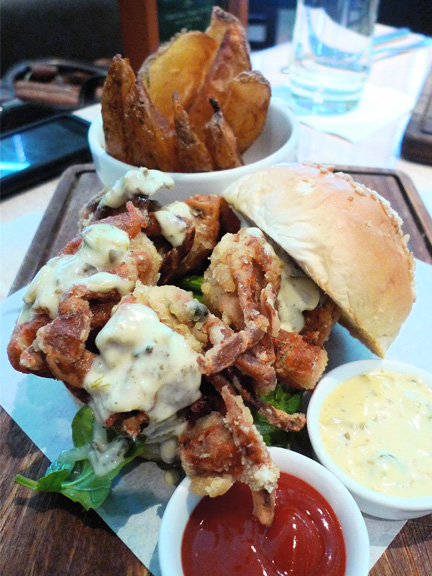 Next up, my friend ordered the Soft Shell Crab Sandwich with the Smoked Oyster Remoulade.  I didn't get a chance to get a bite out this but I managed to try some of the rémoulade with some thick cut fries.  I enjoyed that salty sea taste in that rich sauce, it was almost like a chowder.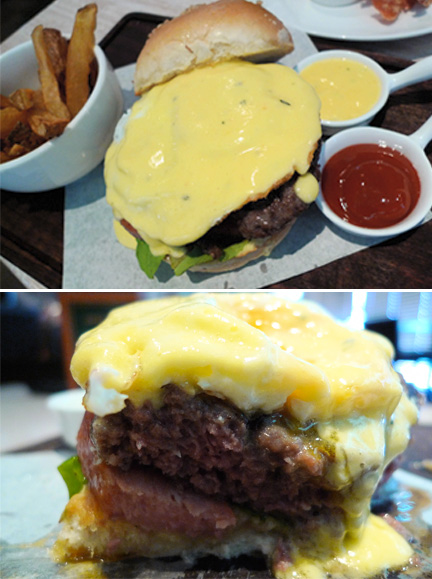 For my man sandwich, the Benedict Burger seemed like the heartiest choice since it had a sirloin patty, a fried egg, a thick slice of SPAM and hollandaise sauce.  There was definitely a party happening in my mouth all at once from the juicy patty, salty SPAM, runny egg, and creamy hollandaise. I was mumbling between the first few bites.  I must confess, I did the most un-manly thing by taking off the top bun… not because I was watching my food intake but more like I couldn't figure out how I was going to bite into the burger.  My friend and I successfully polished off our food but we were quickly overpowered by the heaviness of our meals (and possibly by the short amount of time we inhaled our food); we didn't have any space for dessert.  I was hoping to cap off the man meal with the Candied Maple Bacon ice cream by Pinkerton Ice Cream but we can save that for our next visit.
Be sure to check 2nd's monthly specials on their Facebook page (https://www.facebook.com/backfor2nds) .
2nd's
2/F Quadrant 3, Bonifacio High Street
Bonifacio Global City, Taguig
Phone (02) 846 5293
LABELS: 2nd's, bacon chicharon, burger, Kitchyart, man meals